MUST SEE: Crazy 3D Talisman Fan-Built Board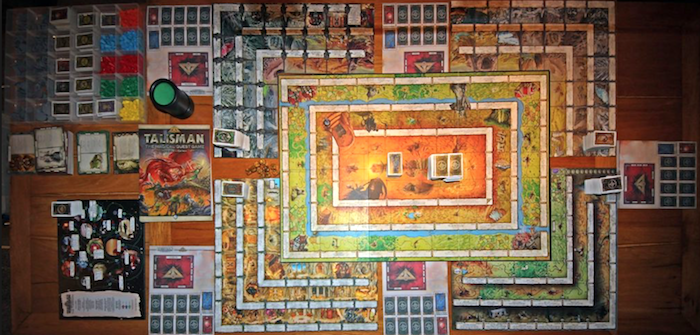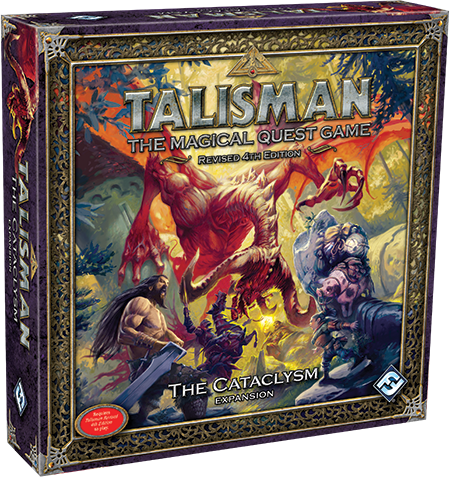 One Talisman fan has taken the mythic world of dragons and sorcery to new heights…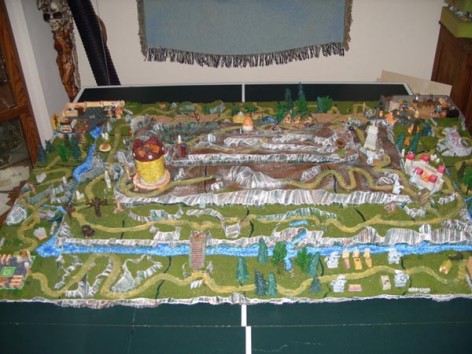 Let's take a tour, shall we?
Raymond Cameron over the BBG forums built this fantastic table…
"Fourth Edition came and I was able to find miniatures for the characters that were reasonable facsimiles and to my amazement it had a stunning board that I just loved and even inspired me to do it.

I made up my mind to do 25mm 3D scenes for at least the 4 corner Outer Region areas: City, Tavern, Chapel and Village. This also came easy because I'd been collecting many pieces of props from my D&D years. Some were painted but most were not. Slowly I just placed some of the elements on the 4th Edition board itself and asked my family's opinion as it grew and grew. The local game stores and even a pet store or two saw me wandering looking for what ever would strike me. I painted feverishly but still took a month or so before I was done with the pieces."
His first version collapsed due to lack of a good sub structure – it's styrofoam, but the weight builds up with paint, glue, and terrain – but the seond run is rock solid. Take a look…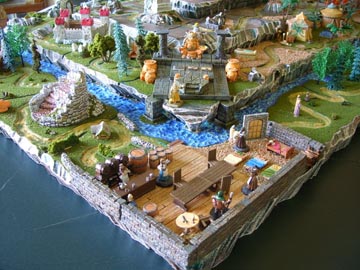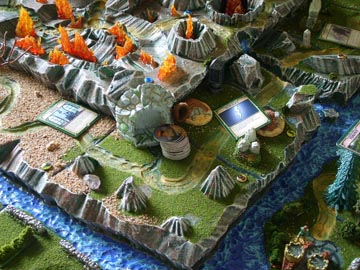 Not only does it look great, it's totally functional as a game board. He devised a colored pin system to identify spaces where cards need to be drawn, dice should be rolled, and of various paths to keep the organization of the original board.
Subscribe to our newsletter!
Get Tabletop, RPG & Pop Culture news delivered directly to your inbox.
More photos of this project, and Ray's other gaming adventures, can be found here and here.
Have you built custom pieces – boards, minis, terrain, etc – for your favorite board games?