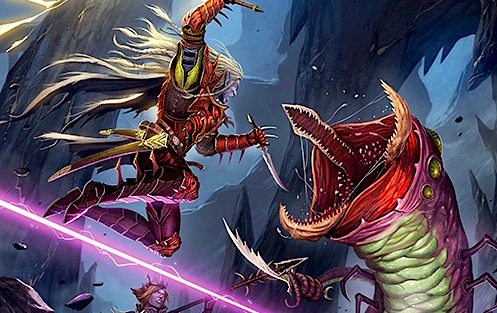 Paizo's latest Player Companion book is here next week.  Here's just a taste!
Paizo has some tidbits from the upcoming Blood of Shadows player handbook, which is all about adventuring in darkness – and the races and creatures who call it home.  Here's a sample weapon to give you a taste:
FEAST OF RATS
Price 45,125 GP
Slot none CL 19th Weight varies
Aura strong evocation and illusion
A swarm of shadowy rats clump together to form this +1 stalkingUE light melee shadowcraft weapon. Three times per day, the wielder can throw the weapon into one square within 10 feet while speaking a command word, causing the weapon to disperse into a shadowy haze that functions as fog cloud. Each round, any creature within the fog cloud takes 1d6 points of damage and must succeed at a DC 19 Fortitude saving throw or become nauseated for 1 round. This effect lasts for 1 minute, after which the weapon returns to its previous form. Alternatively, any time before the effect's duration ends, the wielder can spend a move action while adjacent to the fog cloud to return the weapon to its previous form, dismissing the effect and returning the weapon to her hand.
A feast of rats can be used as an unholy symbol divine focus of Lao Shu Po, the Old Rat Woman.
CONSTRUCTION REQUIREMENTS
Cost 22,712 GP
Craft Magical Arms and Armor, Create Reliquary Arms and ShieldsUM, deeper darkness, fog cloud, major creation, shadow weaponUM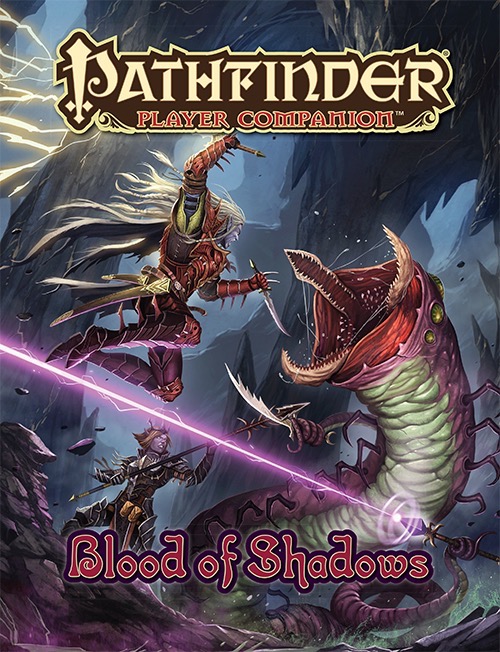 PDF Ships February 24th $10.49
Rule the Dark!
Embrace the shadows! Whether from the subterranean wilds of the Darklands or otherworldly realms of absolute shadow, heroes can rise from the darkest places. Pathfinder Player Companion: Blood of Shadows explores the strange paths and subtle abilities empowered by darkness. Discover the secrets of drow, fetchlings, and wayangs—races infused with lightless powers. Within this player-friendly volume are options and secrets for characters of every class, including a penumbral psychic discipline, shadowy rogue talents, and an oracle mystery that plumbs the depths of darkness.
Inside this book, you'll find:
Expanded favored class options and alternate racial traits for three races with strong ties to darkness and shadow: drow, fetchlings, and wayangs.

Shadow-themed archetypes, including the dusk knight, the gloom chymist, the shadow walker, and the umbral scion, as well as shadowy feats, spells, and magic items.

Shadowborn traits available to members of many races, representing characters with just a trace of shadow in their blood.
This Pathfinder Player Companion is intended for use with the Pathfinder Roleplaying Game and the Pathfinder campaign setting, but can easily be incorporated into any fantasy world.
~You can snag the PDF in about a week folks!