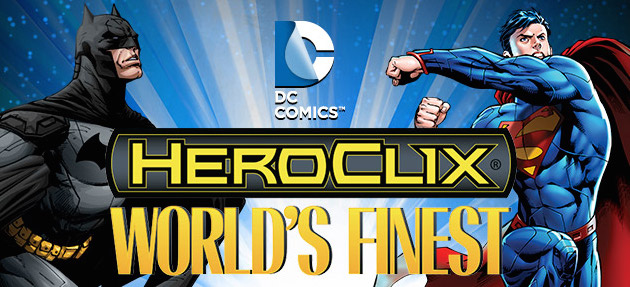 The Tabletop Spotlight is on the latest HeroClix Expansion: World's Finest!
Hey BoLS Readers! If you've been inside a comic store or visited your FLGS at some point you probably have seen HeroClix of some type on the shelves. Even our own Pimpcron has dabbled before. So when our buddies at Dragon's Lair Comics & Fantasy brought over a couple of boxes of the latest HeroClix Expansion World's Finest I was had a pretty good idea of what to expect. That was until we actually opened the boxes:
Since the last time I've opened a booster HeroClix has added some new things. The game is always changing and evolving with new Heroes, tweaks to rules and new things to collect. That's right – if you aren't familiar with HeroClix at all – it's a collectible miniatures game. The rules are pretty simple and straightforward. That said there are a lot of rules but they are color coded and have a easy to read glossary of all the powers. It's a points based game as well so balancing out a "fair" fight is pretty easy. Overall it's pretty kid friendly and if you like comics it's really easy to get sucked in. I mean, who DOESN'T want to run the Super Team of Batman/Superman: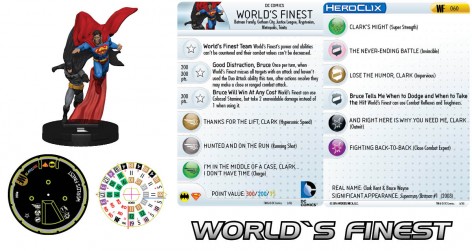 Or maybe you're an old school fan and prefer the Kingdom Come version of Supes: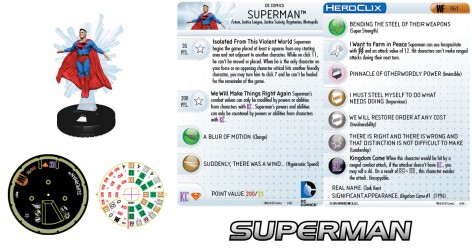 Oh and of course it's based on the Clix system so as the hero takes damage you click (or turn the dial) down and if you get healed you click back up. The stats make sense once you've got the actual miniature in your hands. You do roll dice as well so there is an element of luck, too! As I said, it's super kid friendly and easy to pick-up. But don't think that this game is just going to be a walk in the park – there are lots of sets out there and a lot of strategies, builds and variations to contend with. It's a classic example of "easy to learn, difficult to master" – which is probably one of the reasons it's still around!
So go check out HeroClix and the latest expansion World's Finest – in stores now!