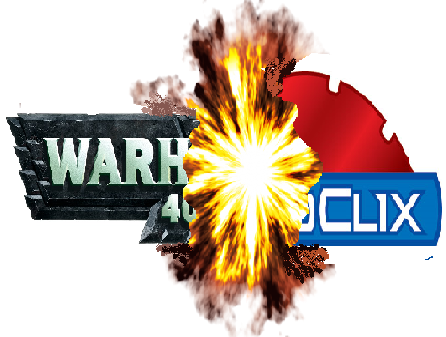 Pimpcron uncovers his nightmare creation. . .
Greetings mortals! It is I, Pimpcron, here to unveil the horrible secret I've been keeping from my readers, friends, and parole officer. I have finally decided that I can't live with myself anymore if I don't come clean. (sigh)
Even though I prefer regular 40k games, the way all of you play it, sometimes I just want to play a small game ala Kill Team. I don't always have someone over to play with me, because I enjoy solo gaming from time to time. When you have a bunch of children like I do (never figured out what is causing this), I don't always feel like setting up a table full of terrain just to have little hands grabbing and moving stuff mid-game. So what do I do?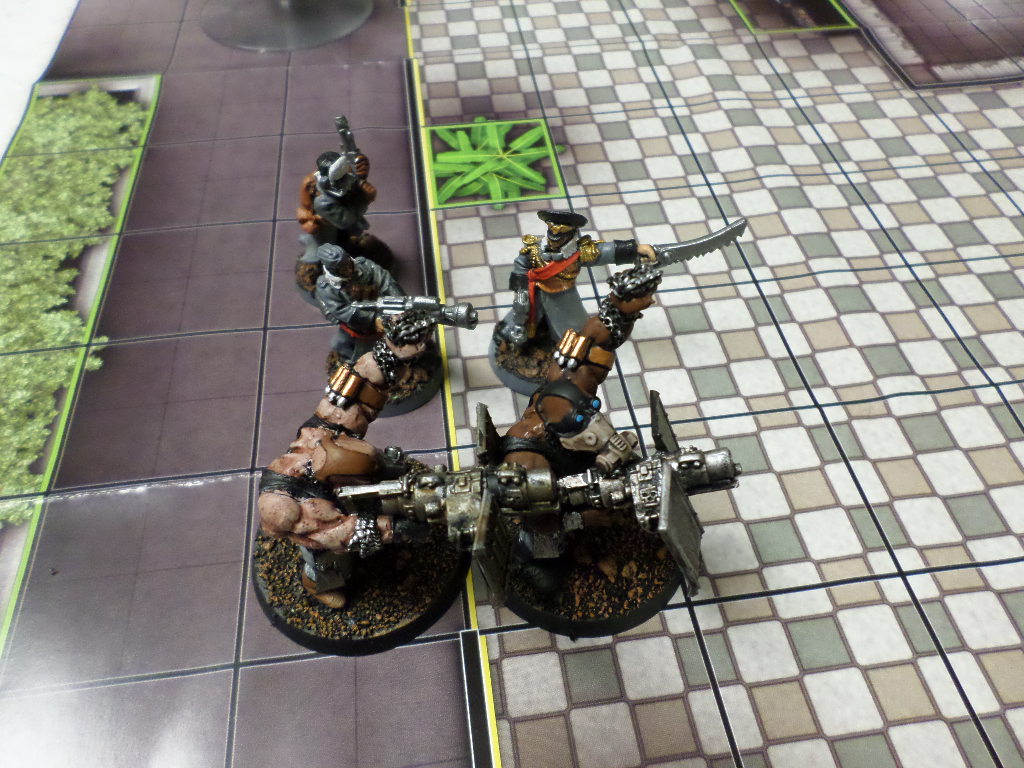 A Company Commander Leads his Squad through the doors of a building.
No Terrain Needed!
I own 15-or-so double sided Heroclix maps that I've collected over the years. They are beautifully printed with lots of close-quarters fighting space and different cover options printed right on the map. Each map is a completely unique setting and style which lends itself to really neat looking battlefields. Obviously this makes your game a top-down view because there will be no actual line of sight blocking, etc. But on the plus side, the detail of the map is more than you usually get when you set up your 3D 40k terrain. It's give and take, but all you have to do is roll out your map and play. Zero set-up time.
Most of you will immediately notice that Heroclix uses a grid system for moving instead of measuring, but that is easily overcome. Each gird square in Heroclix is about an 1 ½ " x 1 ½ ". Being that the Heroclix boards are just a bit smaller than your typical kill teams board (roughly 2ft x 3ft), I decided to count each grid square as 2" for the purposes of measuring ranged, etc. This lowers the range of most actions by just a bit, but it works just fine because the board is smaller to start with.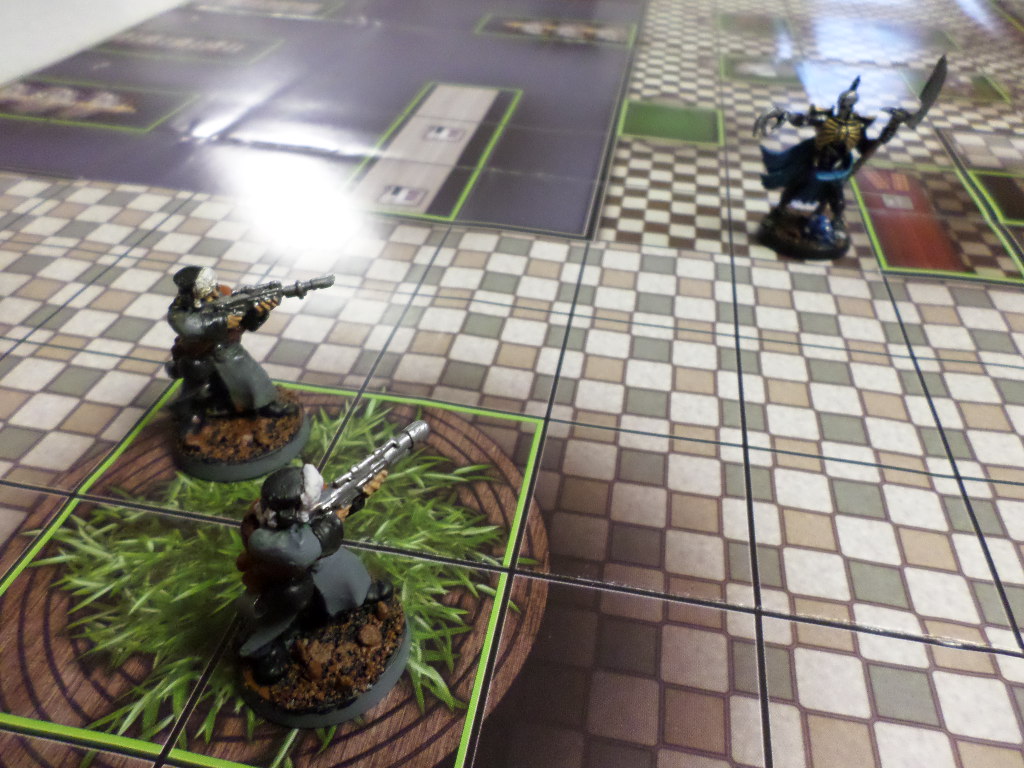 Two Guardsmen take aim at a Necron Lord from their position of cover.
So in other words, infantry move 3 squares, beasts move 6 squares and Jetpack infantry make a D6 Jetpack move in the assault phase. Models run D3 squares and assault D6. It is quite easy to use this way. Biker bases count as taking up 2 squares in a line, while Dreadnaught-sized bases take up 4 squares in a 2×2 manner. You generally can't fit vehicles bigger than a Dreadnaught on these maps but use your own judgement if you run into it.
40k With Alternating Activations?
I hear a lot of people saying that GW needs to switch to alternate activation in the way many other games are (Malifaux, Infinity, etc). I generally use the normal 40k activation rules when I play like this, but it is perfectly fine to use the Heroclix activation system. Without explaining the entire system, you basically have X amount of activations per turn to activate your models. You activate one model and do his entire turn before your opponent gets to activate a model. I would just suggest that the only tweak to the Heroclix rules is that all activation tokens get cleared automatically at the end of the each turn. I would also suggest that each model is its own unit, if I wasn't clear enough. But do what you want; I'm not your father. Or am I? Good luck catching me for a blood test suckers!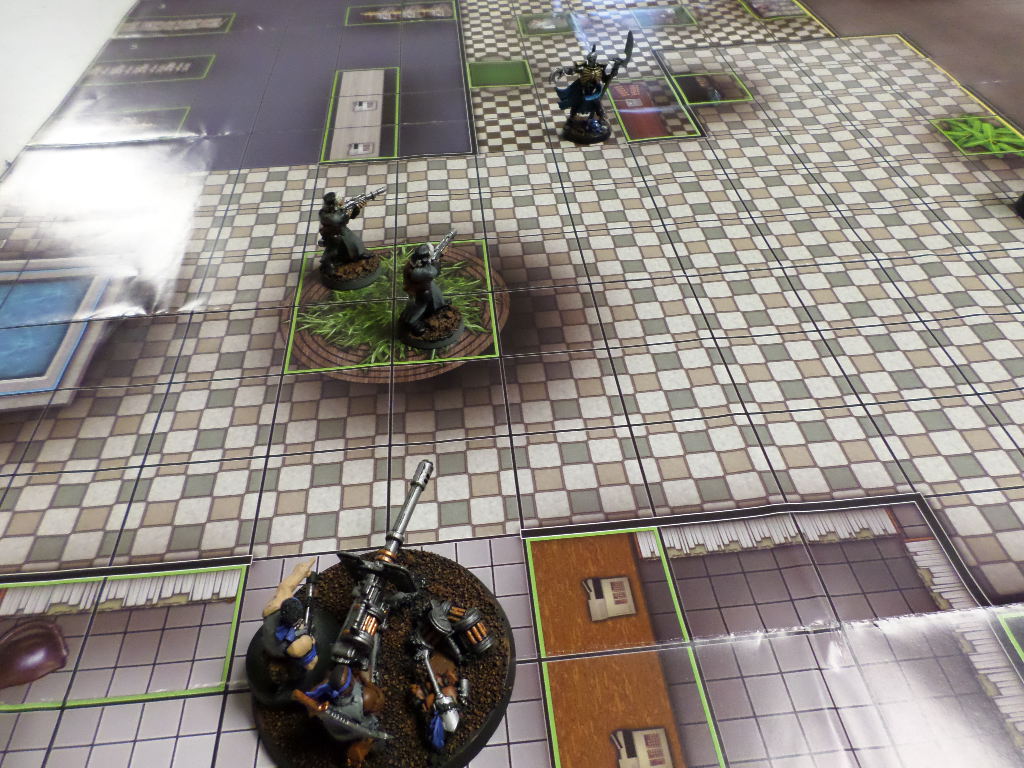 The two Guardsmen have backup in the form of an Autocannon Team hiding in an office behind them.
A Simple & Easy Solo Campaign?
I have spoken before about solo campaigns and how they can take all of the pesky "other people" out of them so you can enjoy a nice, narrative experience. I have a great time playing small skirmish 40k games by myself using Heroclix maps and I love the close-quarters missions I get out of it. If you use the Kill Teams rules from the 3rd Edition Warhammer 40k rulebook, it makes it even better. (If you ever see me in person, don't ever bring up how cool 3rd Edition Kill Teams was because we are in for a long conversation. By comparison, the current Kill teams rules are bland, bland, bland.)
These tightly constructed maps are perfect for special ops missions where your team of elite and well-equipped soldiers have to infiltrate an enemy base and grab the doo-hickey before they catch you. Or you might be trying to find the wounded Chapter Master that got left behind in a previous mission. What about investigating a Hive City that was having mysterious disappearances; not having any idea that it has a Genestealer infestation?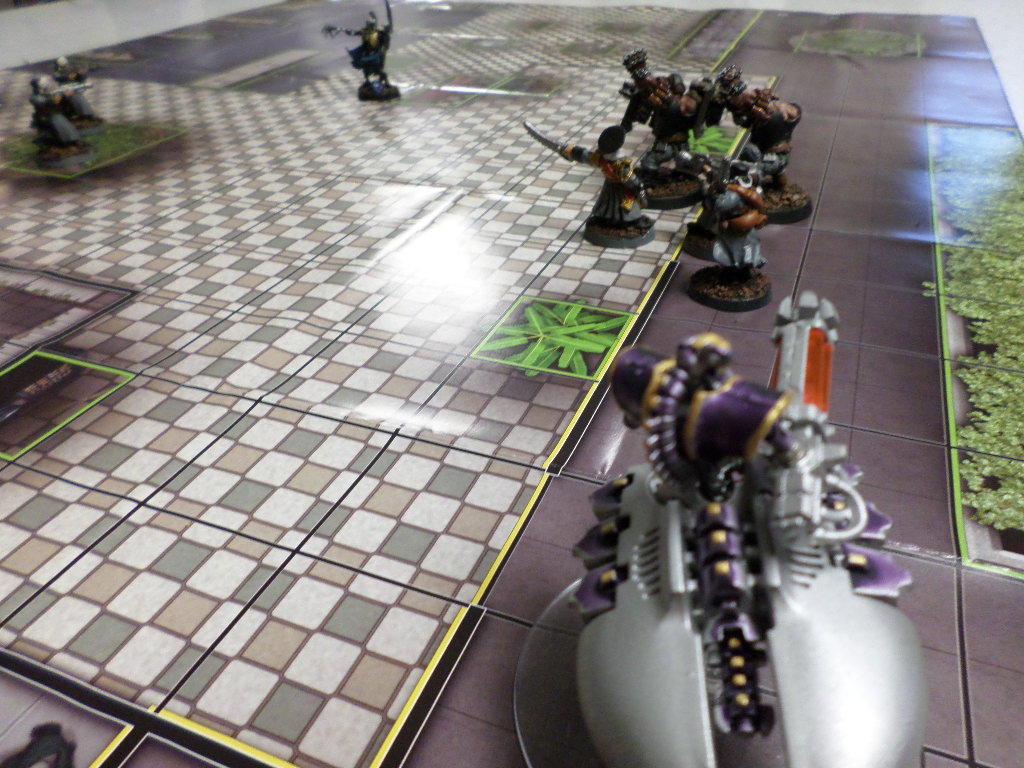 Uh-oh. A Destroyer sneaks up behind them. This won't end well.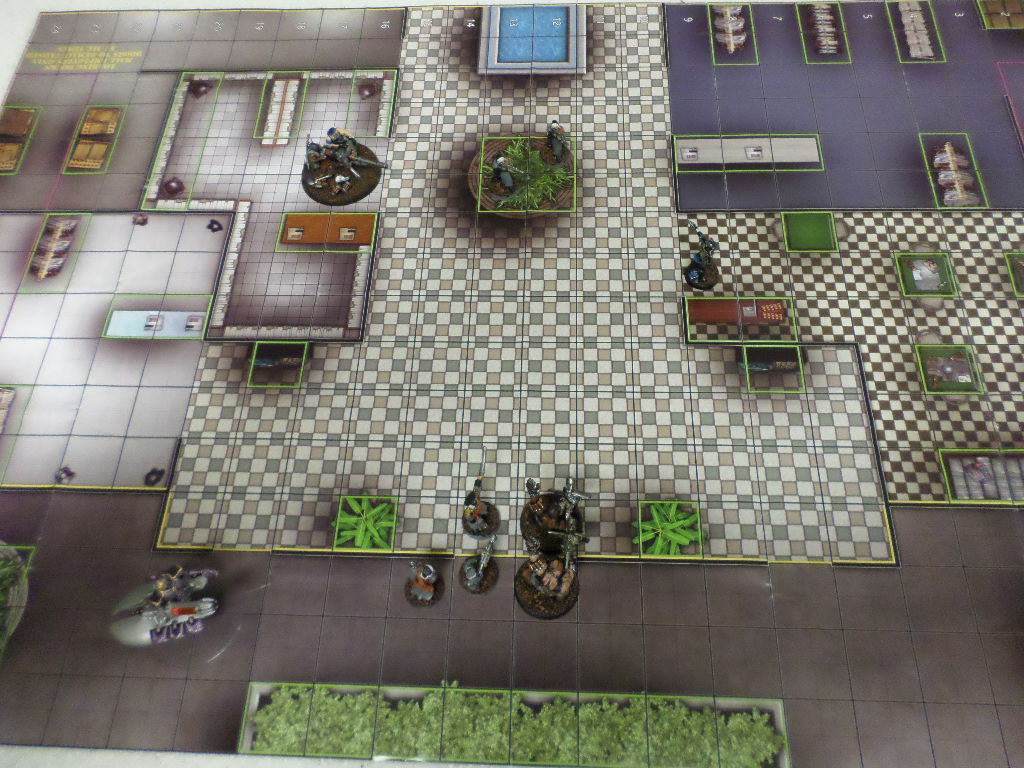 Top down view of the mayhem. You can distinguish the walls and other terrain better from top down.
A Tip On Solo Gaming
There are several ways to run a solo game where you don't know what is coming at you or from which direction. I typically figure out the points value of my team, then make up several small units of enemies that equal from 25% – 50% of my squad's points cost. Then I make a D6 table to determine the frequency of enemies I face, or even looting options if I want to. So if I'm on a mission to rescue a fallen comrade, I know that I need to get to the other side of the map before having the chance to grab him. Otherwise if I left it up to chance, I might find him immediately which is no fun. So let's say the place is overrun with Orks. Each turn I will roll on this table and roll the scatter dice to determine which board edge they come from.
D6 Table
Nothing . . . everything is quiet
Nothing . . . everything is quiet
2 'Ard Armor Boyz with Shootas
4 Regular Boyz with Slugga & Choppa
2 'Ard Armor Boyz w/ Shootas, 1 'Ard Armor Nob w/ Power Klaw
3 'Ard Armor Nobs, 1 has Power Klaw
So when I get into the 4th quarter of the map, I will have to check both corners of the map for my buddy I'm trying to save. When one of my people occupies one of the corners at the end of the map (opposite from where I started), I will roll a D6 and on a 4+ we found our guy. If he isn't in the first corner we checked, he must be in the other corner. If you want a possibility of a Boss battle at the end, make a D7 table and after retrieving your objective, +1 to all Table rolls. That will really turn the heat up (but may get you killed!)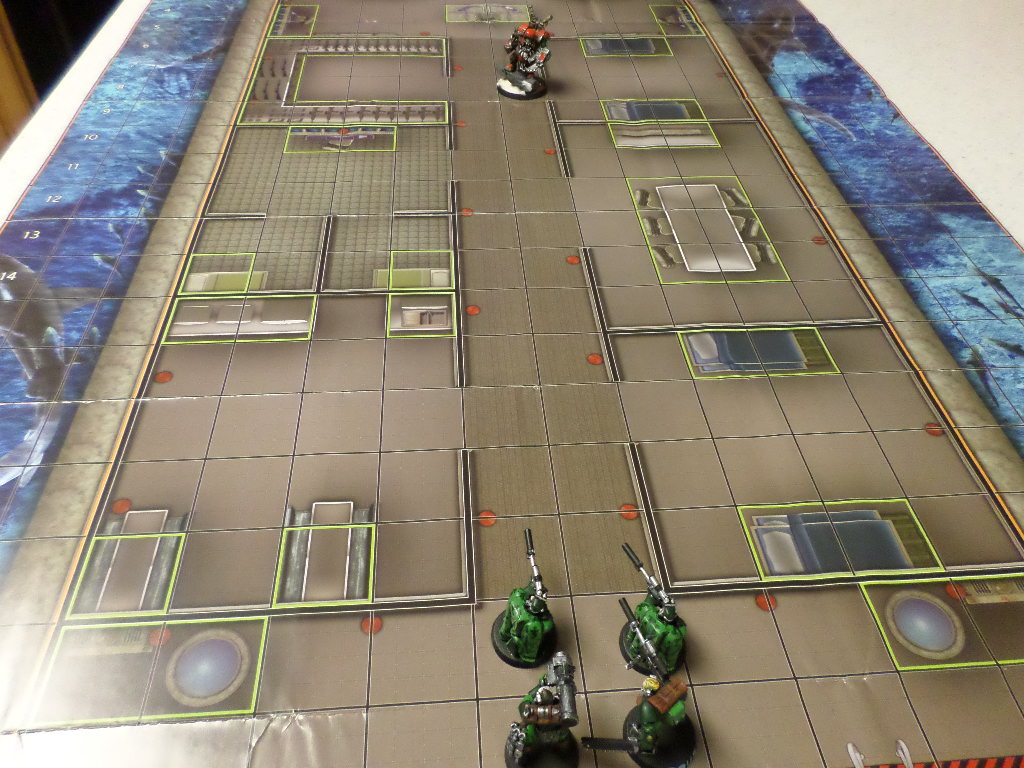 A Space Marine Sniper Team catch a Warboss down the hallway of a submarine.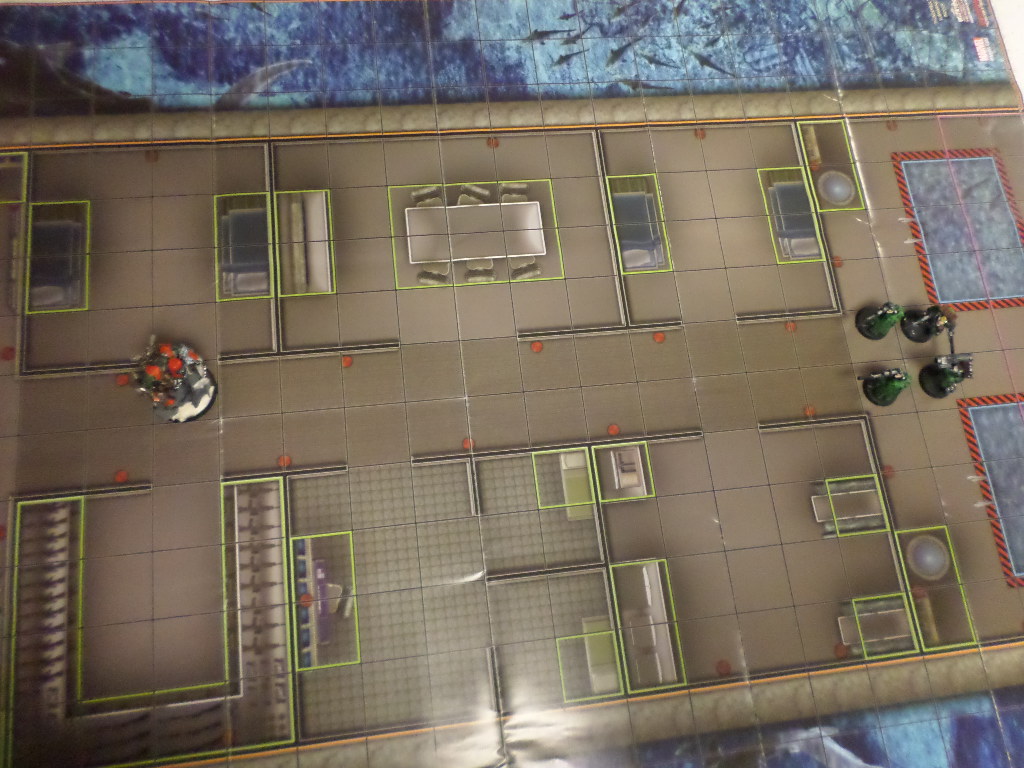 Top down view of the mission. The green squares denote Hindering
Cover you can hide behind or get into. I usually give it a 5+ cover.
Also keep in mind, when making this D6 chart for enemies, don't make any one selection too powerful, because they will be adding a new unit each turn possibly. You will be outnumbered really quick.
So does this sound fun? Is this something you'd try?
Or is it Heresy?
Want to witness my slow-descent into madness first-hand?