Tabletop Spotlight: The Urban Dictionary Game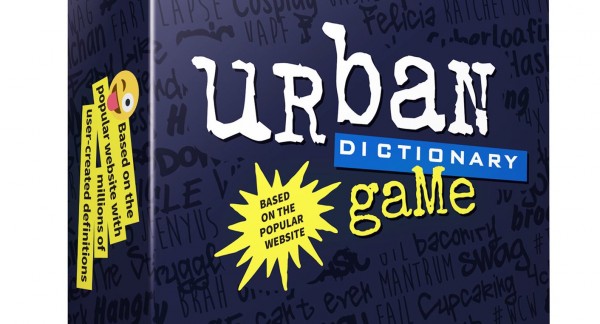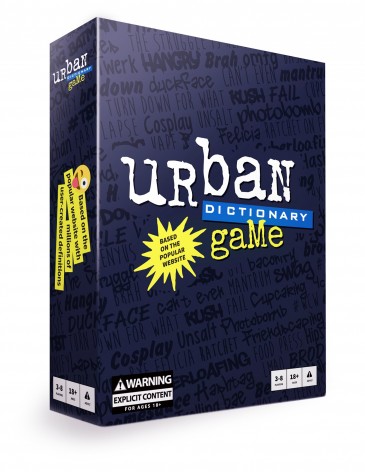 Say What?! The Tabletop Spotlight is on The Urban Dictionary Game!
If you're like me you probably had no idea that there was an Urban Dictionary Game until now. When our pals at Dragon's Lair Comics & Games brought this one over I knew it was going to be hard to keep a straight face. If you've ever played Apples to Apples or Cards Against Humanity then you've got a rough idea of what you're getting into. Obviously, from the sticker on the front, you can tell his one has some adult content – so you've been warned!
If you've never been to Urban Dictionary or heard of it – I'm not sure what to tell you. It's only one of the most popular sites on the internet. But for the uninitiated – it's basically the dictionary for all the slang words you can think of. This being an official licensed product the creators have access to the full library of all those naughty words on Urban Dictionary. It's a fun combination.
Much like Apples to Apples or Cards Against Humanity, you are technically competing against other players to with the big blue cards. You do this by playing a card you think will be funny/appropriate/inappropriate/catering to the judge/whatever so that the player who is the judge for the round picks your yellow card. Then the next player goes on to become the new judge, players draw a new yellow card and play continues until your sides hurt from laughter. Or you get offended. Or have to go home because it's now past midnight and you have work the next day. Sure, the game says first to 5 but c'mon! There are LOTS of cards to go through!
What really separates this game from the other two is that in addition to the theme cards there is also a few other ways the players can win the big blue cards. There are "Pictionary" style rounds as well as photographics sprinkled in. It really adds a few new levels to game play. Plus it's got a BUNCH of weird words direct from the bowels of Urban Dictionary. This is definitely not a "family friendly" game. But, if that's okay with you and you don't mind getting a little crude, this game is a hilarious party game. Go check it out!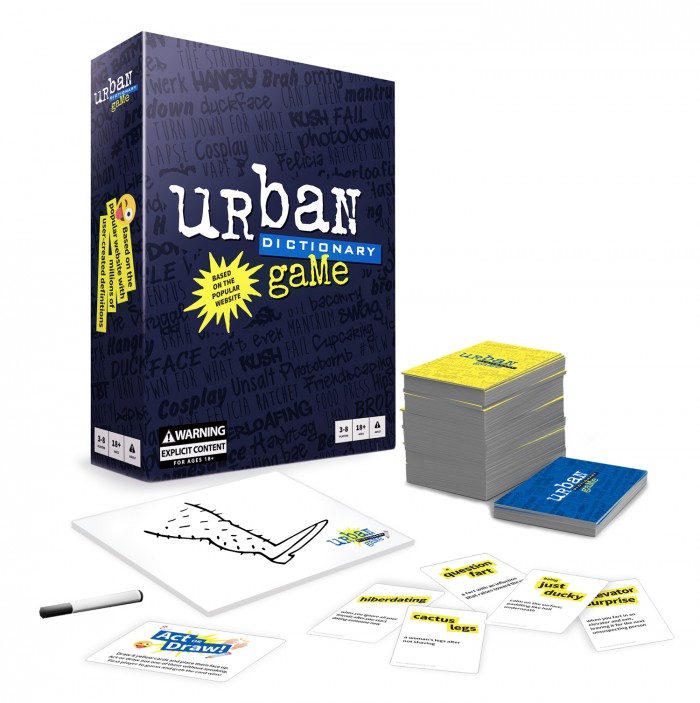 Good fun with bad words!

Experience Urban Dictionary in real life!  This game is based on the popular website where people like you define millions of slang words.  It's the only game where "food boner," "double rainbow" and "food baby" are all winning answers to #MyFirstDate."  Players compete to impress the judge by playing Urban Dictionary words in response to hashtags, phrases and pictures.  Players can also act out or illustrate words to win the round.

Adult game with explicit content for ages 18+
Recommended for 3-8 players
Includes 330 Urban Dictionary word cards, 81 prompt cards, 1 dry erase board and 1 dry erase marker

Game Overview:

Players take turns answering prompts with words taken from the Urban Dictionary website.  Each round, a judge decides which word is the most hilarious (or amazingly inappropriate), and that player wins the round.  The first player to win 5 rounds wins the game.

Subscribe to our newsletter!

Get Tabletop, RPG & Pop Culture news delivered directly to your inbox.

For Example:

What's the reason #WhyImSingle?

"Belly nipple: An outie belly button"

First comes love, then comes ______.

"Having a food baby: Eating so much that you look four months pregnant"

Or players might act out or illustrate a word like:

"Ugly cry: Sobbing so hard you lose control of your face muscles"
The Urban Dictionary Game – It's Amazeballs!