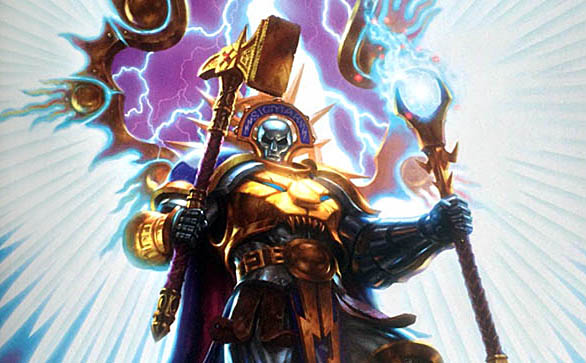 Come see some sample warscrolls, battalions, and a full list of who survived destruction of the Old World in Grand Alliance: Order!
images via Games Workshop
Battalions
Here we see a sample of some of the multi-unit Battalions and hints of what became of the descendants of the factions of the Old World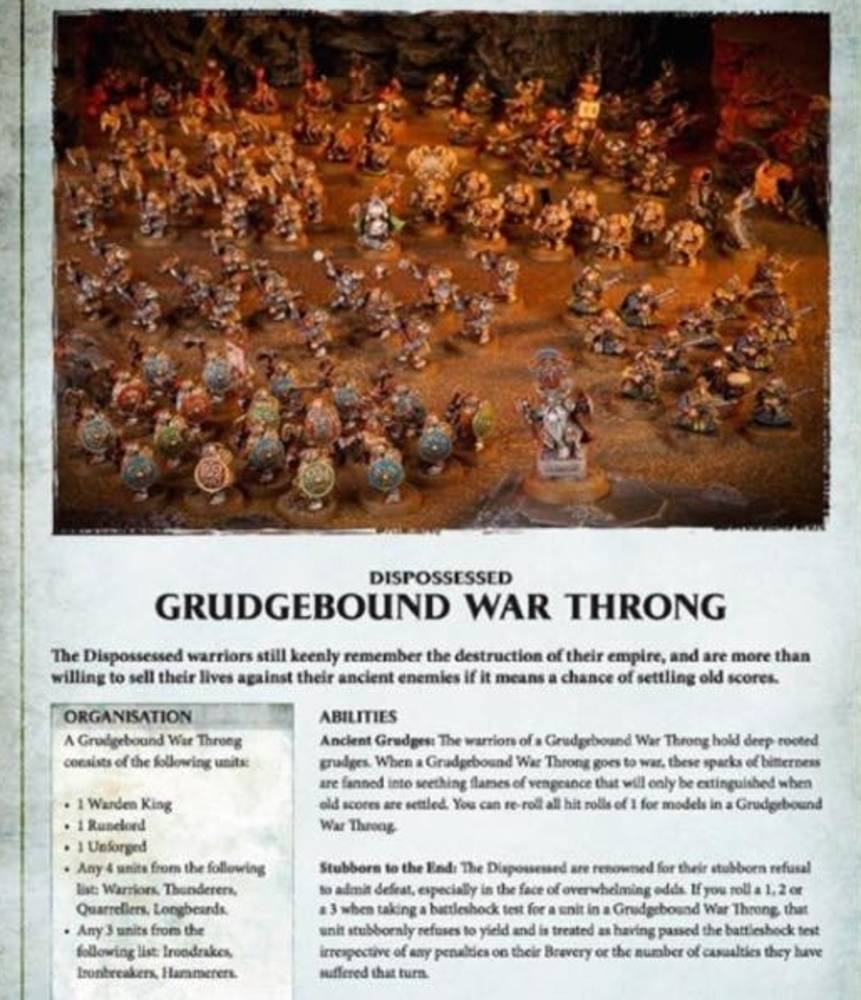 The Duardin – they are still bitter and still keeping track of grudges…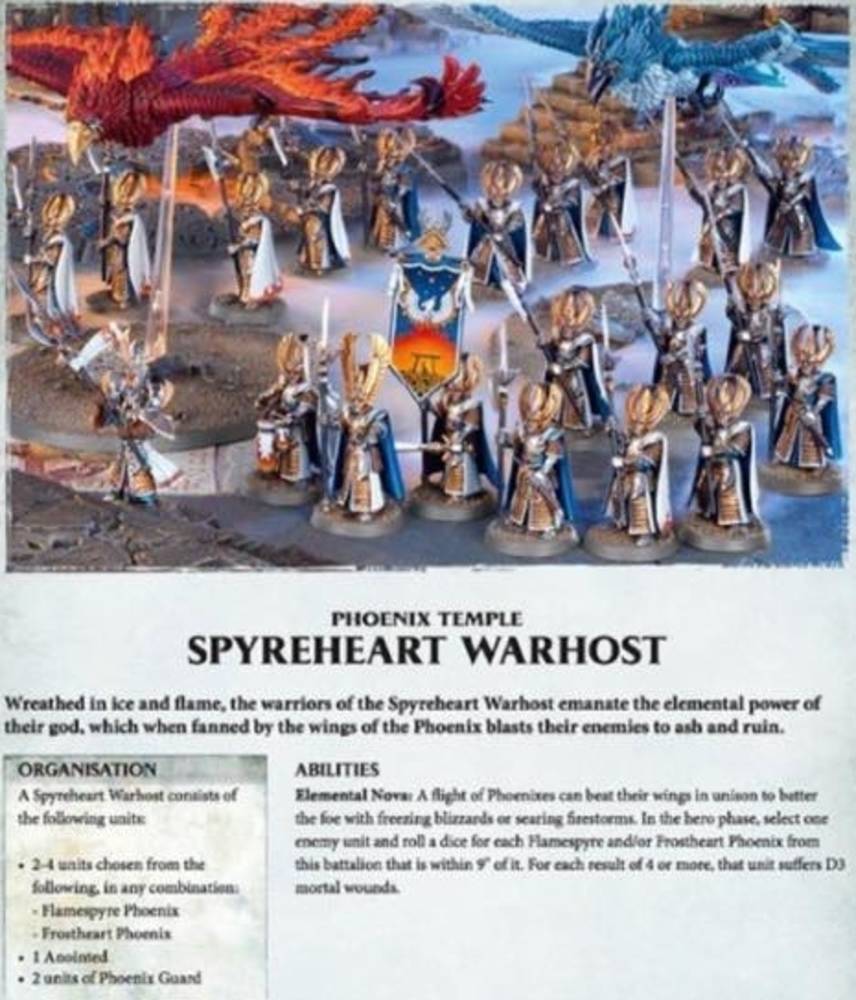 The High Elves – with a particular emphasis on wings and fire…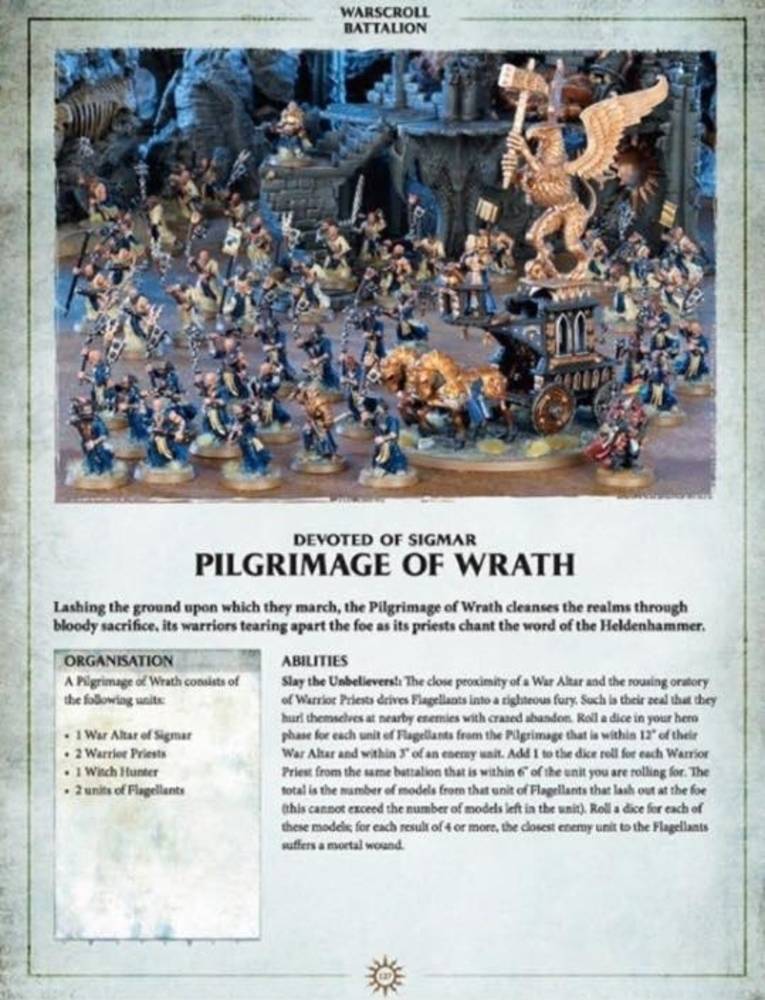 Embers of the Empire.  The fanatical still follow Sigmar – now his person rather than his memory.
Sample Units
Here we get some Unit samples from GW themselves:
The Master Free Peoples List
Here is get the big list of the surviving factions of the Old World.  We have already seen the list of what is getting killed off by GW.  So here is the heart of the old ranges they they have kept and can build off of. In particular note the mixed faction Ironweld Arsenal composed of Dwarf anf Empire units at the end.
list via Dakka's Kanluwen
Dark Elves
Scourge Privateers
Black Ark Corsairs
Kharibdyss
Scourgerunner Chariots
Black Ark Fleetmaster
Shadowblades
Assassins
Dark Riders
Daughters of Khaine
Doomfire Warlocks
Witch Aelves
Cauldron of Blood
Bloodwrack Medusae
BloodwrackShrine
Sisters of Slaughter
Death Hag
Darkling Covens
Dreadspears
Executioners
Bleakswords
Sorceress
Sorceress on Black Dragon
Black Guard
Darkshards
Order Serpentis
Drakespawn Knights[Cold One Knights]
War Hydra
Dreadlord on Black Dragon
Drakespawn Chariots
High Elves
Swifthawk Agents
Shadow Warriors
Chariots
Skywarden[Sea Helm on Skycutter]
Skycutter
Lion Rangers
White Lions
White Lion Chariots
Eldritch Council
Archmage(foot and horse mounted varieties)
Loremaster
Swordmasters
Drakeseer
Archmage on Dragon
Order Draconis
Dragon Blades[Dragon Princes of Caledor]
Dragonlord[Lord on Dragon]
Dragon Noble[Old Prince/Lords on foot or horseback]
Phoenix Temple
Anointed
Phoenix Guard
Frostheart Phoenix
Flamespyre Phoenix
Wood Elves
Wanderers
Nomad Prince[Araloth renamed]
Waystrider[Glade Lord/Captain with Great Blade]
Sisters of the Thorn
Spellweaver
Glade Guard
Wayfinder[Glade Lord with bow/eagle]
Wild Riders
Waywatcher
Sisters of the Watch(Sisters of Avelorn!)
Eternal Guard
Wildwood Rangers
Empire
Collegiate Arcane
Celestial Hurricanum
Battle Mage
Luminark of Hysh
Battlemage on Griffon
Devoted of Sigmar
Warrior Priest
War Altar of Sigmar
Flagellants
Witch Hunter
Free Peoples
Freeguild Crossbowmen
Freeguild General(foot or horseback)
Freeguild Guard(Spearmen, Halberdiers, Swordsmen)
Freeguild Handgunners
Freeguild Pistoliers
Freeguild Greatswords
Freeguild Archers
Freeguild Outriders
Freeguild General on Griffon
Demigryph Knights
Dwarfs
Dispossessed
Thunderers
Quarrellers
Ironbreakers
Unforged(Dragon-Slayer)
Warden King(Thane/Lord)
Longbeards
Irondrakes
Warriors
Runelord
Hammerers
Dwarfs and Empire Artillery
Ironweld Arsonal
Gyrocopters
Gyrobombers
Cogsmith(Dwarf Engineer)
Gunmaster(Empire Engineer)
Helstorm Rocket Battery
Helblaster Volley Gun
Dwarf Cannon
Dwarf Organ Gun
Steam Tank
What do you think?
-For Sigmar!