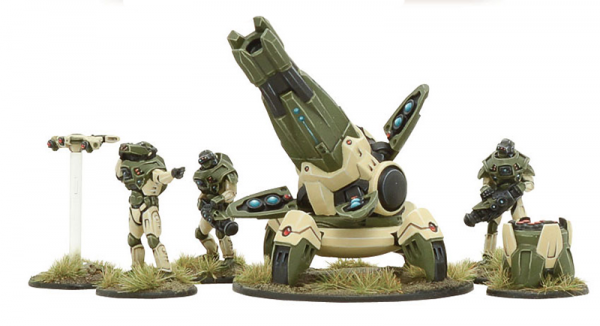 Looking to bring the BOOM to the Gates of Antares? Check out the C3 Support Crew with the X-Howitzer!
Warlord Games new Gates of Antares line is getting really cool stuff these days. We were lucky enough to get our hands on the new C3 X-Howitzer and this multi-part kit is really clean looking:
The kit itself is both Resin and Metal so you'll want to use super glue on this one. It's a beautiful kit with very clean lines that make it look like it's from a hi-tech sci-fi future. Not every future has to be grim dark and full of skulls. The C3 have a very sleek look and this weapon is great call-out to that design aesthetic. It reminds me of Mass Effect and that seems fitting because the X-Howitzer is basically a giant rail gun.
In game it can launch explosive shells or other specialized munitions. It's also mounted on a cool drone in this kit – so while it's large it's not entirely immobile. The crew that mans the X-Howitzer has various gear and equipment as well and are a great addition to this kit.
Overall I like the X-Howitzer kit. It looks cool, has lots of clean edges and goes together pretty easily. If you're looking for a cool hobby project or if you're wanting to expand your C3 forces you should check out this kit!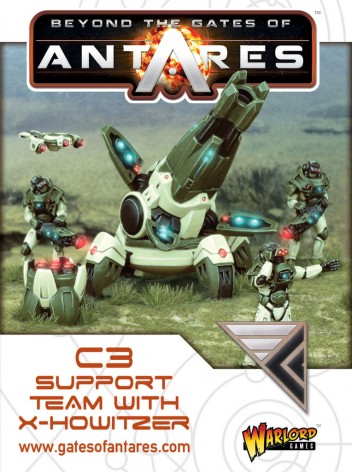 The X-howitzer is a very large magnetic launcher built for lobbing shells over great distances. It is a common battlefield heavy artillery support weapon used by practically all forces. It is often built onto the back of heavy combat drone or skimmer and used as a long range support weapon.

X-howitzers are vast magnetic artillery pieces that shoot explosive bombs or various kinds of special munitions. They are the largest kinds of launchers and sturdily constructed to withstand the high velocities generated by their multiple magnetic rails. X-howitzers are often crew served weapons but can be vehicle mounted in the form of mobile artillery.
Putting the Ordinance in Co-ordinance.