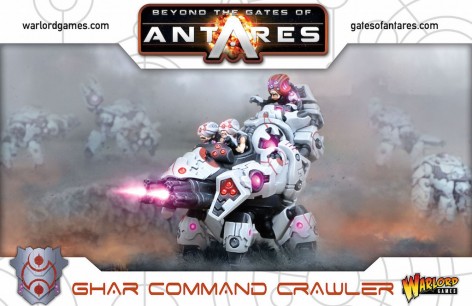 BoLS takes a look at the inside of the Ghar Command Crawler Box!
Hello BoLS Readers! I got a chance to open up the Ghar Command Crawler at take a look at it up close. I'm glad I got one of these new Ghar Models for my expanding Ghar Army:
I really liked this model! It was a really great casting job overall – probably because this is the first production run and those molds are pretty fresh. No real mold lines to clean-up and just a quick scrub with mold release and it was ready to assemble. Aside from that, I love the look of this thing. The Ghar immediately drew my attention because of their design aesthetic. Their combat models are vastly different from the Bi-Pedal humanoids from the other factions. And it's kind of fun to play the "bad" guys.
The model goes together really easy as everything is pretty obviously laid out for assembly. It is a mixed materials kit, so be sure to use regular super glue for this one.
Warlord Games also put up a 360° model preview which you can see here:
The Command Crawler is a multi-legged vehicle designed to carry a Ghar Commander into battle. Like other Ghar machines it is a primitive affair that is powered by a volatile plasma reactor. The reactor's exposed magnetic feed lines bathe the machine and its occupants in an eerie blue glow – a radiance that the Crawler's crew continue to enjoy for some hours after leaving the vehicle.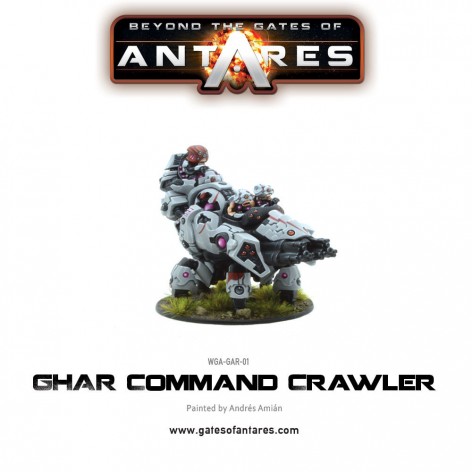 The Crawler's primary role is to allow its Commander to direct battlefield operations from behind the safety of the vehicle's heavy metallic armoured shells and ancillary magnetic shielding that protects the open crew compartments.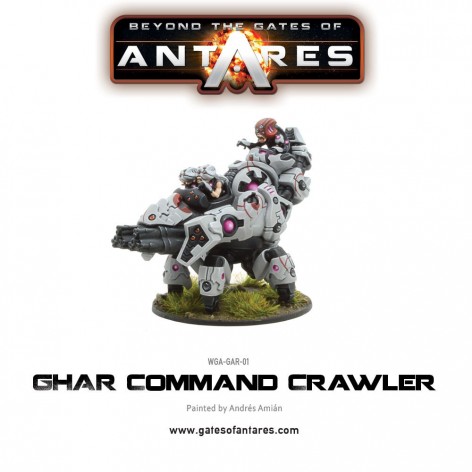 However, Ghar communications are primitive and uncertain (not least due to radiation from the plasma reactor), often Commanders find themselves caught up in the fighting so they have to carry suitable armaments. The Command Crawler is heavily armed, carrying two Scourer Cannons each capable of shooting concentrated bursts of plasma at armoured enemies, scattering plasma widely over dispersed targets, and shooting space-warping disruptor bombs using super-heated steam generated by mixing water with raw plasma. Effective weaponry, if somewhat hazardous to all and sundry.
Go Go Ghar Command Crawler!