Attention Budding Authors – Black Library wants YOU!
Are you an aspiring author? Do you have a firm grasp on the settings of Games Workshop? Do you want to get published? Well now is your chance! The Black Library has an open call for submissions for short stories. Here's what you need to know:

SEEKING SUBMISSIONS!
Writers take heed! The Black Library is running an open submissions period for short stories.

We are looking for new and talented writers to pen a 10,000 word short story to be published in forthcoming anthologies.

Your story should be set in the Warhammer 40,000 universe, be driven by exciting and evocative characters and adhere to the theme 'The Imperium of Man'.

SUBMISSIONS PROCESS
1. Your story must adhere to the theme 'The Imperium of Man'. This could mean stories about Space Marines or Astra Militarum, or even Imperial Assassins or the Adeptus Mechanicus. You can interpret this in any way that you like but the story must fit with Games Workshop's intellectual property, its mood and tone, and be driven by strong, interesting characters that inhabit and are a part of the Warhammer 40,000 mythos.

2. Pitch us your idea by sending a one-paragraph summary of what happens in the story and who the main characters are.

3. Write a sample of the story no longer than 500 words in length, in English. This could come from any part of the story and doesn't have to be set at the beginning (we'd recommend not sending us the ending, however…). At this point we are not looking for fully written stories.

Just to be clear, everything you submit to us must be original and entirely your own work. Do not send us anything that you have copied from a third party or that has been created by someone else.

4. Send your story pitch and sample in an email to [email protected] as an attached Microsoft Word document and include in the subject line 'Short Story Submission'. We will only accept electronic submissions, so please do not send us physical copies of your work as they will not be read or returned to you. If you would like to send a submission but you do not have access to facilities to send us an electronic copy, please get in touch with us to discuss an alternative means of entry.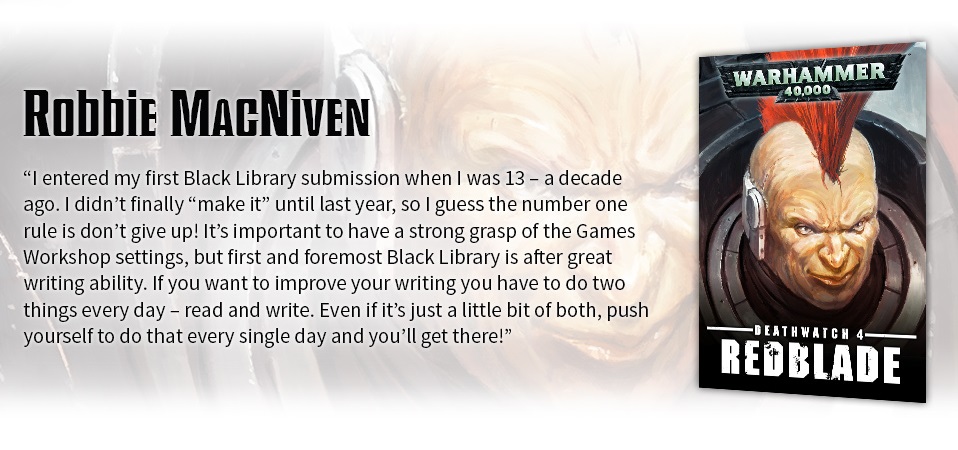 For the full rules and guidelines be sure to check this Black Library Page for details. If you've ever felt like you have an idea for a great story set in the Grim Dark Universe now is your chance to get it out there! Do you have what it takes to get published by Black Library? Well now is your chance to find out!
Time to dust off that story of Inquisitor Obiwan Sherlock Cloussaeu I've been sitting on…