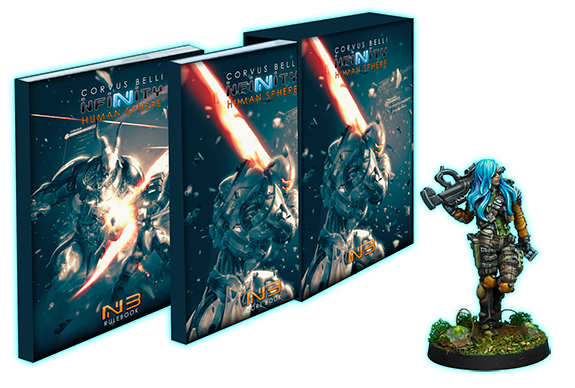 "Human Sphere" the highly expected Expansion Rulebook for Corvus Belli INFINITY N3 now available for pre-order!
Enjoy the pre-order announcement just put out by Corvus Belli.

Pre-order period from March 28th to April 27th. Shipments will be made from May 2nd 2016 (Tentative date).

All Human Sphere N3 books pre-ordered during the reserve period & will include the exclusive & "Druze Hacker" miniature that will never be available for retail sale.

The exclusive model is a promotional item, and does not increase the price of the book.

***This offer is valid only for pre-orders placed from March 28th to April 27th, both dates inclusive.***

Human Sphere N3 Book info:

Full color books.

Number of pages: Background: 303 pages; Rules: 155 pages

Binding: Soft cover with flaps. Both books are content in a case.

Available in English or Spanish.
~Get it while it's hot and pick up the free promotional mini!