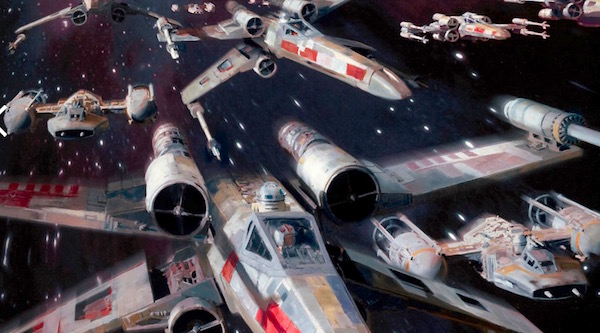 Today I'd like to talk about the Rebel Squadrons available in Star Wars Armada.
Hey All,
Part one in this series will review the squadrons, while part 2 will discuss how to fly them in the game and what capital ships and scenarios work best with each. Keep in mind the rankings presented here are subjective – your mileage may vary!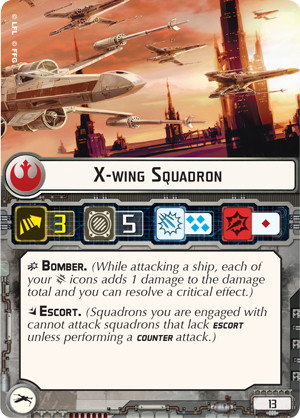 Let's start off with the venerable X-Wing squadron: average speed, resilient, above average anti-fighter attack, with escort and bomber. Pretty good, all in all, and for a fairly modest 13 points. It's a baseline to judge all other rebels squadrons by. Now, Wedge and Luke are the named pilots, and they are pretty gosh darn fantastic. Wedge can one-shot practically any enemy squadron in the game, barring the use of a scatter defense token, and Luke excels at helping you take down capital ships (as an aside, I love how fluffy that is).
X-Wing Rating: 7/10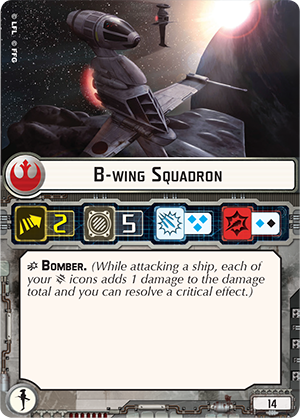 Now on to the B-wings: Expensive and very slow, but very deadly versus both capital ships and enemy squadrons. One of the most destructive bombers in the game, however I feel they've been outpaced by some of the more recently released named Rogue ships. Still, if you feel like pairing them with an MC80 with the Independence title they can scoot across the board at a good clip. Keyan Farlander is rolling two black dice against enemy capital ships, possibly with rerolls – fairly powerful all in all. Still, that 2-movement speed is crippling without squadron commands.
B-Wing Rating 6/10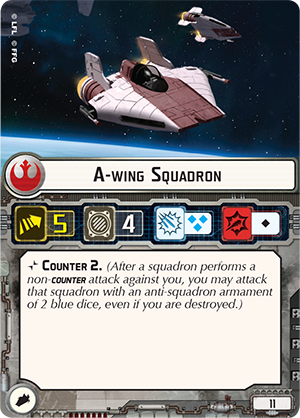 Wonderful use of A-Wings pulled off a decisive final match win in the Armada World Championship game last year. Cheap, fast, and good dice against both fighters and capital ships. You have a ¾ chance of dealing 1 unavoidable damage to a capital ship with each A-Wing squadron per turn. Only four hull, but that's better than a TIE-Fighter, and it has counter 2. Tycho is good and comes with a scatter token but his pilot ability is eclipsed by the now prevalent Intel ability that comes with HWK ships.
A-Wing Rating: 8/10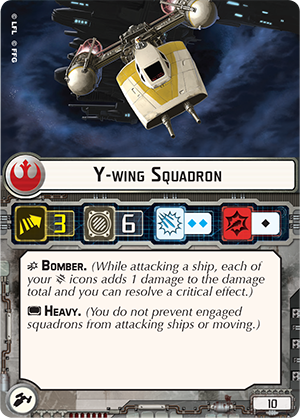 Y-wings. Once overshadowed by its fellow X-Wing and B-Wing bombers, the Y-wing has come into its own with the usage of HWK ships and Jan Ors. 6 hull is fantastic, and speed 3 is nothing to sneeze at (faster than a B-Wing, it can keep up with those zippy gladiators and ISD's). It's also the cheapest rebel squadron in the game at only 10 points; what a deal! While it doesn't roll as many dice as a B-wing does versus capital ships,, it can at least keep up with them, and it synergizes with an Assault Frigate's flight controllers to supplement its anti-squadron firepower. Again, the Independence title helps these resilient puppies get where they are going. Oh, and the Dutch/Wedge wombo-combo is fairly awesome, especially with the Nebulon-B Escort Frigate's Yavaris title. Brutal.
Y-wing Rating 8/10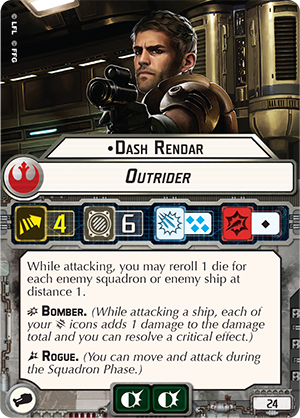 The YT 2400 is synonymous with the legendary Dash Rendar and his Outrider. Honestly, I think this is the best (named pilot) ship in the Rogues and Villains expansion pack. Dash is a speed 4, 6 hull rogue bomber with rerolls for each enemy ship or squadron he is engaged with, and he has two brace tokens to boot. He throws 4 blue dice at squadrons and one black dice against capital ships. Phenomenal. Pricey at 24 points though. He can complement nearly any rebel fleet list. The generic YT-2400 is not as good but is much cheaper, and still comes with the much-needed rogue ability.
YT 2400 Rating: 9/10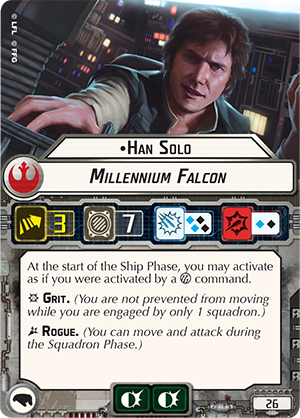 The YT-1300 may not look like much, but she's got it where it counts kid. Turns out Han Solo's made a lot of special modifications himself. The Millennium Falcon has average speed, but a terrifying seven hull, 2 blue, 2 black dice against squadrons. Wow. One black, one blue dice versus capital ships but alas no bomber ability to be seen. Grit, Rogue and activates like a capital ship at the beginning of every ship phase. This pilot ability is extremely useful and can win games by taking that last, crippling shot at an ISD before it moves out of range. Still, he's very expensive at 26 points; that's more than half the cost of a CR90 corvette! The generic Yt-1300 is not so great. 2 speed, with counter-1 and escort. Again that 2 speed is not what you want to see. The generic YT-1300 also rolls fewer dice; I've yet to see anyone fly them on the table.
YT-1300 Rating: 8.5/10 (thanks to Han always shooting first).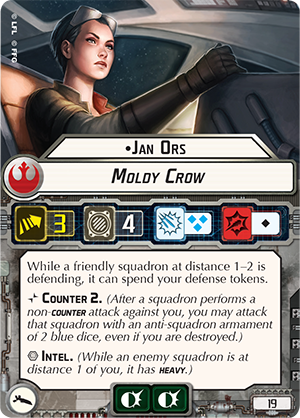 The HWK-290 is a utility/support ship, much like its X-Wing version. Average speed and below average attack dice against capital ships and bombers, its true usefulness lies in its intel ability, which lets your bombers get to where they need to go and blow up some Star destroyers. Counter 2 can dish out the pain in small doses too. Jan Ors' pilot ability helps mitigate some of the damage pitched at your generic squadrons, which is very useful in squadron heavy fleet lists. She's also better in combat vs ships of all sizes.
HWK-290 Rating: 8/10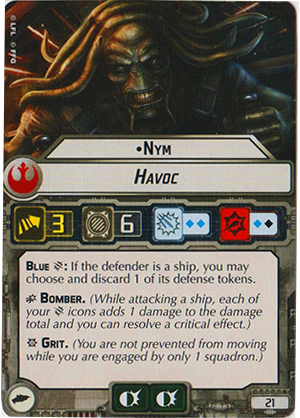 Nym and his Havoc Scurrg H-6 Bomber are neat. As resilient and fast as a Y-Wing with more dice to bomb capital ships with, and a pilot ability that comes with a powerful but situational blue crit special. Nym is expensive, but the generic H-6 is less so at 16, however it loses the pilot ability and gains heavy. Grit is kinda cool, but you should be taking a HWK ship alongside your bombers anyways. It's kind of halfway between a Y-Wing and a B-Wing. Honestly I think I'd rather just take two y-wing squadrons for the price of one Nym. Take a generic if you have some leftover points.
Scurrg H-6 Bomber Rating: 5/10
In the upcoming second part of this series we'll talk about how to fly these ships in concert with one another, and how to support them with scenarios, your capital ships and the various commanders. What are your favorite Star Wars: Armada Squadrons? Concentrate forward firepower!
Jonathan is a sci-fi author and a X-Wing Miniatures and Star Wars: Armada fanatic. You can visit his website and check out his recent novel and other writings at: