The Tabletop Spotlight is on: Flash Point: Fire Rescue!
Hey BoLS Readers! Fighting fires is dangerous work – but now you can give it a shot from the safety of your gaming table at home. Michael from Dragon's Lair Comics & Fantasy brought over Flash Point: Fire Rescue and we sat down to take a look:
While we were poking around with this game, Michael described it as Pandemic meets Fire Fighters – but different! There is a lot of similarities between the two games. Both are Co-Operative games in which you're trying to avert disaster. Both have different "classes" you can choose from to alter your playing experience. And both use different colored wooden blocks, but for very different reasons. Mechanically, they share some similarities but they are very much two separate games. One of the gameplay elements I liked was the ability to knock down walls to get into cut-off rooms. This isn't without consequences as if you loose too many support walls the house can collapse…
This game, like Pandemic, also has multiple ways to lose and few ways to actually win the scenario. There are different takes on this as well because the game board is dual sided and they offer different scenarios. The fire has it's own rules and will spread quickly if you don't get a handle on it. There are people to save and objectives to grab before the fire takes it's toll.
The components are really well done as expected for boardgames these days. Overall, I really like Flash Point and can't wait to pick-up a copy. The difficulty of this game is pretty scalable so if you're looking for a game for family game night or if you have a group of hard-core gamers you'll get a thrill with this one. So give it a shot and be a Fire Fighter – in 2D at least!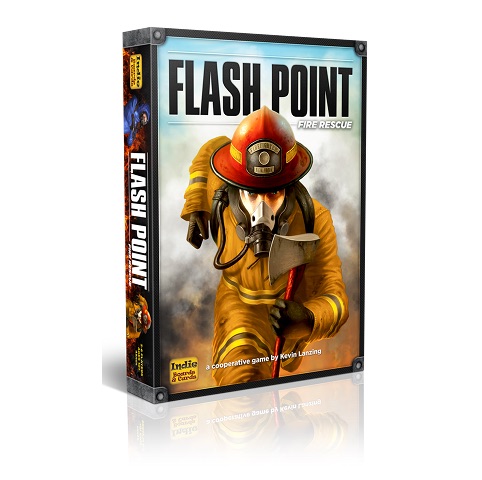 Flash Point: Fire Rescue is a thrilling ride for friends and family, whether they are gamers or just looking for a good, fun time.    Games are about 45 minutes, 2-6 players (solo options), 10+ years – suitable for kids of all ages with appropriate supervision and involvement.  Get those kids away from their screens!

Flash Point: Fire Rescue is a fully cooperative game, everyone plays on the same firefighting team – win or lose together!   Every turn is filled with the tension of having to fight the fire back, rescuing victims or investigating points of interest.  Players can ride the ambulance to safety or fire the engine's deck gun in a desperate attempt to control the blaze.  No two games are ever the same – and with two rulesets (family, & experienced) and 3 different difficulty levels there is a challenge to be had for all.
If you want to see how the game is played Indie Boards & Cards has a tutorial video as well:
Those Fires are going to Fight themselves!