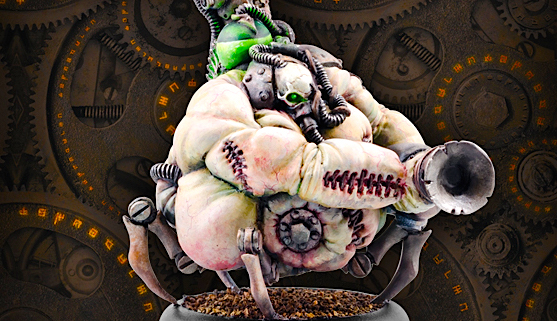 Get ready for the fattest, hottest, and coldest new minis to hit Immoren.  Come take a look at the latest from Privateer Press:

Rök

$54.99
Resin & White Metal
Whenever a remote mountain village is found in ruins and with its taverns plundered, northerners speak fearfully of the dire troll called Rök. Although insatiable as any dire troll, over a century ago Rök developed a unique craving for beer and liquor of all sorts, and his raids of villages for their intoxicating spirits have since become legendary.
When he was sought out by Borka Kegslayer, Rök engaged the trollkin in an exhausting battle lasting several hours. After this, Kegslayer shared his own potent brew, convincing the ferocious troll they were kindred souls. When Borka left, Rök followed, knowing that greater fights and rivers of beer awaited them.

Resin & White Metal
Overseer Mobius became greater than the sum of its dead parts when it was clear to its Cryxian masters that this undead oddity could successfully lead bloat thralls against the enemy without prematurely detonating the thralls or accidentally destroying itself in the process. Engineered in secret, Mobius wields its own gun from the back of one of the bloat thralls in its command, as its deformity prevents it from moving independently.

White Metal
Pyrrhus is more than the epitome of a Flameguard; he represents a pinnacle of Menite devotion and service. With movements honed through years of training, he charges forward to decimate opponents, taking everything while giving nothing in return. His mastery of his weapons extends well beyond that of any of his peers, and his faith in the Creator gives him extraordinary confidence in himself as a conduit for the wrath of Menoth.
~Mobius is GROSS – I must buy him immediately!