40K: Battle For Vedros Confirmed For June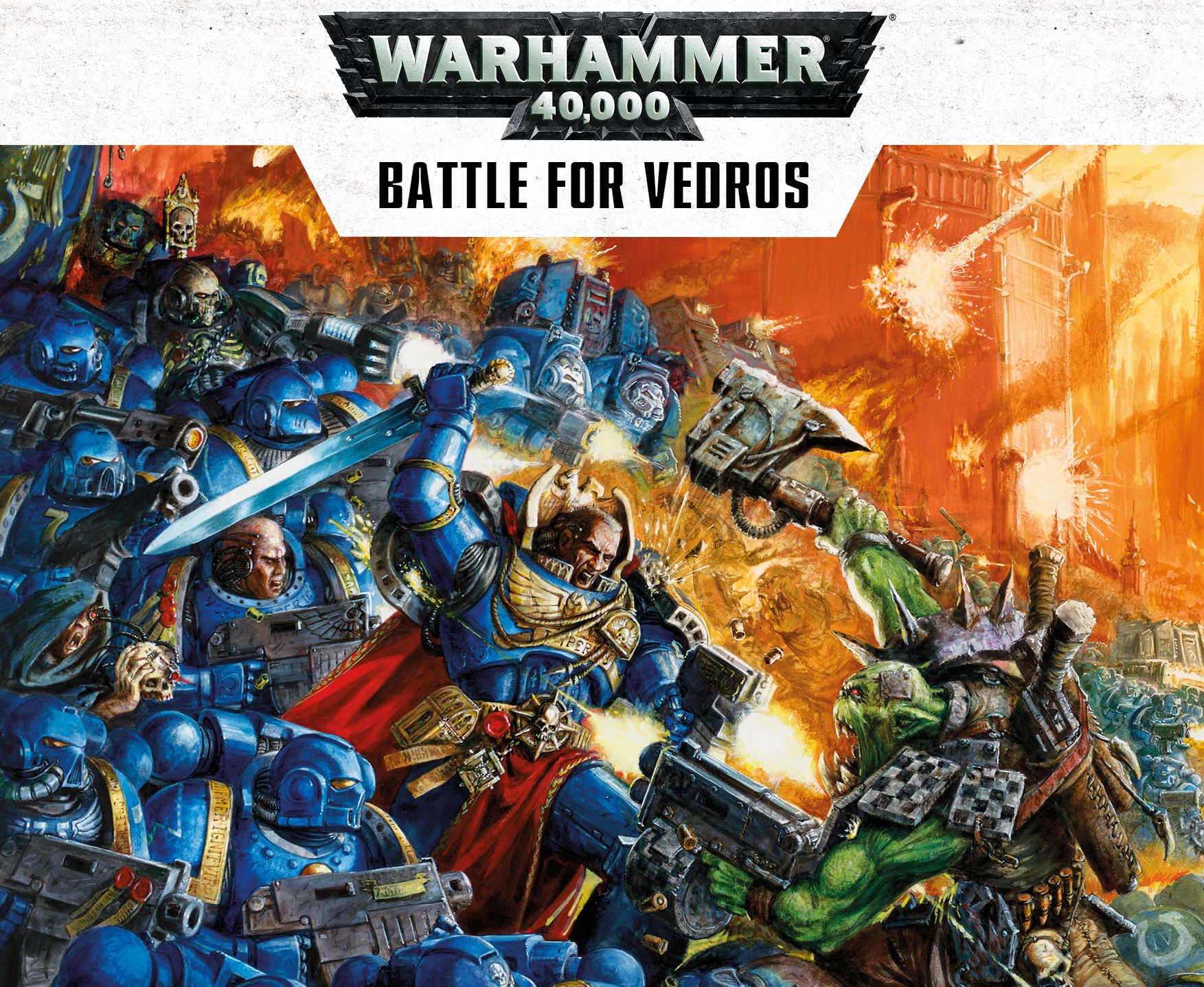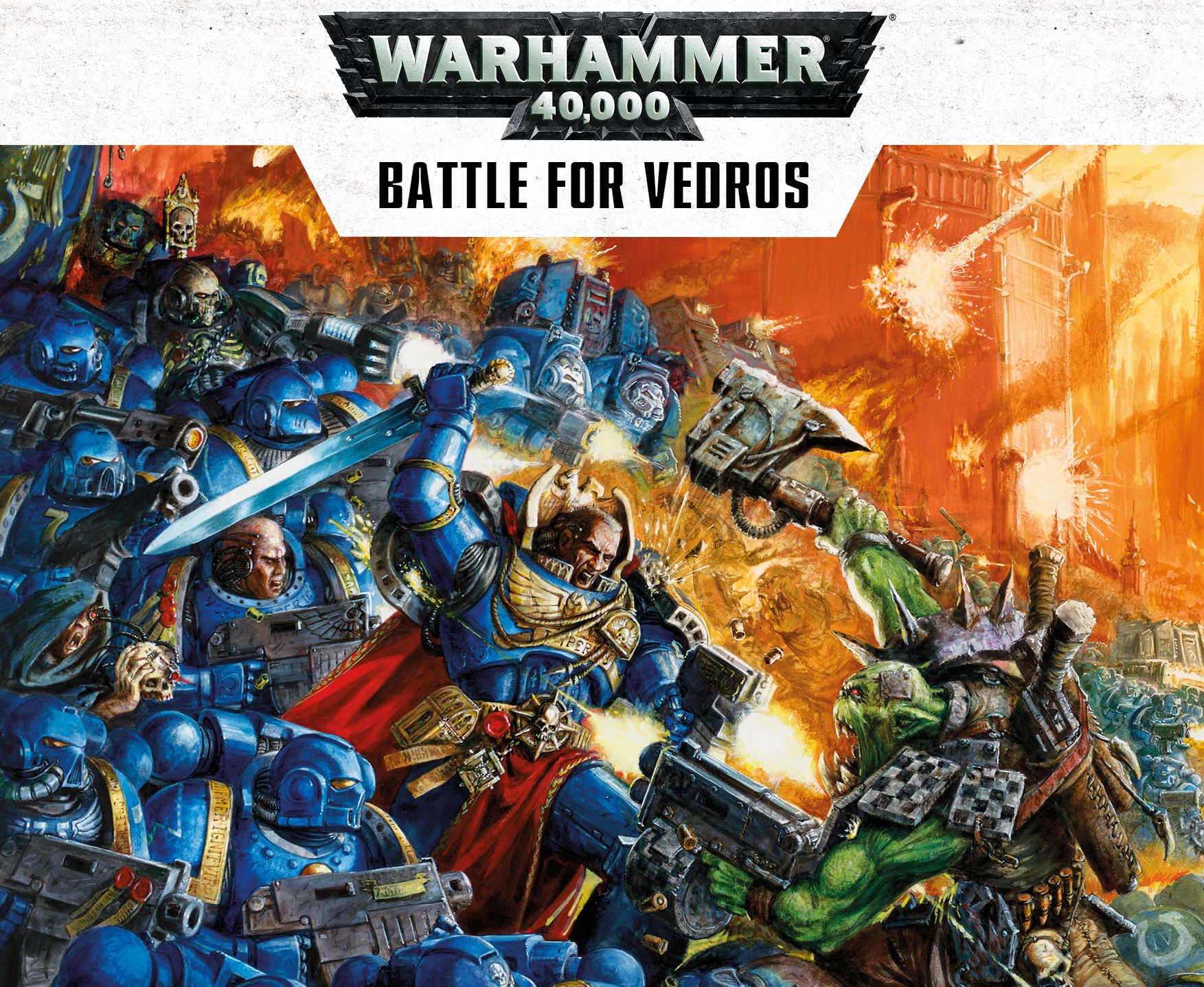 Games Workshop is entering the Big-Box Retailer Arena and they have a surprising ally. Come see the all the products coming out in June!
This is pretty big news as we now have a confirmed street date for "Retail Supplement: The Battle of Vedros" for all the Big-Box stores.
via Multiple distributors & Spikeybits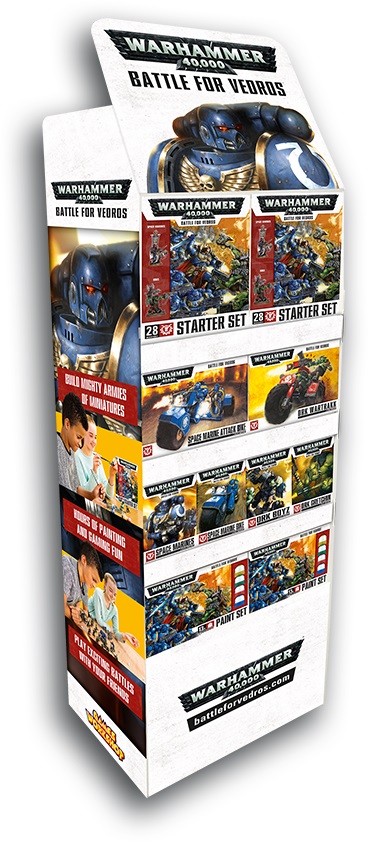 Major distributors have the new Battle For Vedros up for order this week, and it looks like this will be the first release of Games Workshop's 2016 fiscal year that starts June 1.
WARHAMMER 40000: Battle for Vedros
Will not be available through Games Workshop.
Street Date: June 6th!
GAWB4VFSP WARHAMMER 40000: Battle for Vedros Starter Package $635.00 SRPIn the grim darkness of the far future, there is only war! In the dying years of the 41st Millennium there is no peace amongst the stars, only brutal warfare and planetary conquest. The Battle for Vedros brings all the action onto your tabletop. You command armies of models in a game of daring, cunning and untold slaughter.The Battle for Vedros Starter Set allows you to fight out battles between the mighty Space Marines and feral Orks. As well as great models for you to build and play with, it includes the tale of the invasion of Vedros and all the rules you need to play.

Contains:
4 BFV Starter Sets
4 BFV Paint Sets
3 BFV Space Marine Attack Bike
3 BFV Ork Wartrakk
3 BFV Space Marines
3 BFV Ork Boyz
3 BFV Ork Gretchin
3 BFV Space Marine Bike
1 BFV Dispenser

All Games Workshop Miniatures are supplied unpainted
and assembly is required.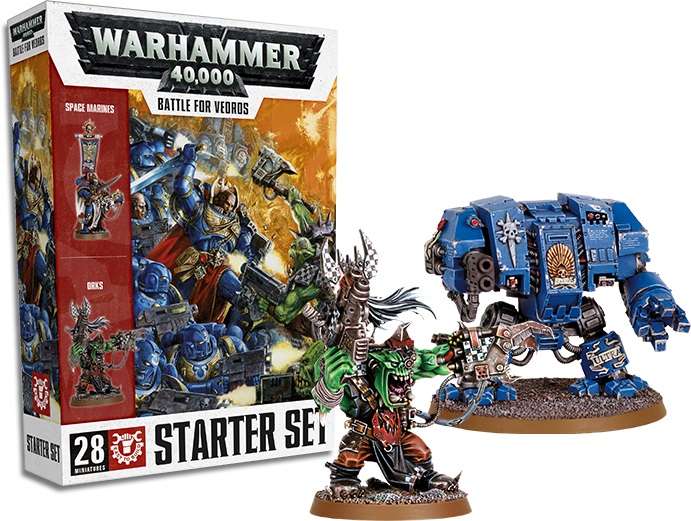 GAW20-01 WARHAMMER 40000: Battle for Vedros Starter Set $49.99 SRP

Contains:
1 Space Marine Captain
6 Tactical Space Marines
1 Space Marine Terminator
1 Space Marine Dreadnought
1 Ork Warboss
5 Ork Nobz
12 Ork Boyz
1 Ork Deffkopta
1 Battle for Vedros rulebook
8 Dice
GAW20-03 WARHAMMER 40000: Battle for Vedros Paint Set $29.99 SRPFeatures the following colors:
1 Macragge Blue
1 Mephiston Red
1 Mournfang Brown
1 Zandri Dust
1 Waaagh! Flesh
1 Warboss Green

Subscribe to our newsletter!

Get Tabletop, RPG & Pop Culture news delivered directly to your inbox.

1 Balthasar Gold
1 Reikland Fleshshade
1 Agrellan Earth
1 Imperial Primer
1 Ceramite White
1 Nuln Oil
1 Leadbelcher

Also contains:
1 Starter Brush
1 Step-by-step instructions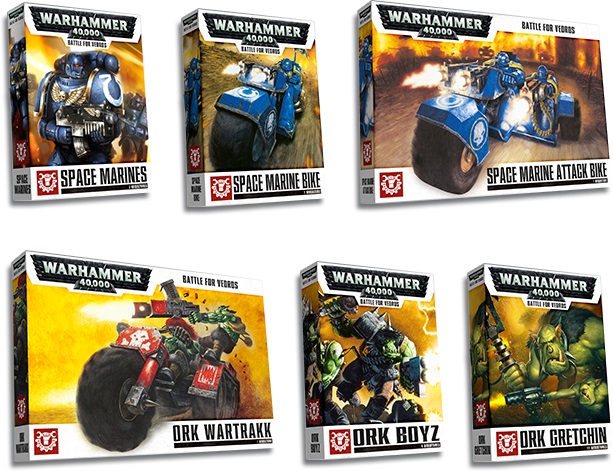 GAW20-06
40K: BFV Space Marines
$9.99 SRP

GAW20-05
40K: BFV Space Marine Bike
$14.99 SRP

GAW20-04
40K: BFV Space Marine Attack Bike
$26.99 SRP

GAW20-09
40K: BFV Ork Wartrakk
$26.99 SRP

GAW20-07
40K: BFV Ork Boyz
$9.99 SRP
GAW20-08
40K: BFV Ork Gretchin
$15.99 SRP
Now – about that surprising new ally Games Workshop has…
via Games Workshop's Battle for Vedros Facebook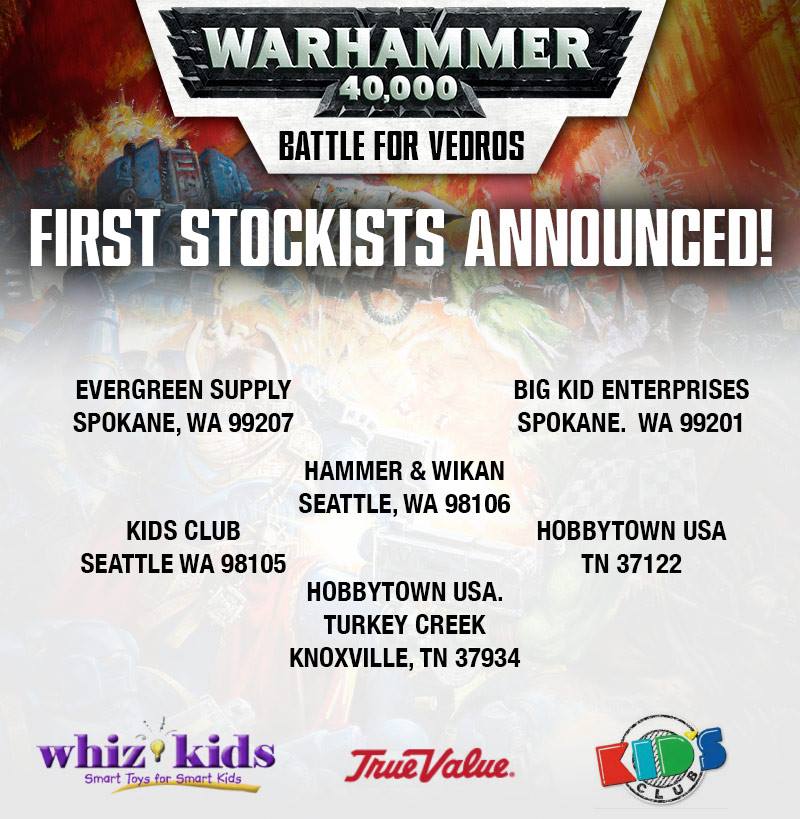 True Value has been listed as part of the First Stockists of the product! Yes, THAT True Value. Games Workshop has entered the Hardware store business (not really). The other stockists aren't that far off from what you expect so maybe that's why a store traditionally thought of as a "hardware store" sticks out like a sore-thumb. Will ACE Hardware be next? How about Home Depot or Lowes Hardware? I'm only half joking about those last two. Really, you have to give some major props to the folks over at their Trade Sales for the Washington State Region. Looks like Lolly & Company is really signing up those stores!
Yeah, I'm looking for the"Warhammer" Section? I thought it'd be after the "Ball peen, Claw and Sledge" section.