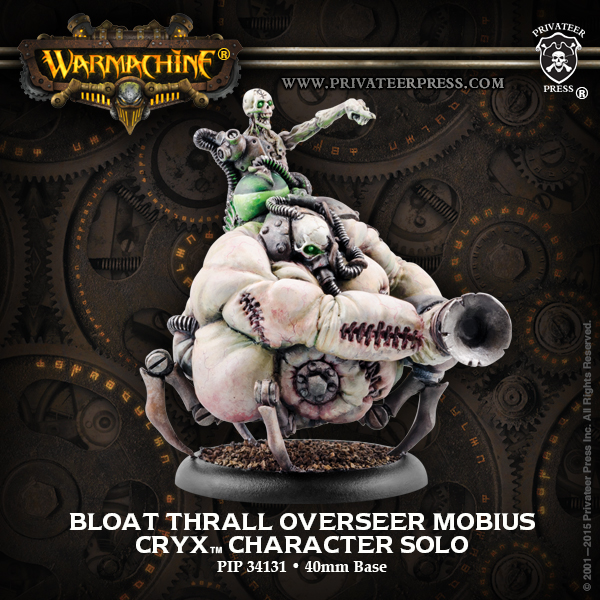 It is time to blow the dust off those bloat thralls. Pie plate corrosion for everybody!
What Is It?
A new cryx solo. This guy is the king of the bloat thralls. He is a character model and is 3 points. He helps bloat thralls out tremendously. They go from 'meh' to 'alright alright alright' if Mobius is leading the way!
Mobius has similar stats to his bloaty underlings but has a more respectable RAT of 6.
What does Mobius Do?
Mobius has battle plans similar to Xerxis. He can hand out either Rush Forward which is just a really wordy "assault" order for a single bloat thrall within 5″. Or he can issue the Scutter plan , also 5″ range, which is similar to reform. This opens up bloat thrall threat ranges with the range 10″ gun and 7″ charge means you can land a pieplate 17″ away. Or if your already in range you can back off a little bit after dishing a pie plate out to try and stay out of threat range.
Elite Cadre is usually a warcaster thing but Mobius is so bloaty he gives continous corrosion to other friendly bloat thralls. This is really great with that 5″ pie plate since you don't have to hit to rack up kills.
Mobius is a Veteran Leader for other friendly bloats. So if a bloat can aim and see mobius he can go up to RAT 8. Thats pretty good for a cryx ranged model!

Who Works Well with Mobius?
If you are considering the this bloat thrall overseer I would consider bringing along at least 1 of his bloat thrall buddies. That's only 5 points for a decent 2 man team. They kinda have to stay 5″ from each other to use the battle plans.
Epic Skarre could be fun with a bloat package. With black spot spell the bloats spot could really lay on some pain. An additional shot if you kill somebody and a defense debuff so you can hit easier. This makes papa Mobius real happy!
All the Deneghra's have something that can help out bloats. Rather it be Crippliling Grasp, Marked for Death, or Mortality.
Scaverous has Icy Grip and Telekenisis that can help them get unegaged and hit their targets.
How Do We Deal with Mobius?
Mobius at the end of the day is only ARM14 with 8 boxes. He can't handle range coming back at him. He and his bloat thrall buddies also explode when they die so they are probably not going to be with the main battle line. If you kill Mobius the other bloat thrall loses the extra RAT and battle plans so try for him 1st. Croak Raiders are immune to corrosion and make bloat thralls kinda sad.
Will you be fielding this new cryx solo BOLS? Pieplate corrosion seems legit, have you been hit by this yet? Please share in your comments below!