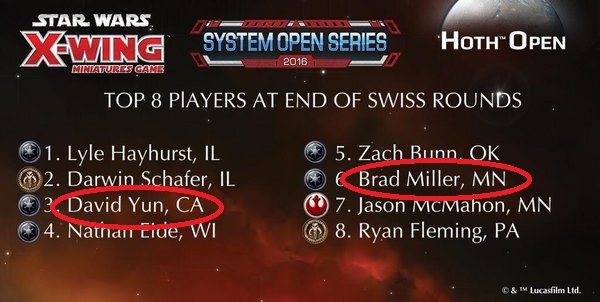 X-Wing Pilots, we wrap up our thoughts on the Hoth Open at Adepticon and bring you interviews from on the scene!
With Regionals season underway, Hoth Open results are well worth scrutinizing as actionable intelligence on the embryonic Wave 8 meta. After delivering our mandatory quota of boasting and internet drama, we dive into actual X-Wing content by discussing squads and play we encountered at the top levels of this groundbreaking tournament.
We then bring you impromptu interviews with prominent players that Ryan managed to blackmail into speaking with us. Under duress, they spill their secrets for your perusal.
Show Synopsis:
00:00:00 Intros, Drama, Beef, and Nonsense
00:17:00 Final Hoth Thoughts Roundtable
00:32:30 Hoth Open Interviews
01:16:00 Show Close/ final ramblings
Hosts:
Ryan Farmer
Dee (David?) Yun
Brad Miller
Episode Archives
Mynock Squadron Facebook group
Direman webcomics
Fly Better! And hit us with your comments below.