Tabletop Spotlight: Codenames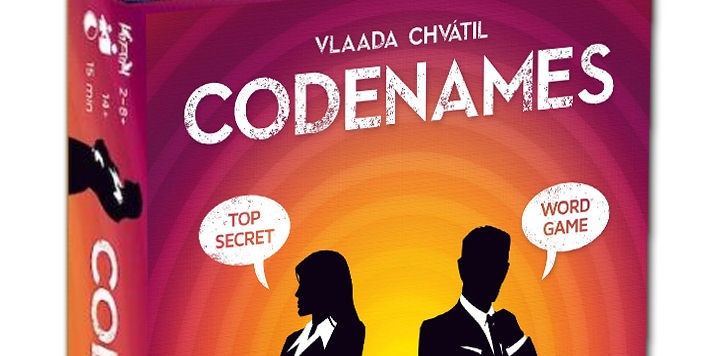 The Tabletop Spotlight is on: Codenames – The "Top Secret" Word Game!
Hey BoLS Readers – Are you looking for a fun party game that you can play with your non-gamer friends? Well the fine folks over at Dragon's Lair Comics & Fantasy have an excellent suggestion for you to try – Codenames:
Codenames is a neat memory/word/spy game in which two teams of players have to guess the right words to reveal their contacts and avoid the other teams. Sounds simple right? Well it is – but it's also a ton of fun! This game is for 2-8 players, but really you want at least 4 for some fun 2v2 action. More players only makes the game more interesting.
What sets this game apart from other cards/word/guessing games is the role of the Spymaster. Each team has 1 and their job is to give out a 1 word clue followed by a number. The word clue has to relate to at least one of the cards on the board. The number clue is the number of cards the spymaster thinks the word clue relates to – it also effects how many guesses their team gets to make that round. So if I said "Thanksgiving 2" my team would be looking for words that they think associate with Thanksgiving and they would get 3 guesses.
However, if they reveal the wrong cards 3 things can happen. If they reveal just a regular citizen and not a spy the turn ends. If they reveal the opposing teams spy, then the other team gets the point. BUT if they reveal the assassin they LOSE. Game over, shuffle up and play again. The only ones who know where all the spies and assassin are located are the two Spymasters. They have a cool little cheat sheet and you get a deck of those. Plus you can rotate the sheets to get different "puzzles" to solve. On top of that the "codewords" deck is 200 cards large – and double sided. This game has a TON of replayability.
It's a really well done game with a cool art style, a fun theme, simple gameplay and lots of replay value. It's a perfect party game for hardcore and non-gamers alike. It's in stores now so go check it out!
The two rival spymasters know the secret identities of 25 agents. Their teammates know the agents only by their CODENAMES.

The teams compete to see who can make contact with all of their agents first. Spymasters give one-word clues that can point to multiple words on the board. Their teammates try to guess words of the right color while avoiding those that belong to the opposing team. And everyone wants to avoid the assassin.

Codenames: win or lose, it's fun to figure out the clues.

Subscribe to our newsletter!

Get Tabletop, RPG & Pop Culture news delivered directly to your inbox.
You can check out the rules for free online as well! Czech Games Edition also put out a video of how to play:
Be James Bond in an Archer-esque card game!