Want a new army? Warlord Games is having a great sale on tons of starter armies from the classic era to modern times!
Brand new to the Warlord ranges? Just finished an army and looking for a new project? Check out these latest opportunities to expand or start a new in 
Bolt Action
, 
Black Powder
 or 
Hail Caesar
.
Whatever you may collect there's always room to try a new avenue within the hobby and starting a new army couldn't be easier than with any of these options for huge value packed sets, now with an extra 15% OFF!
Bolt Action Starter Armies:
Bolt Action takes you into the period of 1939 to 1945. Each Army comes packed with enough troops, weapons, and vehicles to make a legal army that can play in clubs, tournaments, or form the core for a historical unit.
Black Powder Starting Armies:
Black powder can cover a larger range of periods, here we've sets allowing you to chose from the American War Of Independence 1776-1783, the Napoleonic wars of 1789-1815, and the Anglo-Zulu War of 1879.
Again they're all ideal sets to start from, each one providing enough to play good sized battles, or by getting 2 or 3 you'll be able to form full historical Battalions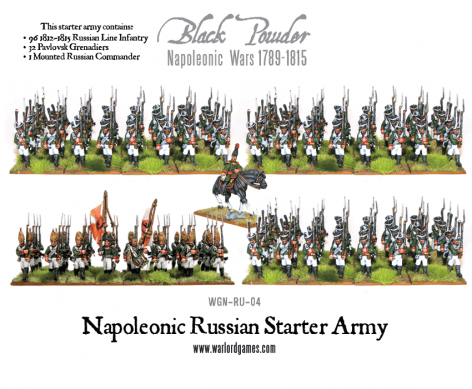 Hail Caesar Starting Army:
Stepping further back in History, and where it all started for us here at Warlord 10 years ago, one of our favourite historical armies has to be the Romans.
This Imperial Roman Starter Army, with over 124 glorious plastic figures with decals for each unit's shields, is a perfect entry into battles during the 753BCE to 565CE periods. With this core for your Hail Caesar games, you'll be ready for combat in no time, then when you're ready to expand, you'll have a huge range to choose from when it comes to continue your conquests!