40k SN Battle Report: White Scars vs Raptors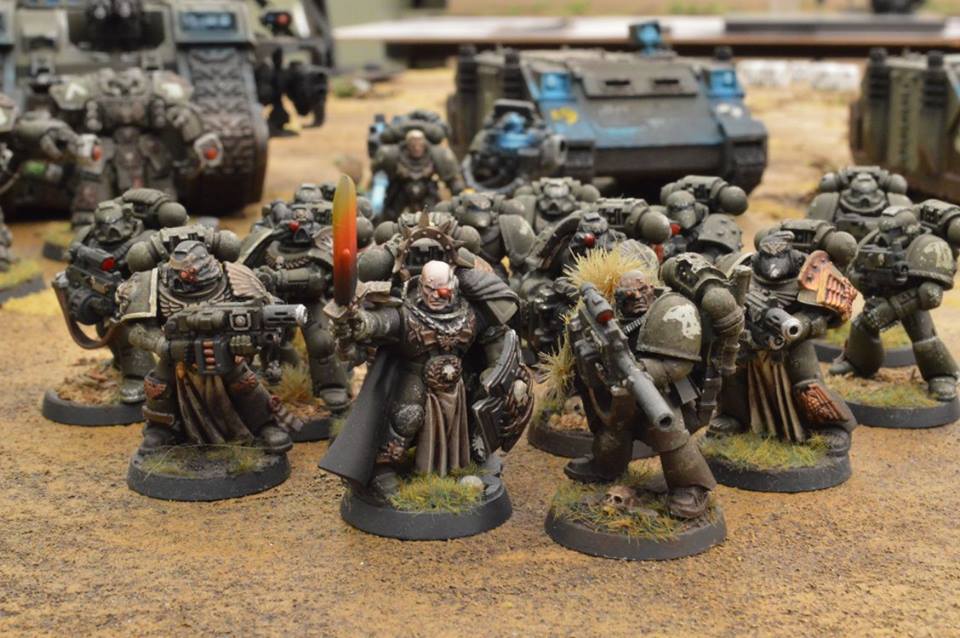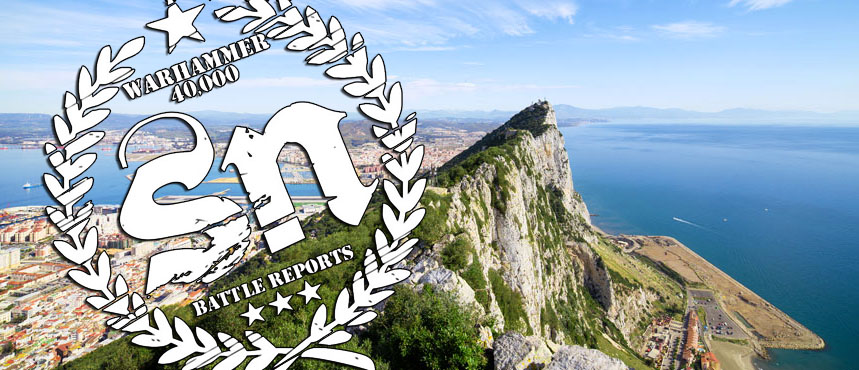 SN Battle Reports vs Tabletop Tactics locked in a fight to the death! Thrills! Spills! A spectacle of which the likes has never been seen!
Ladies and Gentlemen boys and girls, back doing what we do best, back from combat duties at No Retreat 2, in glorious Technicolor we present Battle Report 49!
The throaty roar of Astartes bikers combined with the bark of boltguns and concussive thuds of detonating ordnance came together in a symphony of war. In the eye of this storm of fire and noise crouched a figure who exuded an air of icy calm at odds with the maelstrom of violence that enveloped him. With unhurried grace, Chapter Master Lias Issodon reloaded his custom boltgun, Malice, and sighted down her omniscope sending a mass-reactive bolt through the eye lens of a speeding traitor biker's at a distance of four hundred metres. Kill confirmed. He slowly swung Malice around searching for new targets to present themselves, dispatching them with the same merciless precision that marked the biker's demise. The grey and scarlet armoured Ashen Huntsmen countered the Raptors punishing fire with lightning hit-and-run warfare for which they had justly accrued such fame when they had served the Emperor as the Storm Riders. The two chapters, once sworn brothers now mortal foes, made war at opposite sides of the spectrum. The Raptors, as true sons of Corax, fought with a detached mien, prioritising planning and clever deployment, maximising the use of all available forces against the chinks in the enemies dispositions bringing about their foes defeat with the minimum amount of effort to better preserve their strength for future campaigns. The blood of The Khan ran hot through the veins of the Ashen Huntsmen, crying "Uukhai" with delight as they surged forward like a viper to strike the enemy with venom, only to recoil before their victim had even registered the bite, whooping and howling all the while. They would not halt until all their prey had been run to ground. The circumstances of their fall from grace rendered even more tragic by the ease with which they could have been avoided.
Left to wage an unending war against the stellar empire of Warboss Killagutsmasha, unsupported and forgotten by the byzantine bureaucracy of the Adeptus Munitorum, their savage pride not allowing them to withdraw until their assigned hunt was brought to a victorious conclusion. For two centuries they had tried to inflict death by a thousand cuts to a beast that reconstituted itself with a speed that outstripped its losses. The tectonic pace at which the Imperium moved was highlighted when at last reinforcement arrived in the form of the renowned Raptors chapter, 217 years after the Storm Riders had begun their campaign. The Raptors were thrust into a furious three-way war between themselves, the Orks and the Storm Riders, who had renounced their oath of fealty to the Imperium that had abandoned them and hailed themselves as the Ashen Huntsmen. Lias Issodon had prioritised their elimination for as dangerous as the Orks were, a renegade Astartes chapter was a far more terrible threat, and doubly so one which was skilled in the art of rapid movement and lightning strikes… If the Ashen Huntsmen were not stopped here, before they could disentangle themselves from their xenos foes, then they could run rampant throughout the sector, destabilising the vital arterial trade routes that ran all the way to distant, sacred Terra. With that thought uppermost in his mind, Lias Issodon shouldered Malice and lifted its scope lens to his eye brining the crosshairs to bear on a MkIV armoured helm in storm grey livery. He gently exhaled and in that interminable moment between breaths he carefully, almost reverently, squeezed Malice's trigger sending a kraken round racing towards yet another target.
Deployment: Dawn of War
Points: 1750
Mission: Crusade (3 Objectives)
Chapter Tactics: White Scars
Librarian: Lv2, Space Marine bike; The Hunter's Eye
4 Scouts: 4× Space Marine shotgun; + 1 Scout Sergeant (Space Marine shotgun)…
• Land Speeder Storm: multi-melta
Subscribe to our newsletter!
Get Tabletop, RPG & Pop Culture news delivered directly to your inbox.
4 Scouts: 4× Space Marine shotgun; +
1 Scout Sergeant (Space Marine shotgun)
• Land Speeder Storm: multi-melta
Stormtalon Gunship: Skyhammer missile launcher
Stormtalon Gunship: Skyhammer missile launcher
(Stormlance Battle Demi-Company)
Kor'sarro Khan: Moondrakkan
2 Space Marine Bikers: 2× grav-gun; + 1 Biker Sergeant
4 Tactical Marines: flamer; + 1 Space Marine Sergeant
• Razorback: twin-linked lascannon
4 Tactical Marines: flamer; + 1 Space Marine Sergeant
• Razorback: twin-linked lascannon
4 Tactical Marines: flamer; + 1 Space Marine Sergeant
• Razorback: twin-linked lascannon
Command Squad: 4× grav-gun; Space Marine bikes; Apothecary
4 Devastator Marines: 4× grav-cannon and grav-amp; + 1 Space Marine Sergeant
• Razorback: twin-linked lascannon
Chaptar Tactics: Raptors
Lias Issoden
Captain: storm shield…
9 Tactical Marines: plasma gun; plasma cannon; + 1 Space Marine Sergeant (combi-plasma)
• Rhino
9 Tactical Marines: grav-gun; heavy bolter; + 1 Space Marine Sergeant (combi-grav)
• Rhino
4 Sternguard Veterans: 2× combi-melta; 2× heavy flamer; + 1 Veteran Sergeant (combi-melta)
• Drop Pod
4 Space Marine Bikers: 2× flamer; + 1 Biker Sergeant (combi-flamer)
2 Devastator Centurions: 2× grav-cannon and grav-amp; + 1 Centurion Sergeant (grav-cannon and grav-amp; missile launcher; omniscope)
Land Raider Redeemer: multi-melta
4 Devastator Marines: 2× missile launcher (flakk missiles); 2× lascannon; + 1 Space Marine Sergeant
Sergeant
Please feel free to like, share and comment! ENJOY