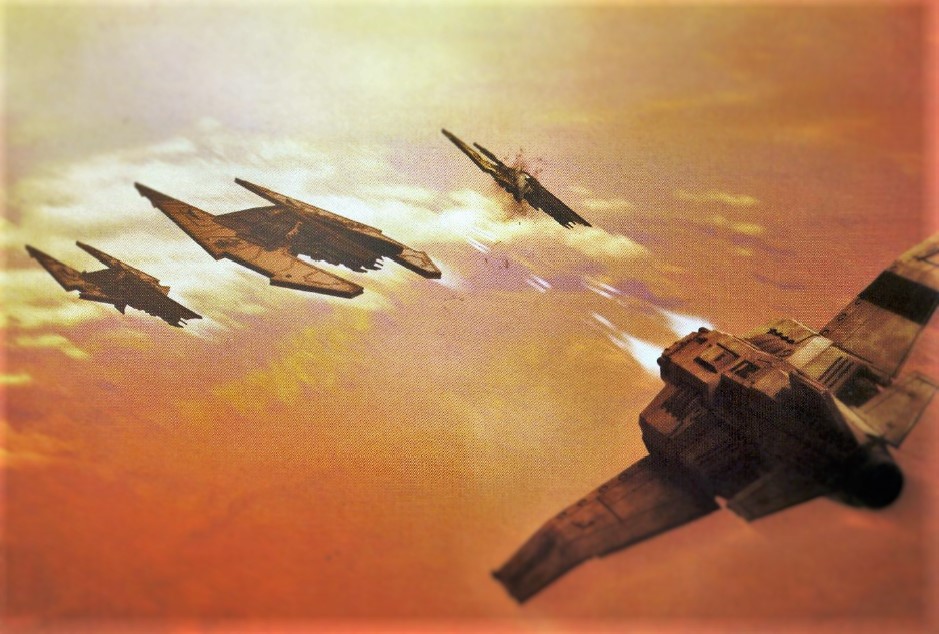 Death from the Skies changed the game – literally! Check out the Top 5 Forge World Flyers that need rules to catch-up!
Love it or Hate it Death from the Skies isn't going anywhere. Sure, you can choose not to use it – you and your opponent have that option (just make sure you're on the same page before hand). But for events that are going to allow the new flyer rules they are going to have to do something about Forge World Flyers. It's kind of a big hole considering Forge World started this whole flyer thing to begin with… Anyhow, he's our Top 5 Flyers from Forge World that we want rules for in no particular order: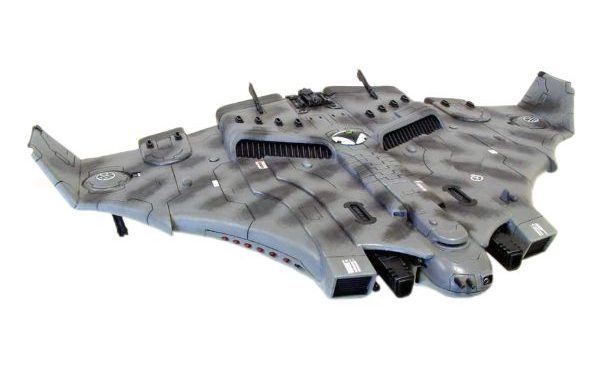 The Tau Tiger Shark is a large Drone Carrying aircraft that is often used to deploy gun drones from its internal racks at high altitude. Includes 14 Tau Gun Drones and 2 pilots.
Why the Tau Tiger Shark? Well for one Big Red actually owns one. So it would be nice to be able to use it in a game with out having to make up rules. Plus, for the low, low price of ONLY £160 it's actually one of the more reasonable Forge World Flyer kits of this size.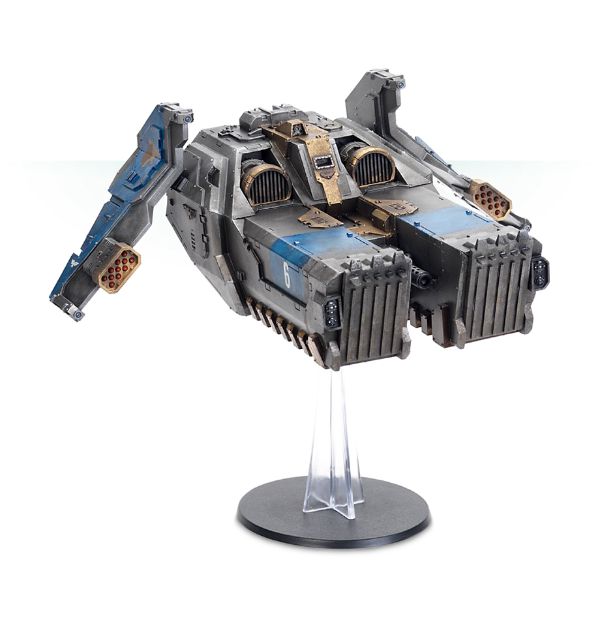 Assault Rams are void attack craft, intended to participate in close-range space boarding actions, that can also act as drop-assault vessels for direct orbital attack. There are many patterns of Assault Ram in use across the Imperium, but among the Space Marine Chapters, the multi-role Caestus is the most commonplace. Smaller than either the Thunderhawk Gunship or the Shark-class Boarding Torpedo, the patterns' chief advantage is its speed and phenomenal durability which make it a highly resilient assault craft, even in the most fire-swept landing zones. Compact and heavily armoured, the Caestus Assault Ram is designed to survive direct collision with an enemy, leaving only ruin in its wake.
This is a kit that a different friend owns – and I've actually played a few large game with other people that own this flyer. It's really fun especially in a narrative style event. I'd love to see it return to the table top and be able to play with the other flyers in the game.
3) Hell Talon Chaos Fighter Bomber
Okay, I'll be honest, I wasn't sure which one to be between this one and the Hell Blade Chaos Fighter. So I've included a link to sneak them both in. I'm just trying to give Chaos players some attention because we all know they aren't really getting any from GW. Ouch… too soon?
Also, this is another kit that a friend of mine owns. Or is it a Hell Blade? Either way I haven't seen them on the table in a while and I'm pretty sure its because the rules need a facelift. Even more now with the new Death from the Skies supplement.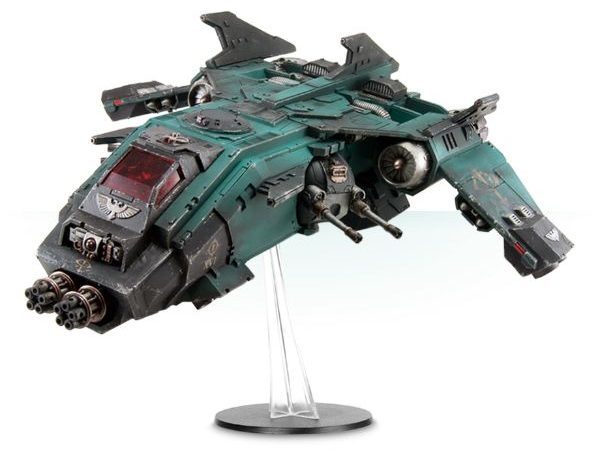 The Fire Raptor Gunship is a specialised variant of the Storm Eagle known to have its origins in the Imperium's dim and distant past. The vehicle is configured to maximise ammunition stowage in order to feed the voracious appetite of its numerous weapons and this is achieved by sacrificing the Storm Eagle's transport capacity.

The secrets of the Fire Raptors construction were lost sometime after the Horus Heresy but Fire Raptors are now being fielded in increasing numbers across the countless war zones of the 41st Millennium, suggesting that an as-yet unidentified Adeptus Mechanicus Forge World or Adeptus Astartes Chapter Forge has come into possession of a complete STC imprint.
This is one of those kits that I'd love to see on the table in person. It's also one of the few kits on this list I haven't played a game with or against. And I'd like to change that – help me out Forge World…give us some updated rules? Or hey, you could send me one and I'll mail in my version of it's updated rules! Seems like a good deal to me.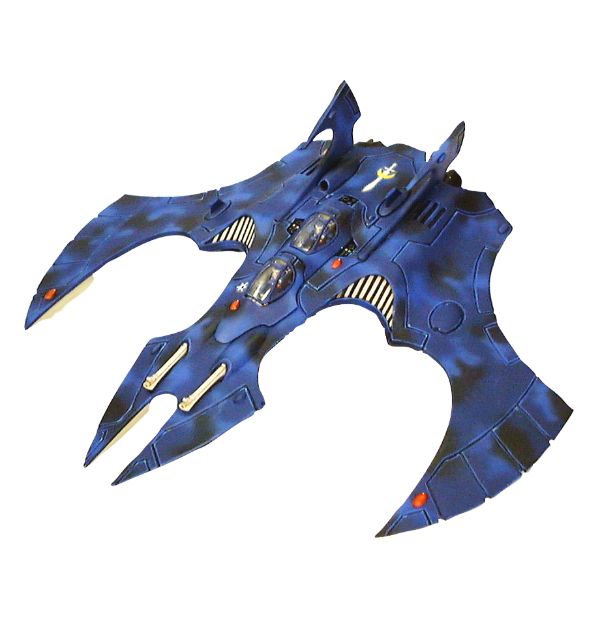 The Eldar Phoenix is a heavily armed strike aircraft. Able to effectively engage both infantry and armour on the ground, while its sophisticated energy field protects it from enemy fire.
This is another fighter that I personally have seen on the battlefield. It's cool and I'd much rather see this than another Wraithknight! So yes, I'm including it on the list because those poor Eldar need SO MUCH HELP to win their games…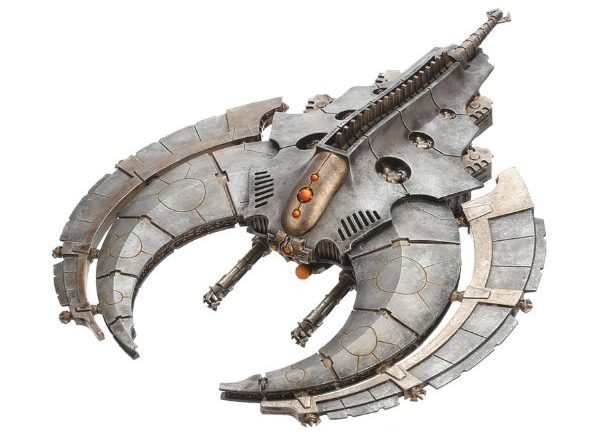 Bonus: Necron Night Shroud Bomber
The Night Shroud is a dedicated bomber, larger than the more numerous Night Scythe and Doom Scythe craft alongside which it operates, whose origins date back countless aeons to the lost battles of the War in Heaven.

The Night Shroud was built to carry a relic of that ancient and apocalyptic conflict – so-called Death Spheres – containment vessels imprisoning the merest fragment of anti-matter. This potent warhead is kept out of phase with the material universe until the sphere detonates, unleashing an energy blast capable of annihilating anything it touches.
I'm including this one because it takes the Croissant of Doom and adds more Croissanty-ness to it, thus making it more tasty. Oh that flaky crust…it's soooo good.
Obvious Flyers I skipped because, while awesome, if you have one you should get to make up your own rules: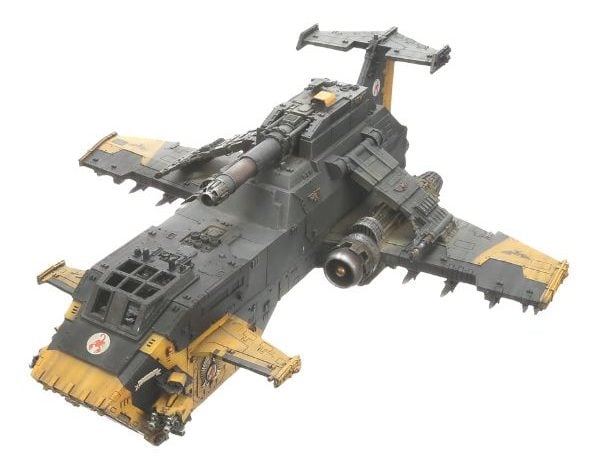 This is a massive model of the famous Space Marine Thunderhawk Gunship. This mighty engine of destruction is armed with a pair of wing-mounted Lascannons, 4 twin-linked Heavy Bolters, a Thunderhawk Cannon that can be upgraded to a Turbo Laser, and wing mounts for up to 6 Hellstrike Missiles. Capable of carrying up to 30 Space Marines in various combinations, the Thunderhawk Gunship measures 19 inches/480mm longand 17 inches/440mm wide.
It's THE THUNDERHAWK, C'MON!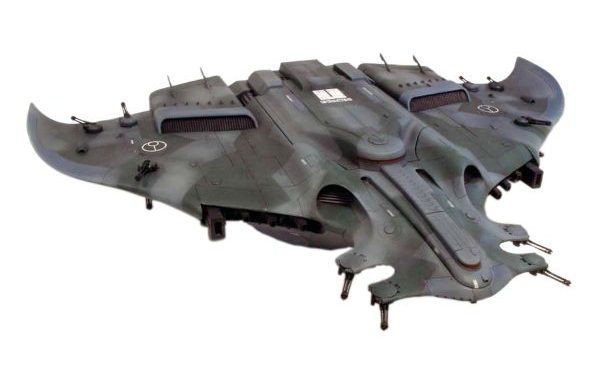 2) Tau Manta
The Manta is by far the largest model that Games Workshop has ever produced, and by a long way too! The Manta measures 630mm/25 inches long and has a wingspan of 860mm/34 inches! Weighing in at 12.5 kilos/28 pounds, it weighs six times as much as a Thunderhawk Gunship, and that is before we put all the tanks and Battlesuits inside.

The Manta has been designed to have a fully working and detailed interior and has two decks: the upper deck is where you will find forty-eight seated resin Fire Warriors and six Gun Drones, overseen by a seated Tau Ethereal. They exit through doors that retract into the walls and then down to the landing zone via the hidden extendable ramp. On the lower deck are eight Tau Battlesuits, two Devilfish troop carriers and two Hammerhead battle-tanks. This whole deck drops down so the vehicles and Battlesuits can disembark and deploy rapidly. Further forward, towards the nose, four Air-Caste systems operators and two pilots control the prodigious amount of firepower that the Manta can bring to bear on the enemy: sixteen Long-Barrelled Burst Cannon, six Long-Barrelled Ion Cannon, two Heavy Rail Guns, Missile Pods and battery of Seeker Missiles as well as a Networked Markerlight turret. The kit includes two Devilfish, two Hammerheads, eight Battlesuits and six Gun Drones.
Again, if you own one, you should just get to make up your own rules for this one.
One last Bonus I'm including because it's a flyer…but weird: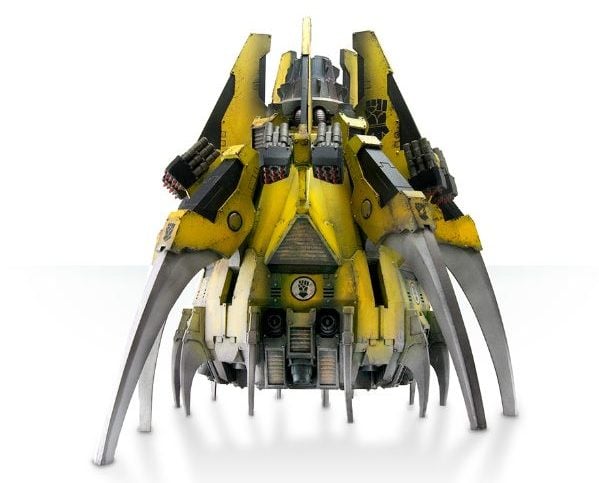 Employed by many Legions as their primary ship-to-ship assault craft, the Kharybdis is a monstrous drop pod capable of carrying large assault forces through the void and mounting significant firepower to blast a path through defending small craft.

As a fully operational dropship, Kharybdis assault claws also serve as orbit-to-surface transports, a role that allows them to use the firepower of their storm launchers and melta cutters to scour clean their chosen landing zone before disembarking their deadly cargo.

Some aggressive commanders employ the Kharybdis as an effective tank hunter, ramming enemy armour in daring low-altitude attack runs.
If you've ever had to play in a game with one, you know what I mean. It's a weird cross between a drop pod and a flyer.
That was more than 5 Flyers – but what do you think? What flyers would you love to see rules for?