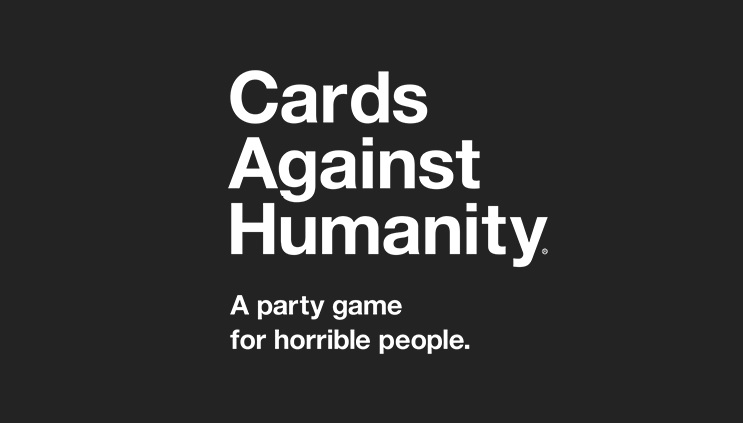 The Tabletop Spotlight is on the perfect storage for your Cards Against Humanity Set: The Bigger, Blacker Box!
Cards Against Humanity has quite a few sets these days. They also sell "The bigger, blacker box" for all your storage needs. This used to be an online only exclusive – but now it's in local stores that carry Cards Against Humanity like Dragon's Lair Comics & Fantasy does. Oh, and it's not really empty…
So yes, it's got some funny stuff inside and the hidden card isn't that hard to find – you won't have to tear the box completely apart to find it. But the real reason you want to get this box is because it's the perfect complement for this game.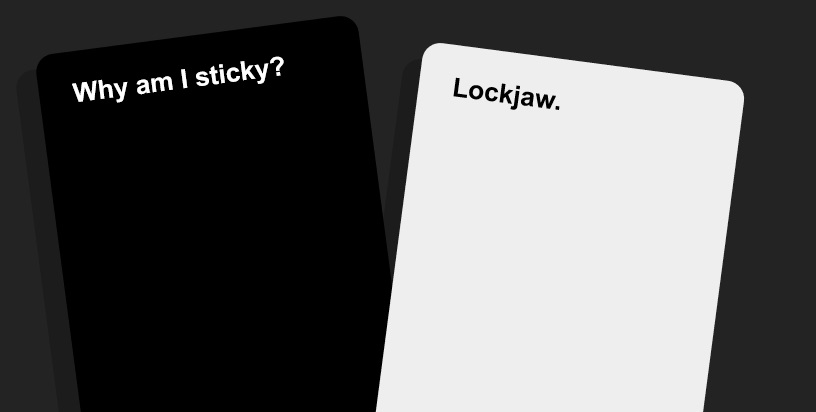 If you haven't played Cards Against Humanity – well, it's one of those games that really digs into the core of your dark heart. Ever heard of Apples-to-Apples? Well this game is similar but the themes and cards are a lot less kid friendly. Each player starts the game with 7 white cards (or more, or less – it's can be played pretty loose). Then one random player starts by drawing a black card. The Black card will have a question or a blank on it. All the other players turn in a white card into a pile, preferably randomized. Then the player with the black card reads the white cards in context and they can choose their favorite response. The player who submitted the white card then gets the black card as a "point" and you repeat the process. You can play to as many points as you like realistically.
Seems simple right? There isn't a real catch – the player just picks their favorite response. But based on what? Okay – that is the catch: Based on whatever they like. Is it a reference to an in-joke? Is it wildly inappropriate? Is it the least offensive option? Is it the MOST offensive option? The judge just picks their favorite and you learn A LOT about a person.
So what makes this box so great? Sure, you could just go get a generic card box and you'll be fine. But it's the fact that it's called "The bigger, blacker box" in context of the game that matters. If you've played the game you know why this makes sense. If you haven't then think of it like Pandora's box but for good times and some dark humor. Once you open it and play it you can't ever go back to the way you used to be.
The game IS called Cards Against Humanity. The best storage box for it (and all the expansions you're going to want to get) is call "The bigger, blacker box." It's in stores now. Go check it out.
The Bigger Blacker Box is an empty storage case that can hold Cards Against Humanity and all expansions.
Does not include the Cards Against Humanity main game.

Six amazing sides in three incredible dimensions.

Includes 50 blank cards (10 black, 40 white), 10 dividers, the 20-card Box Expansion, and nutritious foam filler.

There might be other surprises in there. Who knows?
The bigger, blacker box. The right TOOL for the right job!