The Tabletop Spotlight is on Letters from Whitechapel – Can you stop Jack the Ripper?
Our friends at Dragon's Lair Comics & Fantasy brought over a really special game from Fantasy Flight Games – if you like Victorian Era London Gothic Horror or if you've ever wanted to try and solve the Jack the Ripper case then you're going to watch this one:
When Fantasy Flight Games says this is an "Intense Cat-and-Mouse Hunt" they aren't kidding. The question is who's the cat and who is the mouse. Players take the role of the police department trying to catch Jack the Ripper who is played by another player – it's basically 2-5v1 – but don't think that makes it easy. It's very much a mental chess game of matching wits. If you can out think Jack then you might be able to stop the carnage…however if you can't do it before he completes his killing spree then he will go into hiding never to be found again.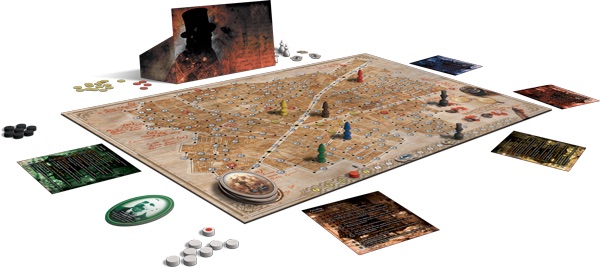 The Gothic Horror / Victorian England vibe is strong with this one. The board is wonderfully detailed and all the tokens and art are extremely well done. I was blown away by the "ye olde tyme" look everything has. One of the coolest accessories in this box was actually the super creepy letters that jack can leave behind to taunt the cops. I won't spoil them but they are a nice touch – especially for this type of a subject.
The Jack player also has a cool "GM" screen that he or she can plot their movements out on. Once jack completes a kill they only have so many moves to get back to their safe house. But don't think it's going to be easy to pin down, the streets are crammed and crowded with winding areas – any of which could be the lair of the Ripper!
Overall, this game is very well done! The components draw you in, the narrative of the game keeps you hooked and the mental gymnastics will keep you coming back for more. This is a game that belongs in your gaming rotation – but maybe don't play it with your small children…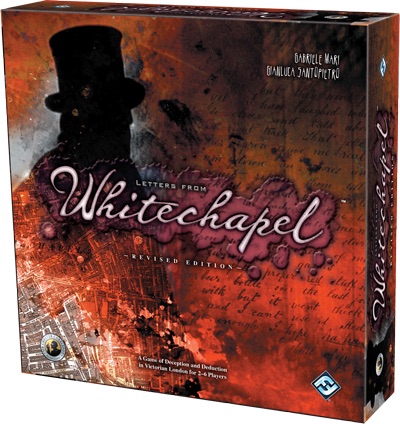 Letters from Whitechapel is a thematically engrossing board game of deduction and bluffing in which one player takes the role of the infamous Jack the Ripper, while up to five other players are detectives working together to pursue him through Victorian London. After committing his horrible murders, Jack must outmaneuver the detectives in the tangled streets of the Whitechapel District. Meanwhile, the detectives must use clever deduction and their superior numbers to hunt Jack the Ripper down before he can kill again or elude them forever.
Can we play Whitechapel again – but can we leave the lights on?