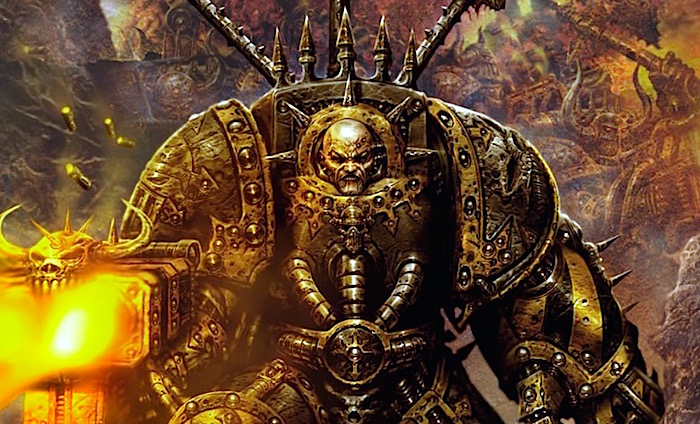 Chaos Terminators! What are the best ways to equip them? What tactics can unlock their potential?
Hi guys! Blog for The Blood God here to discuss Chaos Terminators! What are the best ways to equip them? What tactics can unlock their potential? How do you make sure they earn their points and where do they fit in the grand scheme of things!
FLEXIBILTY
Where do we begin when discussing Chaos Terminators? Lets start by understanding just how flexible this unit can be! It can be as large as ten terminators with attached Independent Characters or as small as a unit of three. Not only is the unit size flexible but the wargear ranges from Mid ranged firepower, close range anti tank, melee in every flavour possible and much much more!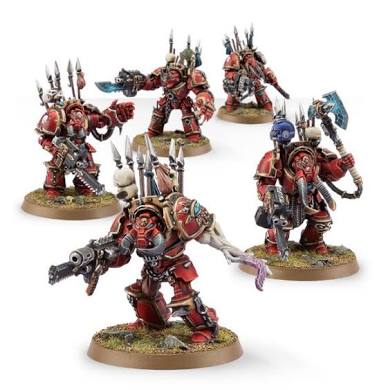 With this flexibility in mind I think it is important to decide exactly what you want your terminators to do, you can kit them out to be a bit of a swiss army knife but I feel this is the worst way to get your points worth. In my opinion you are best picking a specific role for your terminators and tailor them to excel at it. So lets break down a few different roles a unit of terminators can fill and what loadouts and tactics fit well in that role 🙂
Inthis article I will be focusing on my favourite tactic for using Chaos Terminators…the Termicide!
TERMICIDE
This is a personal favorite tactic of mine, Termicide is when you take a minimum sized squad with a single purpose… Deep Strike close to your target, kill the target then die…. well it is a little more complex than that but that is the general idea.
Termicide can be tailored to two main specialties, look at your list first and determine its weaknesses, what type of unit are you going to struggle with? Once you have figured that out pick one of the two options below to best suit your needs.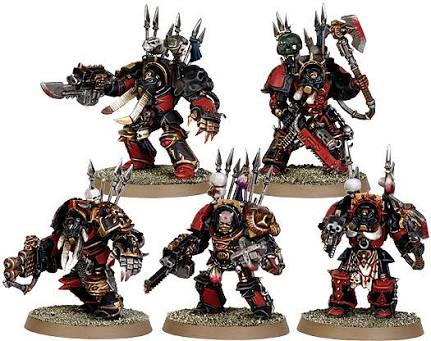 Melta Termicide (127 points)
Terminator Champion, Combi Melta, Power Maul/chainfist
Terminator two, Combi Melta, Power Maul/chainfist
Terminator three, Combi Melta, Power Maul/chainfist
This one is perfect for forces that lack options for popping Land Raiders and Super Heavy vehicles etc. Simply Deep strike within 6″ and rip into it with your meltas, with 3 shots you will likely hit twice, penetrate one or both and then get an explode on a 5+. For the close combat weapons I like to keep it as cheap as possible, the power maul offers effective Anti light/mid vehicle as its Strength 6 will hit rear armor, with the number of attacks these guys put out they are sure to wreck what they hit, they also mince infantry as they wound most basic troops on a 2+. The Chainfist is your insurance policy against super heavies, if you get unlucky and fail to explode the target you have a chainfist to finish the job, unfortunately as this is a suicide squad the chainfists often wind up a waste of points, it is for this reason I recommend Mauls. This squad is best taken in multiples, increasing your chances of exploding the target and opening up multiple targets if you get lucky and explode the first one with your first unit.
3 units of 3 comes in cheaper than an Imperial Knight and will usually drop one in a single round of shooting (provided they all arrive from reserves)

Plasma Termicide
Terminator Champion, Combi Plasma, Power Axe/maul
Terminator two, Combi Plasma, Power Axe/maul
Terminator three, Combi Plasma, Power Axe/maul
This one is fantastic for popping light vehicles as within 12″ you get twice as many shots as the melta version, getting 6 shots you will likely hit 4 and on av10 you should glance at least 3, wrecking most vehicles, this is much more reliable than the Melta option but it does lack the ability to damage higher armor values. The added bonus to this specialization is the ability to put serious hurt on enemy Monstrous Creatures or TEQ Units. For this unit i recommend either power mauls or if you lack Ap2 and that is why you selected the plasma option power axes are quite effective too, the trade off is striking last, but hopefully the terminator plate will protect you long enough to strike.
With both different loadouts your opponent will likely panic the turn you arrive. They will want to protect their big toy so in their turn they will focus fire on your terminators to prevent you from making it into combat, this will draw fire off of the rest of your forces 🙂
Also do not forget to check me out on facebook over at Blog for the Blood God for the latest on everything Khorne! I also have a Youtube Channel with everything from Battle Reports to Painting Tutorials and Early Unboxing and product reviews.
Thanks for tuning in, Stay Bloody everyone!