Wargames Con 2016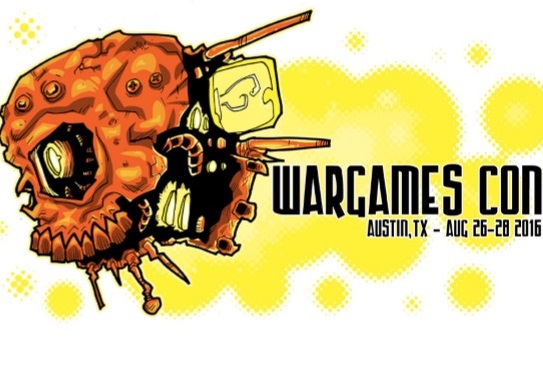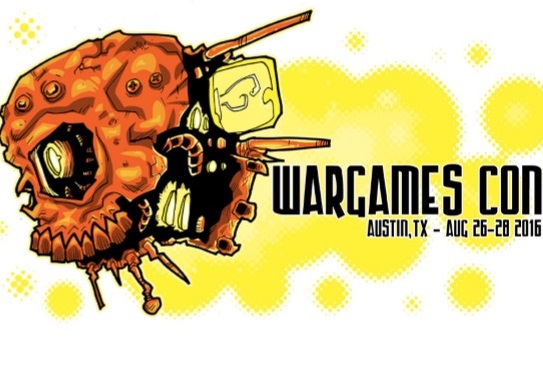 Wargames Con returns to Austin, Texas – August 26-28 2016! Get Ready for a weekend of Tabletop Gaming FUN!
Wargames Con returns to the Double Tree Hotel in Austin Texas for another year in the Capital City!
via Frontline Gaming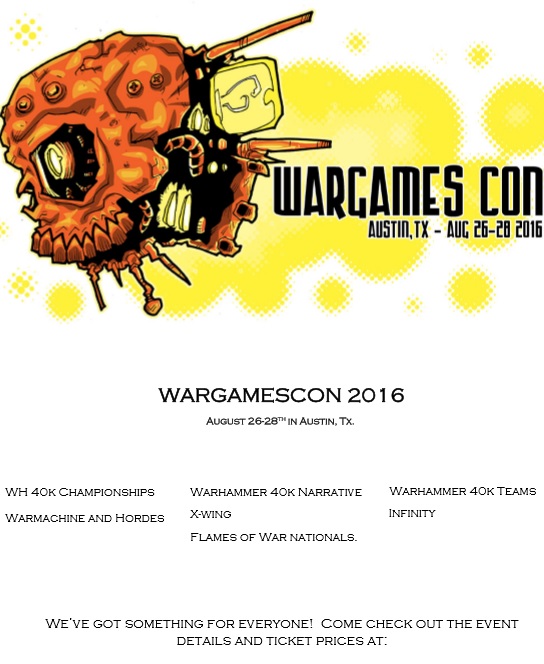 Warhammer 40K Champs – Saturday August 27, 2016 – Sunday August 28, 16
List Construction will be 2000pts. and normal ITC restrictions.
This event will use the 2016 ITC Format, which you can see here.This is an official ITC event.

Wargames Con list building exception: 30k Army Lists are legal for Wargames Con 2016

We will be awarding prizes for Tournament Champion 1-2, Best Overall 1-2, and Best Appearance 1-2. We anticipate this event filling fast, so don't wait to get those tickets!
Warhammer 40K Team Event – Friday August 26, 2016
Game 1: 12:00pm – 2:30pm
Game 2: 2:45pm – 5:15pm
Game 3: 5:30pm – 8:00pm
Do you want to play 40k with your buddy and not play those same "boring" missions they play in the Grand Tournaments!? Well then you should sign up for the Wargamescon 40k Team Tournament!  Come join the fun with some whacky missions, beer and great 40k moments!
2000pts total:  1000 points per person, battle-forged lists with the exception that each player is limited to one faction but unlimited detachments. Example: You can have multiple Necron detachments or multiple Harlequins detachments but you cannot ally with yourself.
List submission is required!!
Both players are allies of convenience with each other.
NO super heavies or gargantuan monstrous creatures.
Fortifications are allowed but limited to 1 per team.
Wargames Con 2016 Warhammer 40K Narrative Events
40k Team Narrative
Team up with of 3 or 6 players as your 40k faction fights multi-player battles in two days of unfolding story-driven 40k, Battle shoulder-to-shoulder with your teammates against a common foe, execute custom missions, and secure victory for your faction.
1500 point armies.(List build information forthcoming)
Friday 12-7 and Saturday 9-7.
40k Solo Narrative
Earn glory for your 40k faction and influence the narrative story line in two days of exciting 1-on-1 games. You'll get to choose the enemy factions you'll play against, experience unique scenarios, and contribute to your faction's fate in the narrative story. 1750 point armies. (List build information forthcoming)
Friday 12-7 and Saturday 9-7.
40k Apocalypse
Join forces one-day apocalyptic multi-player battle featuring titanic war engines. This is the only event where you'll be playing with Lords of War, super heavies and massive armies in a giant-format battlefield.
2000 point armies. (List build information forthcoming)
Sunday 9-4, one
40k Command Post Exercise (40K CPX)
A challenging one-day 40k scenario featuring information uncertainty and levels of command and planning among players. This unique event will challenge your flexibility, communication, and teamwork as you face off against a thinking, adaptive opponent.
Armies and models provided.
Sunday 9-4, two games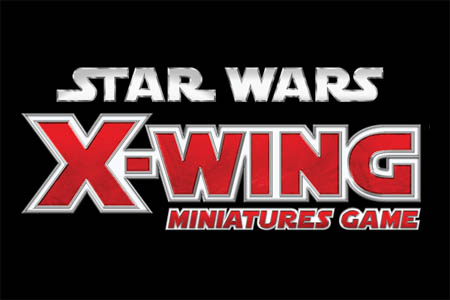 Wargames Con 2016 X-Wing Events
Wargames Con X-wing Epic Team Tournament "What A Fine Smell You've Discovered!"
Come fly your ships in an X-wing Epic Team battle where the costs are high, the objectives are in constant flux and your partner may turn out to be your enemy!
Subscribe to our newsletter!
Get Tabletop, RPG & Pop Culture news delivered directly to your inbox.
When: Friday August 26th
Where: Wargames Con, Austin TX, Doubletree Hotel
What: $35 gets you on the board for a full day of letting your "lazah go pew pew!", a custom Wargames Con 2016 Ship marker, and a custom range ruler
How:

8, 2 person teams, 150pts each team member EACH TICKET IS FOR 1 PERSON!
3 games, 2 hours in length.
Teams must be the same faction
All FFG X-wing Epic tournament rules apply
Objective and kill points apply and will determine the winner
There will be objectives and themes for each game, centered around a story of an incursion into Bothan space by the Empire.
Prizes will be awarded to winner, loser, and most creative list. Other prizes will be awarded throughout the tournament as well.
Wargames Con X-Wing Tournament
In the not too distant future, in a city in Central Texas, an X-wing tournament will take place! Swiss round tournament, maximum of 7 rounds (depending on players), with the championship rounds on Sunday.
When: Saturday and Sunday, August 27th and 28th
Where: Wargames Con, Austin TX, Doubletree Hotel
What: $65 gets you entry into the tournament, a custom Wargames Con 2016 ship marker, a custom range ruler, and entry into the "I didn't lose, I felt sorry for my opponent!" Second Chance tournament on Sunday.
How:

52 pilot cap
5-7 swiss rounds on Saturday (depending on attendance)
Top will play on Sunday while the "My dice hate me and I didn't make the cut" group will have a chance at the Second Chance tournament
Prize support from the FFG Summer Kit as well as custom movement templates, glassware, Star Wars character steins, T-shirts, and a winner's plaque among other things.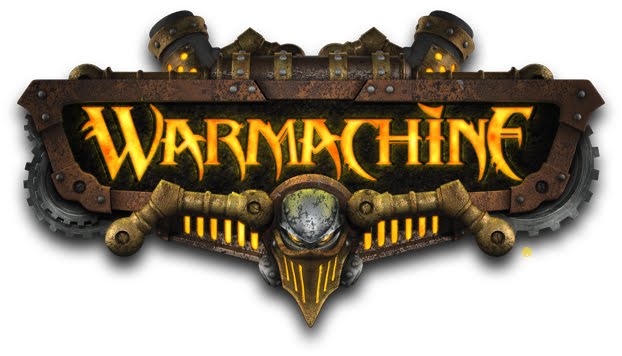 Wargames Con Warmachine Event List
Friday
50 Point, 2 List Masters 2016 Warmachine Weekend Qualifier Preliminaries. Reg at 10:00. We will play until there are 8 or fewer undefeated players, with 3 rounds minimum.  Those players will play in the finals

on Sunday

.  The winner of the

Sunday 

tournament will receive a free badge to Warmachine Weekend and an invitation to play in the prestigious Warmachine Weekend Invitational!
25 Point Mangled Metal 1 List Steamroller 2016. Reg at

6:00 PM

Iron Arena, 9 AM to

7 PM

. Come play some casual games with other players to earn prizes!
Saturday
Iron Gauntlet 2016 Tournament, Reg at 10:00. Details on the format will be released at a future date.  Compete to earn points to qualify for the Privateer Press Iron Gauntlet World Championship!
35 Point, 2 List Steamroller 2016 Tournament, Reg at

11:00

25 Point Speedmachine Tournament, Reg at

6:00

Iron Arena, 9 AM to

6 PM

. Come play some casual games with other players to earn prizes!
Sunday
50 Point, 2 List Masters 2016 Warmachine Weekend Qualifier Finals. Reg at 9:00.  Must use the same lists as

Friday

.  Records are reset and any player who qualifies for the finals can win the event.
25 Point Team Tournament Steamroller 2016. Reg at

10:00

Each player builds a 25 point list.  Once the game has started, each team acts like one player for purposes of taking their turn.  Character restrictions apply across both lists.
Iron Arena, 9 AM to

4 PM

. Come play some casual games with other players to earn prizes!

Wargames Con Infinity Events:
Friday

Infinity

ITS Welcome Tourney: 3, 2 hour rounds top four players get berth in

Sunday

Invitational Tourney

Saturday

Infinity

ITS  Tourney: 3 , 2 hour rounds top 4 players who don't already have a berth in the

Sunday

Invitational will get a berth

Sunday

ITS invitational 8 Man Tourney: 3, 2 hour round there will also be Tag Arena and small team corridor crawl events for those who didn't get an Invitational Berth. Missions and

Sunday

event details in the mission pack.
We Wargame ALL NIGHT – Deep in the Heart o' Texas!