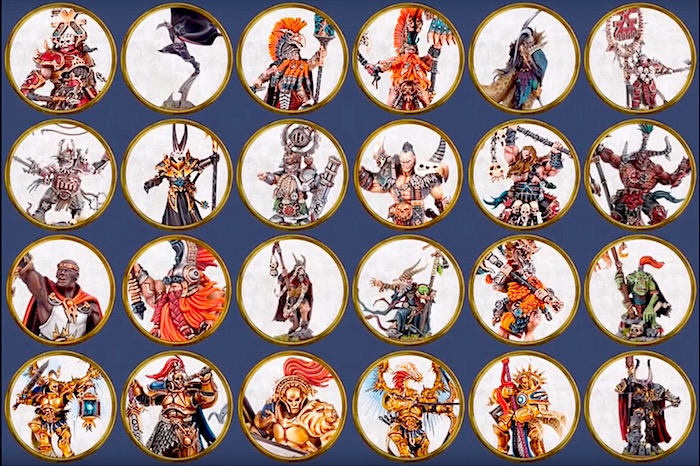 There are dozens of new heroes to use in Warhammer Quest: Silver Tower. Come check out the app:

The guys over at Bad Dice Podcast put up a quick review of the new app, just out yesterday.  Take a look:
'My Hero' App Review
"Review of the Warhammer Quest Silver Tower 'My Hero' app for iOS and Android from Games Workshop. I look at the features of the app and how it also includes some new characters from Age of Sigmar into the game."
Mr. Mystery has a full rundown of the App's contents and pricing below:
Treasure Cards and Skills Cards – £2.99 each
Additional characters -£0.79 each (not including models, obvs)
Every current upgrade as a bundle? (37 characters, 2 'card' packs) £20.00
Oddly, no mortal humans. None. Not a Witch Hunter or Noble in sight. So far.
ZE COMPLETE CHARACTER LISTINKS…..
Six ones from the main game, and the four in the forthcoming expansion box (Knight Venator, Tzeentch Sorceror, Slaughterpriest and Auric Runemaster.
Aspiring Deathbringer with Goreaxe and Skullhammer
Assassin (Dark Elf)
Battlesmith
Black Ark Fleetmaster
Bloodsecrator
Bloodstoker
Chaos Sorceror Lord
Cogsmith
Exalted Deathbringer with Impaler Spear
Exalted Deathbringer with Ruinous Axe
Great Bray-Shaman
Grey Seer
Grimwrath Berserker
Grot Shaman
Knight Azyros
Knight Heraldor
Knight Vexillor
Lord of Chaos
Lord Castellan
Lord Celestant
Lord Relictor
Loremaster
Necromancer
Nomad Prince
Orruk Warchanter
Orruk Weirdnob
Runelord
Saurus Oldblood
Savage Orruk Warboss
Skaven Warlord
Skink Starpriest
Skullgrinder
Slaughterpriest with Hackblade and Wrath-Hammer
Sorceress (Dark Elf)
Unforged (Dragonslayer)
Warden King
Wight King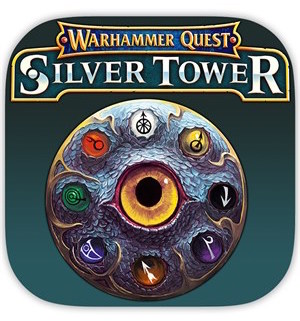 ABOUT THE APP
The Warhammer Quest Silver Tower app allows you to create a hero and guide them through their trials in the sinister Silver Tower, tracking their dice, skills and treasure, and those all-important amulet pieces. Determine which skills and treasure your hero will carry over from game to game and add even more to your game with downloadable, app-exclusive skill and treasure cards. You'll also find more than 35 additional heroes to download and use in your games, from the sneaky Grot Shaman to the charismatic Sorceress, and many more.
PLAY
Choose your Trial and follow your hero as he fights his way through the twisting labyrinth of the Silver Tower. Track their dice, collect their Treasure and Skill cards in an easy-to-read format and note which cards they will keep as they continue on to their next adventure.
HEROES
Choose your hero from a huge selection. View their stats, weapons, Traits and Renown and whatever Skills and Treasures they've managed to claim during their dangerous quests.
MY COLLECTION
View your Characters, Skill cards and Treasure cards. All ten heroes from the boxed game are included, as well as the thirty-six Treasure and Skill cards from the box – and more are available in the Shop. View all the details of everything you have available – select the right warriors and equipment for your next journey into the Silver Tower.
SHOP
Add new options to your game! Choose from a selection of more than 35 new heroes, all based on plastic Citadel Miniatures from the Warhammer Age of Sigmar range. Buy packs of new Skill and Treasure cards to give you more ways to defeat the dread servants of the Gaunt Summoner. With so many additional options, no two games of Warhammer Quest: Silver Tower will ever be the same.
WHERE TO GET IT
iOS: You can download the Warhammer Quest: Silver Tower app for your iPhone and iPad from the App Store.
Android: If you have an Android phone or tablet, you can download the app from the Google Play store.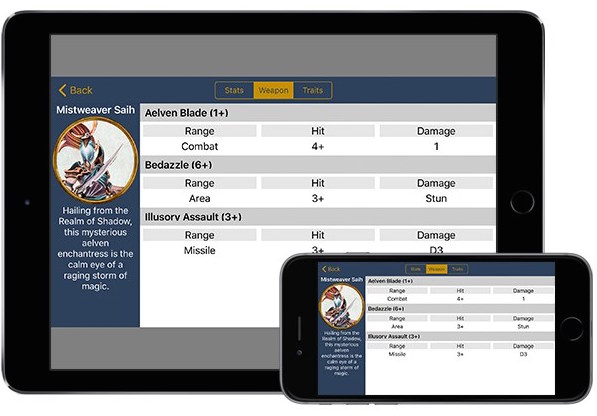 ~Will you dare to enter the Silver Tower?