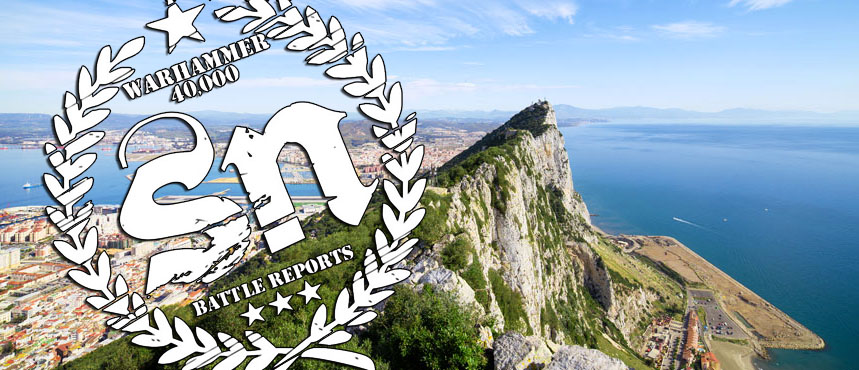 SN Battle Reports brings you another Battle Report using their amazing Studio Iron Warriors. Iron Within, Iron Without!
Casualty read-outs and status reports continued to scroll through Haesulth's retinal display. Defeat always tasted bitter but to be forced to withdraw from his own fortress… for a son of Perturabo it was unbearable. Already those Khorne-worshipping dogs were defiling his demesne with their blood daubed banners, their voices thundering with fanatical praise to their brutal God. No. Defeat tasted bitter, but today it would not be Haesulth the Ironbound that would taste it. No sooner had the faintest outline of a plan began to form in his mind than he quickly began bellowing orders via the vox. His forces had been depleted but not destroyed, the opportunity for vengeance would be the beacon, the rallying cry to arrest their flight and reform to face their foes once more.
Haesulth's words boomed and crackled as his squads began forming an ever growing battle line, vehicles gunning their engines in eagerness to redress their earlier drubbing. To launch a counter attack against an enemy that outnumbered him and that had the advantage of fortifications was, Haesulth knew, suicidal. But, his foes were Khorne's favoured, defence was anathema to them especially when they were buoyed by their earlier victory. All the Iron Warriors had to do was to form a line of battle and make the semblance of a counter attack to draw the undisciplined mob out into the open. Already, he could see the first crimson armoured warriors begin to appear at the cities edge. They were coming. The Iron Warriors would be ready for them, eager to pay back the blood spilt.. with interest.
Points: 1750pts
Deployment: Hammer & Anvil
Mission: Purge the Alien
Special Scenario: For every enemy unit on the opposing players half of the table (other side of the fence) at the end of the game the player receives 1vp.
CAD
HQ
Bloodthirster of Insensate Rage

Troops
8x Bloodletters8x Chaos Cultists: Autopistols8x Chaos Cultists: AutopistolsFast AttackHeldrake: Hades AutocannonHeldrake: Baleflamer
Heldrake: Baleflamer
Heavy Support
Maulerfiend: Lasher Tendrils
Soul Grinder: Phlegm Bombardment
Gorepack Formation
3x Chaos Bikers
Champion: Bolt Pistol, Close Combat Weapon, Melta bombs
Biker: Meltagun
Biker: Meltagun
3x Chaos Bikers
Champion: Combi-Melta, Close Combat Weapon, Melta bombs
Biker: Meltagun
Biker: Flamer
8x Flesh Hounds
8x Flesh Hounds
Chaos Lord in Terminator armour: lightning claw; sigil of corruption
Sorcerer in Terminator Armour: combi-bolter
4 Chaos Space Marines: meltagun; + 1 Aspiring Champion (plasma pistol)…
• Chaos Rhino
4 Chaos Space Marines: meltagun; + 1 Aspiring Champion (plasma pistol; power fist)
• Chaos Rhino
4 Chaos Space Marines: meltagun; + 1 Aspiring Champion (plasma pistol; power fist)
• Chaos Rhino
4 Chaos Space Marines: + 1 Aspiring Champion (plasma pistol; power weapon)
• Chaos Rhino: havoc launcher
4 Chaos Space Marines: + 1 Aspiring Champion (plasma pistol; power weapon)
• Chaos Rhino: havoc launcher
Helbrute: twin-linked lascannon; missile launcher
Helbrute: twin-linked lascannon; missile launcher
Heldrake: baleflamer
Heldrake: baleflamer
Chaos Vindicator: siege shield; combi-bolter
Please feel free to like, share and comment! ENJOY
More info on No Retreat 3 at www.snbattlereports.com