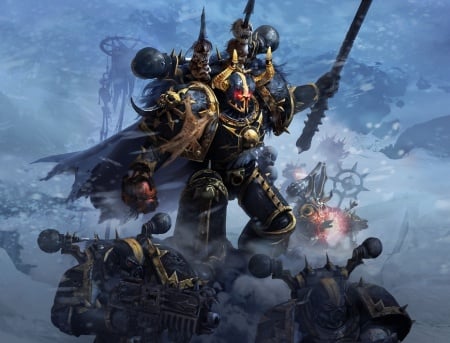 The two formations from the new Start Collecting Boxes have been spotted in the wild – come check these out!
The Chaos Space Marine and Militartum Tempestus Start Collecting boxes have everything you need to get a force started – including special formations. Let's take a look at just what those formations are:
via Scanner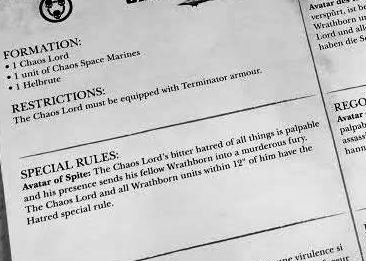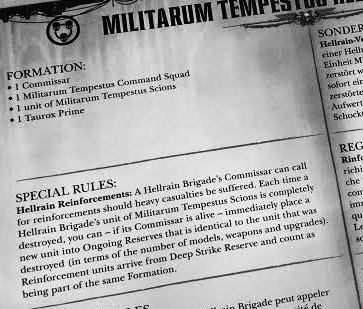 Let's break these down really quick.
Chaos Space Marines – Avatar of Spite – "The Chaos Lord and all Wrathborn units within 12" of him have the Hatred special rule." That's not terrible…Hatred can help you turn that first round of close-combat from a whiff to a hit. Now it's just a matter of getting there…
Militarum Tempestus – Hellrain Reinforcements – "Words" – Basically: it's Without Number for 1 unit of Militarum Tempestus Scions, but they can Deep Strike back in and count as being part of the same formation, which means if they are wiped out (again) they can return. That's pretty good for holding objectives and possibly laying down some support fire. It could come back to bite you in a KP game however.
In a vacuum I'd probably think the Militarum Tempestus got the better end of that deal. But if you think about it they have to die for that to trigger. The Chaos Space Marines just get Hatred. And thinking about how much rage was induced from just showing off the pictures of what's in the Chaos Marine Start Collecting box…it totally fits!
Sorry Chaos Space Marine Players. Maybe next time…