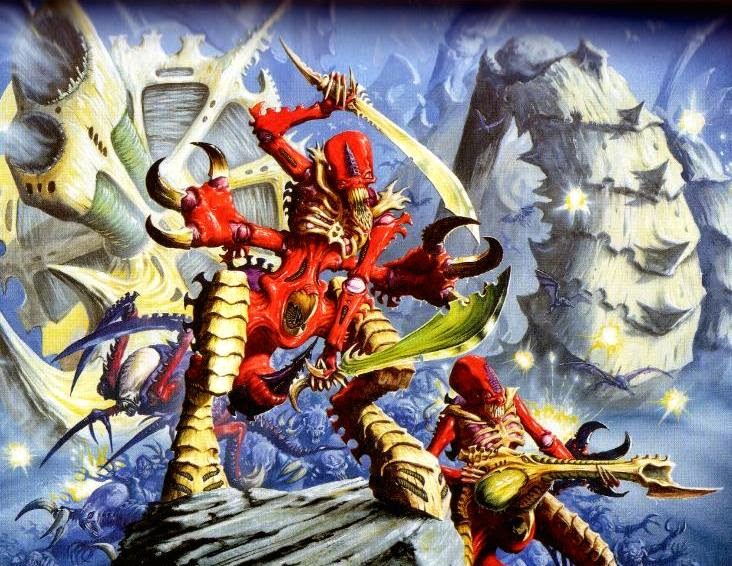 We continue to explore Xenos Terrain options for 40K – Let's talk Tyranid Terrain!
When talking about Terrain, Games Workshop has a "Xenos Problem" – We've already talked about Ork Terrain and the Eldar now let's talk about the hungriest race in the galaxy: The Tyranids!
"In this series of articles, we here at BoLS have put together some basic concepts that we think would make killer terrain pieces. Feel free to make these yourself – kit bash'em or scratch build them – but it would be a lot nicer if GW put out some actual kits. We've also taken the liberty of mocking up some very high level rules to add some of that 'narrative flavor' to the game. We also want to point out that all the kit ideas we're presenting were ideas taken directly from the fluff."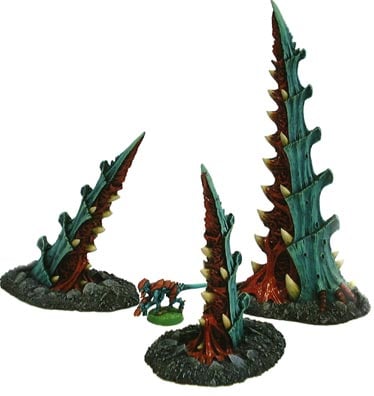 If you've been playing for a long time you might remember these Tyranid Capillary Towers from Forge World. You might also remember this "brood nest" thing:
There was also the Tyranid Spore Chimney as well: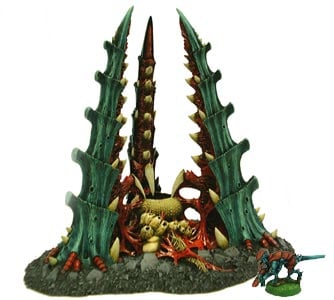 And most recently Tyranids also got the Sporocyst: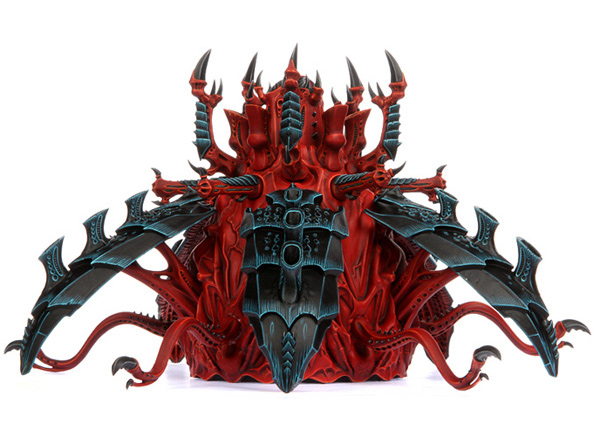 These kits are the closest we've gotten to ever getting Tyranid themed Terrain… and yes, I know that the Sporocyst isn't technically terrain (it's really more like a Fortification with MC rules tact on). Unfortunately Forge World discontinued the kits and all we have left is the Sporocyst. While it's is pretty neat and all, it really got me thinking about what other things they could do with Tyranid terrain.
The kit that I'd really like to see revived or re-invented is the Spore Chimney. One of the ways the Tyranids attack and start to convert a planet into easily digestible bio-mass is with spores.
via Lexicanum
"Spore Chimneys are a key part of a Tyranid invasion. They pump out alien spores which not only pollute the atmosphere but also quickly alter the native fauna. Local vegetation will be replaced by highly aggressive alien vegetation. As the process of consumption accelerates, the sky darkens and the planet's temperature begins to rise. The surface is soon transformed into a hothouse environment, accelerating the process still further and optimizing conditions for the next stage of consumption."
Tyranid Spore Hive Network
If I could re-invent the Spore Chimney I'd like to see something a network of Spore Hives. These would a set of 1-3 Spore Hive Nodes that the Tyranid Player could place around the board (like a fortification). These would be on a 60mm base and would have a profile similar to other Tyranid Creatures. They would be immobile and might have a short range attack like Flesh Hooks (Pg. 67 of the current Tyranid Book).
Their in game effect could be something as simple as cover generation similar to Venomthropes, or extra synapse, or extra spore mines. Maybe they could leave a spore trail to make Deep Striking more accurate. "But the Tyranid's already have creatures that do that AdamHarry, just use those!" You know, you're right! Let's get crazier – these spores are basically pre-digestion right? So instead of being helpful for the 'Nids, what if they harmed enemy units? Enemy models within 6″ of the Spore Hives have -1 Toughness and take an additional -D3 to their BS and WS! And they would only cost 30 points each! And do everything I just mentioned! …Is that over the top enough now?
My point is that I wouldn't care as much for the in game effect I'd rather these things look cool AND enhance the look of the board. (But if we're gonna have rules for the models they should at least be useful.) If I could go so far as to actually design the model I'd like a look similar to the "Lotus Pods" that many creative Tyranid players used when the original spore pod was introduced many moons ago: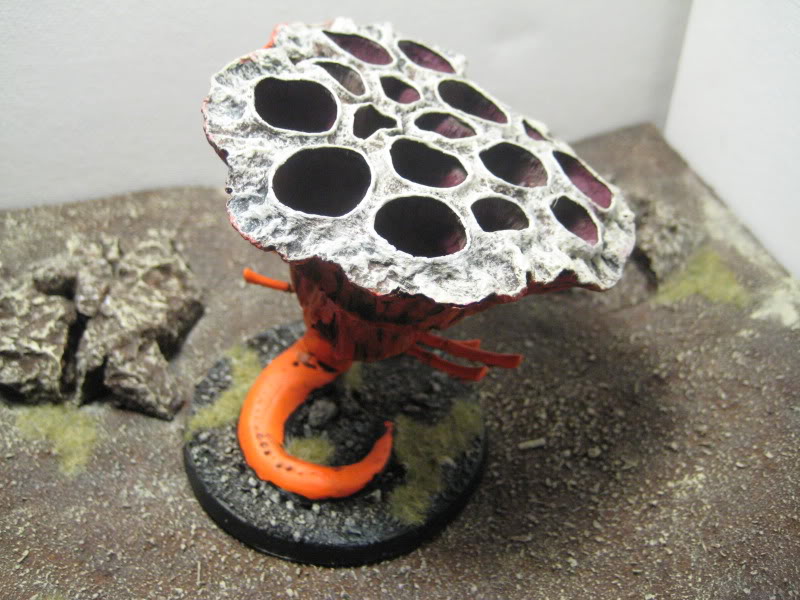 Anyone else remember Ol' Hive Fleet Chupacabra?
I always loved this conversion and I'd love to see Games Workshop use it as an something in game. You could totally build this yourself by ordering some Lotus Pods online. They are really cheap and look great once you paint them. So spruce up that board!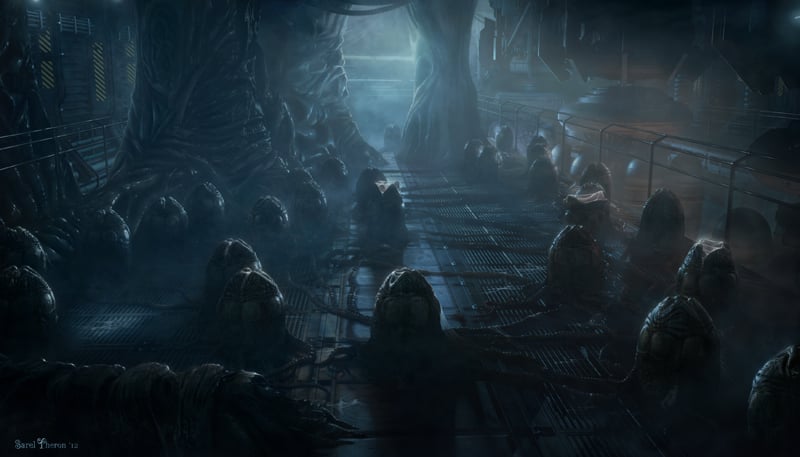 Like this – but with water effects…and more dead things!
These are another item that has been mentioned in the fluff but we've never seen an official model for. These are pools – so naturally they would be kind of…well…flat. They could be a cool kit just as a stand-alone thing to add some Tyranid-style to your board. But, since we're giving things rules I see this thing as one of two options.
The first option is that it's hyper acidic. Any units attempting to move through the pool suffer 2d6 str 1 hits that are Poison (+3) and Vehicles that pass through the pool have to roll an additional dice for their dangerous terrain check. The second option is to make this buff nearby Tyranids who can feed off the raw bio-mass to heal wounds back or recover lost members of a unit – this version would grant a special version of It Will Not Die that allows units to recover missing models from the unit and lost wounds to multi-wound models. There is one other option – and that would be that these Reclamation Pools do BOTH. Mwahahahahaha or is it "Nom Nom Nom" I'm not sure what evil Tyranid Laughter sounds like.
These are just a couple of ideas for some cool Tyranid Themed Terrain. They aren't fully fleshed out or final versions but the ideas are there. I'm not really looking to break the game, but I'd like to break-up the Imperial dominance of the terrain sector. I'd love to see more Xenos terrain in cheaper massed-produced plastic kits. I do appreciate the old school Forge World Resin, but really the cost vs benefit just wasn't there to support those models. So c'mon Games Workshop – where is the Xeno's Love?!
What type of Tyranid Terrain would you like to see Games Workshop produce?