Become the Greatest Starfleet Commander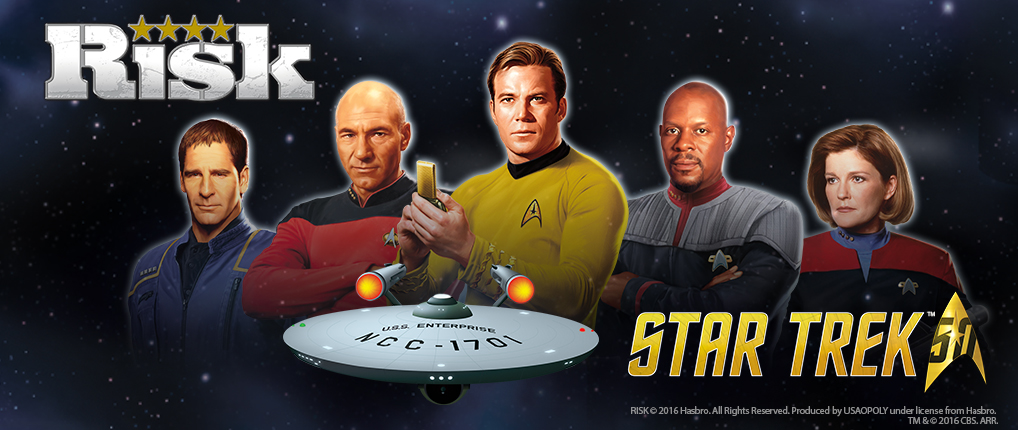 Risk®: Star Trek™ transforms the classic game of strategic conquest into a battle among all five captains. Featuring a custom game board, two ways to play, five military fleets (including 6 different ships) and more than 600 total pieces, this game of galactic dominance will take fans on an adventure as they command ships, assemble their away teams, and complete Quests in a journey across the Galaxy.
Find out What's Inside Risk®: Star Trek™
Q, who has long been enamored with the Captains in Starfleet, has arranged an epic battle on the holodeck to find out who is the best captain of all. Join the five captains from all 5 Star Trekseries and battle it out to discover what you're up against in Risk: Star Trek!
225 Ship Pieces – Each captain commands a fleet of custom sculpted starships and shuttlecrafts. Will you join Captain Kirk on the U.S.S. Enterprise or Captain Janeway on the U.S.S. Voyager?Captain Kirk, Captain Picard, Captain Sisko, Captain Janeway, Captain Archer
A Custom Designed Game Board – Players can explore strange new worlds as they travel a map of the Alpha Beta Quadrants. Fly to the Breen Confederacy, Cardassian Union, Ferengi Alliance, Klingon Empire, Romulan Star Empire or the United Federation of Planets. And if you need to travel faster than the speed of light, Wormholes create links between the Quadrants that allow players to shorten the distance between worlds.Five Captain's Logs – Play as your favorite iconic Captain, and keep your Starfleet in order with a Captain's Log to track your Crew, Command Credits and completed Quests. And remember to choose your Captain wisely, because each Captain holds a unique power that may be what it takes to win the game.
30 Crew Cards – Captains can take four of their six crew members on their away team, and each crew member offers unique advantages to assist in victory! Will you bring along Spock and add +1 to your attack dice or will you team up with Seven of Nine and force an opponent to discard a Location card at random
50 Q-Vent Cards – During gameplay, multiple Q-Vents take place. These events may help or harm you…depending on Q's mood! Tribbles and Manhunt markers may be used in conjunction with certain Q-Vent cards.
14 Q's Quests – Complete three of Q's Quests to become the greatest Captain in Starfleet and win the game. Will you Conquer five locations in a single turn or Destroy twelve opposing ships at one time?
Risk: Star Trek 50th Anniversary Edition includes:
Game Board featuring the Alpha and Beta Quadrants / 225 Ships / 5 Captain's Logs / 44 Location cards / 30 Crew cards/ 50 Q-Vents cards, 14 Q's Quests / 72 Alien Lifeform tokens/ 5 Manhunt markers / 2 Wormholes / 107 Command Credits / 50 Tribbles / 5 Dice / Game Guide
It's now available now at specialty game & toy stores in the United States and Canada.
Are you ready to battle Q?