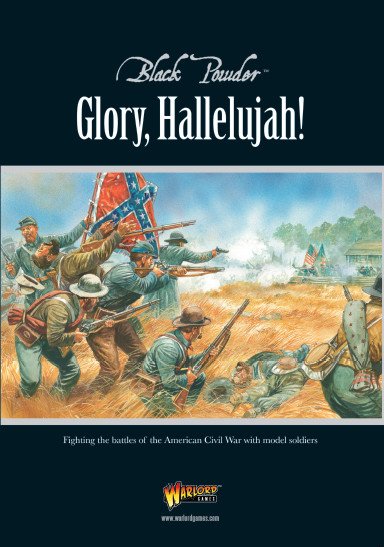 Get ready all you Historical Wargamers – this one's for you! BoLS takes a look at Glory, Hallelujah! The Black Powder Supplement for the American Civil War!
Hey BoLS Readers! AdamHarry here and I wanted to talk about Glory, Hallelujah! from Warlord Games. But to do that I feel like I need to back-up a bit and explain what system it's based on. That would be Black Powder which is also from Warlord Games. Black Powder is self described as:
"A game for the militarily inclined gentlemen with straight backs, bristling beards and rheumy eyes that have seen a thing or two. If tales of battle and glory in days-gone-by stir nothing in your breast, if the roar of cannon does not quicken the pulse and set fire in the belly, then this is not the rule set for you. These rules are not a light hearted adventure but one to be tackled by the strong heart."
It was ruleset that was created by Rick Priestley and Jervis Johnson – some of you might recognize the names. But really, Black Powder is a really great resource to play out Historical Napoleonic battles. It attempts to recreate how wars were fought from the 1700s-1900s and covers a wide variety of conflicts ranging from The Napoleonic Wars (duh) to The French-Indian Wars to The Plains Wars and of course The American Civil War. That's where this overview is taking us today – Glory, Hallelujah! Is The American Civil War Supplement for Black Powder. You do need the core rules to play, but this book also has a few modifications as well. So let's get started:
I'm a bit of a history buff – but I didn't go to university for it. However, my guest today did. I was hanging out with Stable Abe who actually has a background in this stuff so it was great to get his perspective on this book. We both agree – this book is really well done!
I really appreciated the amount of care that was taken to look at this conflict from a historical perspective. The Warlord writers actually reached out to Dr. David B. James to help write this book and it's evident from reading his work that he knows his stuff. This book is just packed with historical tidbits and nuggets of history that make it a very interesting book just to read. Dr. James touches lightly on the causes of the war, but the real meat of this book is devoted the American Civil War itself, covering the battle, weapons, tactics and men who fought in it.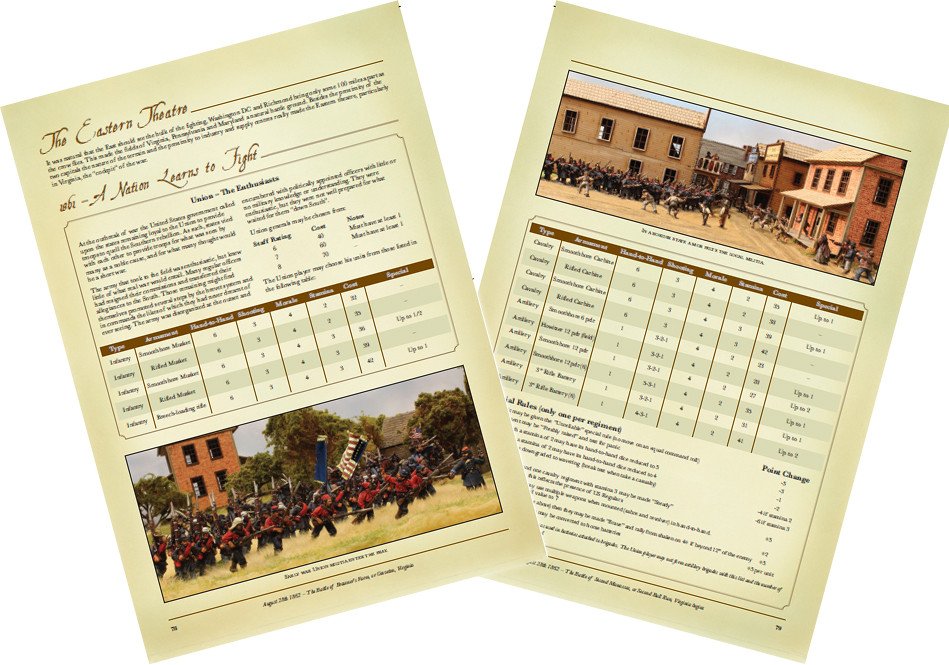 On top of just being a really great read and historically accurate, the book also has detailed Army Lists and units for each of the conflicts it covers. Not only does it have specific units (along with painting guides for accuracy) it also has tons of maps and scenarios to actually recreate the battle. I'm not much of a Historical Wargamer, but I can certainly appreciate the attention to detail. If you wanted to recreate Gettysburg you can do that along with 9 other scenarios. Oh, and that's not "missions" that's scenarios – each scenario has associated missions (plural – as in most of them have at least 2-3) to go along with them. Furthermore, at the bottom of the pages in this book there is a running timeline of the war – you could literally replay the entire American Civil War with this book.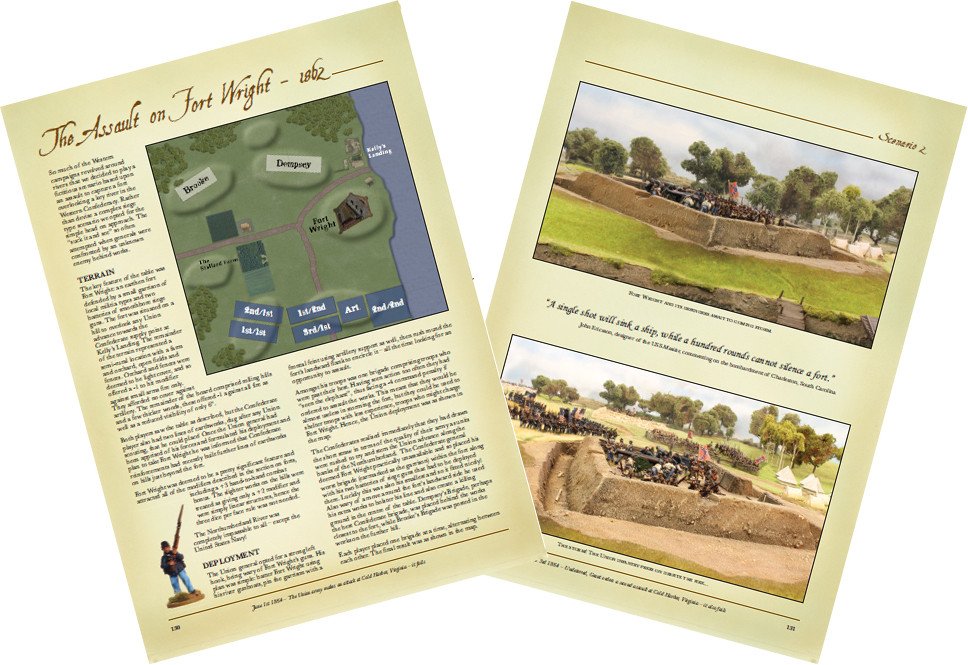 Overall, Glory, Hallelujah! is at it's core a wargaming supplement but still manages to be a comprehensive look at The American Civil War. I don't know if you could cite this book as source in a historical paper for school, but, you should be allowed to – it's that detailed. And while I'm sure that's not everyone's cup of tea, I'm hoping that as fellow wargamers you can respect the effort that was put into this book. So if you're a fan of Black Powder already definitely check this book out. If you're not and you're looking for a good starting point, then check this one out – it's worth a look!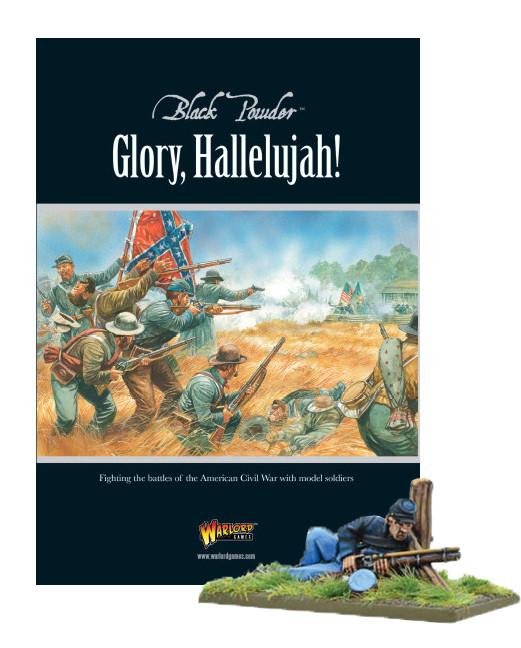 Glory Hallelujah!' – the American Civil War 1861 – 1865 supplement for Black Powder.

In 1860 Abraham Lincoln was elected President of the fledgling United States of America. Years of seething hostility between the North and South boiled over as the Southern States saw Lincoln's election as a direct threat to their rights, and the nation fell apart as a new Confederacy was formed in the South. The Confederacy, striving to assert its independence, opened fire on the Northern troops occupying Fort Sumter in Charleston Harbour on April 12th 1861. Determined to preserve the Union, Northern troops headed south and on to Richmond! Over the next four terrible long years American armies tramped across American fields and burnt American farms as Americans killed Americans in a war the likes of which the nation had never seen before. The epic battles fought during the American Civil War proved beyond all doubt that war can be 'all hell'.

This supplement for Black Powder describes the history, armies, key leaders, doctrine and tactics of the American Civil War, and includes a comprehensive set of army lists and optional rules for recreating the battles of that war in miniature.
Thanks again to Stable Abe for helping out on this one!
Glory, glory, hallelujah!
Glory, glory, hallelujah!
Glory, glory, hallelujah!
His Truth is Marching On.
~The Battle Hymn of the Republic