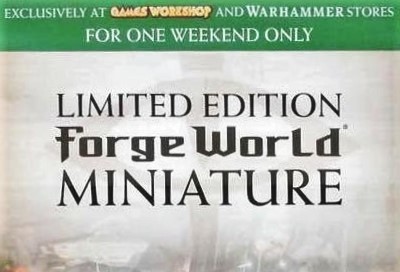 Forge World returns to Games Workshop stores to test the waters – check this out!
Looks like we know where that Special Edition Tartaros Terminator will show-up after all!
via Matt Crown (UK)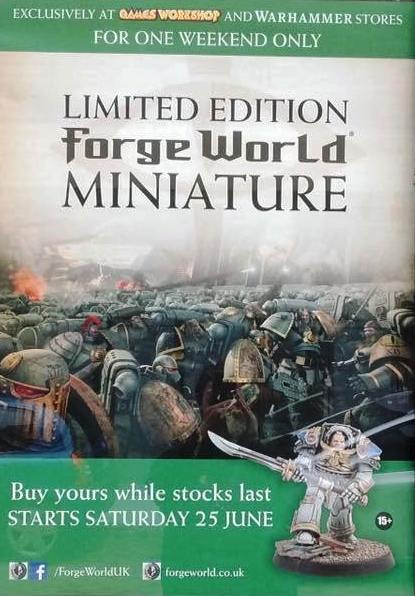 We also got this bit of info from the rumorsphere as well – apply salt to this one.
via Spikey Bits 
(note: this is a quote – spelling as is)
Word here in +++RETACTED+++ is that Games Workshop are looking to test run the selling of Forgeworld models in stores. I was informed by a store manager who was away last week for a staff meet up in +++RETACTED++, that they are looking to do a small test with the possible foresight of either stocking models directly in stores or making them available to be purchased through stores on the mail order and +++RETACTED+++. He mentioned to me about a Terminator model for 30k and said there was another model planned but files to mention what.
Well this is an interesting turn of events! Having Forge World directly in Games Workshop stores would definitely increase the "value" of going to a Games Workshop store directly (at least here in the US). This would be a great competitive advantage for them. Folks who might not regularly visit an official GW store for their Warhammer 40k/AoS purchases would now have a really good reason to stop by (saving on shipping alone could be huge). I know I would be very curious to see what exactly they would be stocking in store.
Whatever happens, Games Workshop will be selling this Forge World model for sure. Get your wallets ready for June 25th!
It would be really nice to be able to drive to a GW store and pick-up those Horus Heresy Upgrade Packs for those Betrayal at Calth Marines…