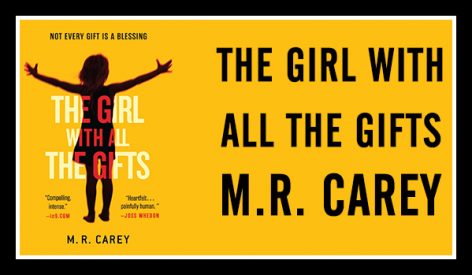 This is a very different kind of zombie apocalypse story…
M.R. Carey has adapted his best selling novel for the screen. A little background:
Melanie is a very special girl. Dr Caldwell calls her "our little genius."

Every morning, Melanie waits in her cell to be collected for class. When they come for her, Sergeant keeps his gun pointing at her while two of his people strap her into the wheelchair. She thinks they don't like her. She jokes that she won't bite, but they don't laugh.
Humanity has been devastated by a mutated fungal disease that turns them into mindless, cannibalistic monsters. A group of kids born after the plague have a form of immunity that may hold the key to saving the species. They keep their minds, but they still hunger for human flesh.
Colm McCarthy is in the director's chair. He has knack with creating tense, creepy atmospheres on TV – he has directing credits on Dr. Who, Sherlock, Peaky Blinders, and Ripper Street. Cast includes Gemma Arterton, Glenn Close, Paddy Considine, and newcomer Sennia Nanua as Melanie. 
Folks in the UK get this one first on September 23rd. No US date just yet.
Ready for more zombies?