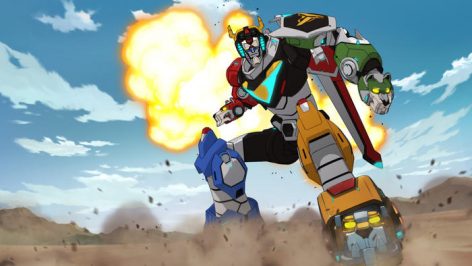 The legendary Saturday morning cartoon has returned with an ALL NEW series. Put on your jammies and check it out!
The original cartoon was based on two Japanese series: "Beast King GoLion" and "Armored Fleet Dairugger XV." It followed a team of space cadets on a mission – given to them by a pointy eared alien princess – to track down a group of lion shaped robots that form the ultimate robot warrior: Voltron. All with the goal of saving an alien race from annihilation. It looked a little something like this:
Dreamworks Animation has teamed up with Netflix to create a 13 episode run of the series. The animators also collaborated on Avatar: The Last Airbender and The Legend of Korra. Voice cast includes Steven Yeun, Tyler Labine, Bex Taylor-Klaus, Rhys Darby, and Jeremy Shada (who voices Finn on Adventure Time).
The series hasn't been drug into darker territory – it's still as bright and cheesy as ever. There are still space mice. There are some changes for the better: the art style has a sense of dimension to it, and we get to see some characters show more personality due to a good deal of voice acting talent. The first episode plays off the first episode from 1984, which is a great re-introduction into the universe if you've been away for awhile.
If you're looking to get on the nostalgia train – or introduce your kids to a part of your childhood – it's available on Netflix now.
Who's putting on their PJs, grabbing a bowl of Captain Crunch, and binge watching this one?