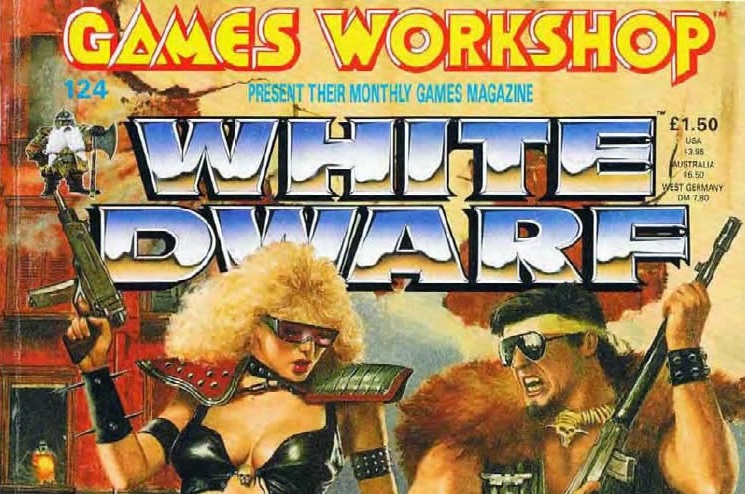 Games Workshop's weekly magazine is moving back to a monthly magazine – Come see what changes are coming!
For over two years White Dwarf has been coming out every week but in roughly 10 weeks Games Workshop is officially moving it back to a monthly release starting in September.
via Games Workshop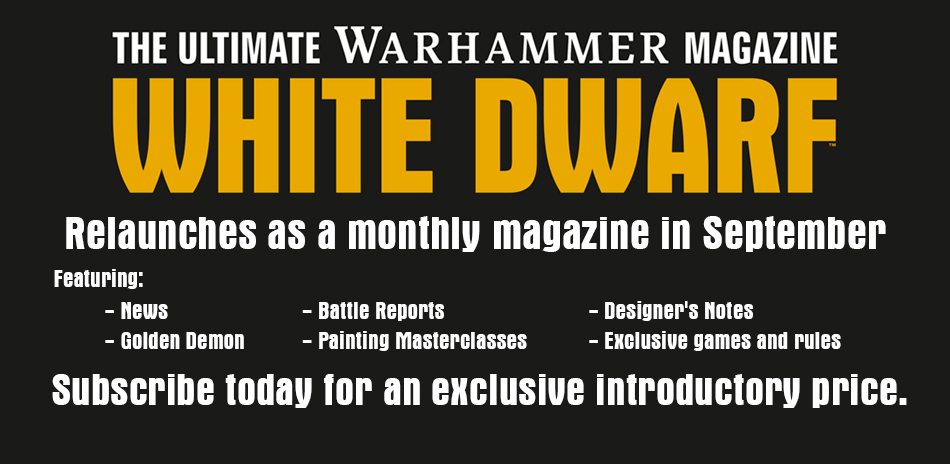 "It's Back! White Dwarf is returning as a monthly magazine and it's bigger and better than ever before!

From September, White Dwarf will be back as a glossy 156-page, A4 magazine with all the news, features and pictorials you know and love – and a whole chunk of new stuff you never imagined. News! Golden Demon! Battle Reports! Painting Masterclasses! Designers Notes! Exclusive games and rulesets! And of course, gorgeous photographs of the best fantasy miniatures in the world.

The first issue is out on Friday 2nd September and comes with our most amazing cover mount ever – a special gift to you to celebrate the glorious return of monthly White Dwarf.

Subscribe before 14 August and get an exclusive pre-launch price – and subscribers get their copies mailed early."
What does this mean for readers and fans of White Dwarf? Well White Dwarf will be moving back to a 156-page style magazine. Games Workshop is promising "News! Golden Demon! Battle Reports! Painting Masterclasses! Designers Notes! Exclusive games and rulesets!" Here's the thing – the current issues already do…pretty much all of that.
We already get news of upcoming releases (typically for a week or two out). We already get pictures from Golden Demons and have the "Paint Splatter" series. We get the occasional notes from the design team and "exclusive" rules for things (although those usually get reprinted online or are available electronically – see Deathwatch Overkill as an example). So why the change?
Personally, I'm hoping it has more to do with the "Exclusive games and rulesets" part more than anything. For me, White Dwarf was never on my "must buy" list unless it had rules in it for miniatures. Unfortunately when I would go to my FLGS to pick-up the latest copy it would either be sold out or I'd have to dig through piles of back issues that no one wanted because the only "good stuff" was probably the "Paint Splatter" section. What I don't want to see is White Dwarf return to it's state right before the swap-over: an advertisement magazine. If you're a long time reader or veteran of 40K you know what I'm talking about.
We all want more content from White Dwarf that's relevant to "us" – but that's a tall order if you think about it. There are lots of different types of people who play 40k and all of them have different attitudes and playstyles. Some are die-hard tournament players. Some would rather focus on the modeling/hobby. Some would rather recreate armies that are as true to the fluff as possible. Maybe this new format will allow Games Workshop to try to bridge some of those gaps. I guess we'll all have to wait till September to find out…
What do you think? Any theories as to why Games Workshop moved the White Dwarf back to a monthly magazine?