HOBBY: 5 Foam Hacks for Storing Your Miniatures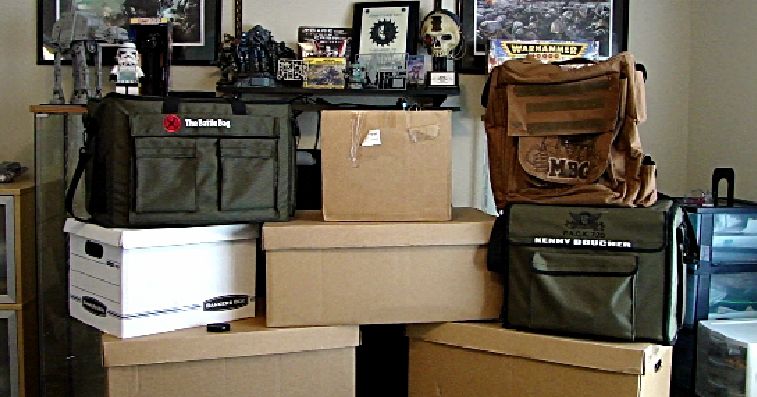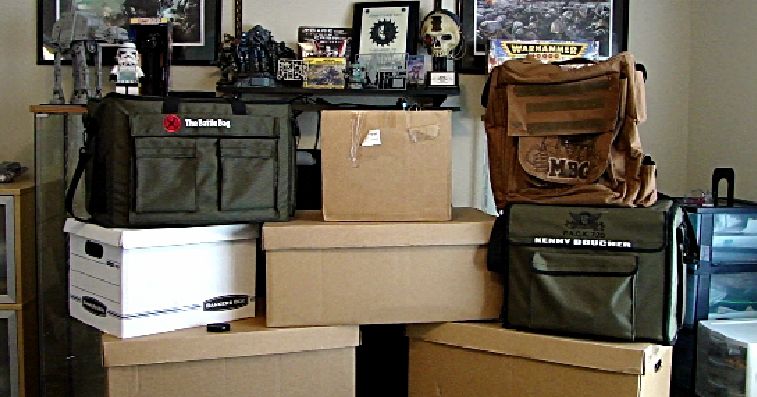 Come see the top 5 foams hacks for storing your miniatures in various brands trays boxes and bags.
Stop struggling with foam storage options for your armies!

5. Army Bags
If you have multiple armies, buying a bag for each one can get quite expensive regardless of the type of foam you're using. So it can be more cost effective to just purchase ONE bag to use for your armies. But then the problem can shift to what do you store you armies in at home now? Enter the footlocker box from U-line that's both cost efficient and folds flat for when it's not needed.
They sell for about $4 with shipping, however you have to order 12 at a time.

4. How Much Space Do You Models Need?
Planing our your pull and pluck foam punches ahead of time can save you time and money when it comes to preparing for battle, and picking up afterwards. Making some "standardized" shape that can hold several of the same type mini is a great trick I've learned over the years. Checkout the X-wing tray I made for example above, and how many differnent ship types it can hold!

3. Name Means Everything?
Don't get me wrong, you don't want to skimp on quality foam for your minis, however going back to point #5 you may not want to buy a bag for every army you own either.  But what happens when you WANT to move these armies around, say to go to your local store, or a buddies to play?
The small "720" sized banker's box that comes in a 5 pack from Wal Mart is perfect for Battlefoam sized trays, and has handles to help keep things steady as well! Best part is, they cost about $3 each and also break down flat when not in use. Plus it's an easily split-able purchase for your game club if you don't need all 5 boxes!
Subscribe to our newsletter!
Get Tabletop, RPG & Pop Culture news delivered directly to your inbox.

2. Foam TETRIS 
So it turns out that rectangles just cant hold an much as a square can, when it comes to foam. There are some very common instances where vehicles (like Rhinos) just store better in the Battlefoam 8 hole tray than the three Sabol trays it would take to fit the same amount. However, the two types of trays fit great side by side in the footlocker box from point #5 regardless, brining even more value to your home storage solutions!

1.What's Poppin?
Sometimes a "one size fits all" or custom foam solution just won't work for what you want it to. Maybe you sold your original models you got the foam for, OR maybe your models don't fit the way you want in the spaces you have.  Easiest solution I've found is to use bubble wrap to fill empty space or just cover up things to protect them better.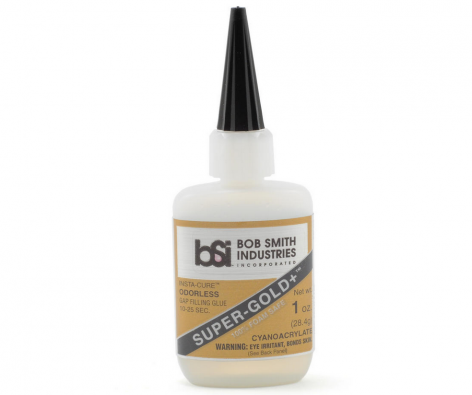 If you need to reconfigure pull and pluck foam all together, try BSI's "foam glue" it's expensive, but one bottle will last you a VERY long time.
I hope my top 5 tricks, and the video tutorial below help you with your figure storage needs. There's more to see in the video below as well, so give it a whirl if you like the article above!
What are some storage tricks you've discovered for your miniatures?
Latest News From BoLS: