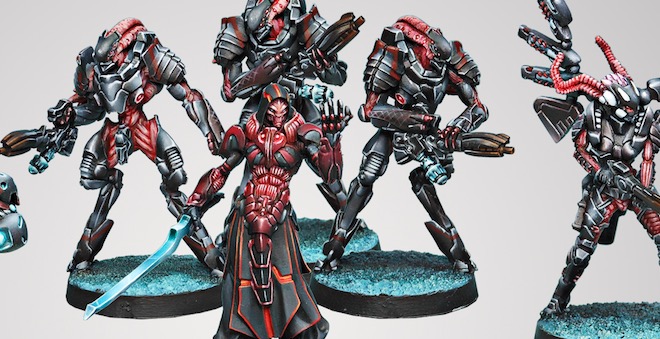 Corvus Belli has a new set of minis just up for sale. Take a look at Infinity's latest.

The Bagh-Mari were ancient clans of tiger hunters, professionals that travelled all over India killing the most problematic felines for money.
Nowadays, this name is used to designate a Panoceanian unit specialized in jungle combat. The Bagh-Mari are special troops, veteran and professional. Like those ancient tiger killers, the jungle is their element and their ally. Their skills make them the perfect combatants for the Paradise wars and for the Commercial Conflicts of Ariadna. The Bagh-Mari units have won a terrible reputation for carrying out undercover Search and Destroy operations, in which they are specialized.

Bashi Bazouk is a term which comes from the Turkish word Basibozuk, which means literally "damaged head" but is usually translated as "without leader". That word served to designate some irregular troops of the ancient Ottoman army.

Vaarso Battlespeak Notation:The Tohaa Trident utilizes the single thousands to denominate its special-purpose units, but some numerologically powerful figures can, when they occur in consonance, carry strongly negative connotations. Such is the case of number Kosuil, 7040, which conjures up implications of discord and ruination, abuse of power, callousness, crudeness, and malice.

I have been created to fight against the most powerful champions in the universe. The best scientists from the Ur Hegemonic Civilization have given me the combat skills necessary to destroy the enemy, regardless of who it might be. Im one of the top models of the Batroid series.

The Onyx Contact Forces are the representatives of the EI to new races and civilizations, designated for operations in remote locations without immediate support. Composed of a selection of the best elite units from the Combined Army, the Onyx Contact Forces are an advanced combat group designed to perform aggressive annexation-or-death diplomatic actions.
These are all available for purchase NOW.
~Which one's your favorite?