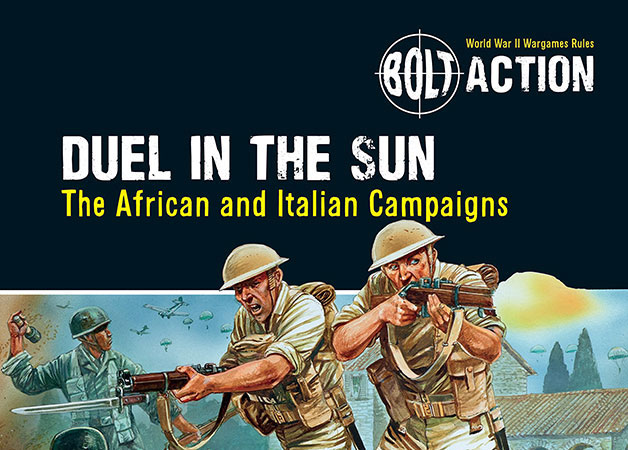 Join us as we take a look through the Bolt Action book: Duel in the Sun!
Whenever I poke at historical games I like to have a friend who is well versed in history help out with setting up the system. I invited Stable Abe back to help me run down this book:
Warlord Games has a pretty good lock-down on Campaign books from World War II. Maybe it's the classy format. Maybe it's all the historically accurate information that was documented and saved by "modern" historians. Maybe it's the sweet partnership they have with Osprey Publishing – but whatever it is, The Bolt Action Campaign books set the bar when it comes to historical gaming reference materials.
This book covers The major African and Italian Campaigns that took place from 1940 to 1943. If you're looking for where these battles would be on a timeline you're start looking at around 1940-43, for the most part. Some of the major battled covered within are some of the most iconic battles of WWII: Operations Compass, Crusade & Torch, and battles for Tobruk, Alemein and others. You'll also have campaigns based on famous commanders like Rommel and his Africa Korps or Montgomery's 8th Army aka the Desert Rats and we can't forget General Patton and the US forces either.
Gameplay wise, Duel in the Sun has a multitude of new scenarios, rules and a few units as well. The are rules for all types of environmental factors such as mud and frostbite. This book also contains rules for night fighting an amphibious assaults, too! If you're just looking to spice up your Bolt Action games with additional rules then this is a perfect book for that.
The Duel in the Sun really does cast a wide net when it comes to content. If you're after a good historical read with lots of great art work or if you're just after more options for your Bolt Action games then check this one out – it's in stores now!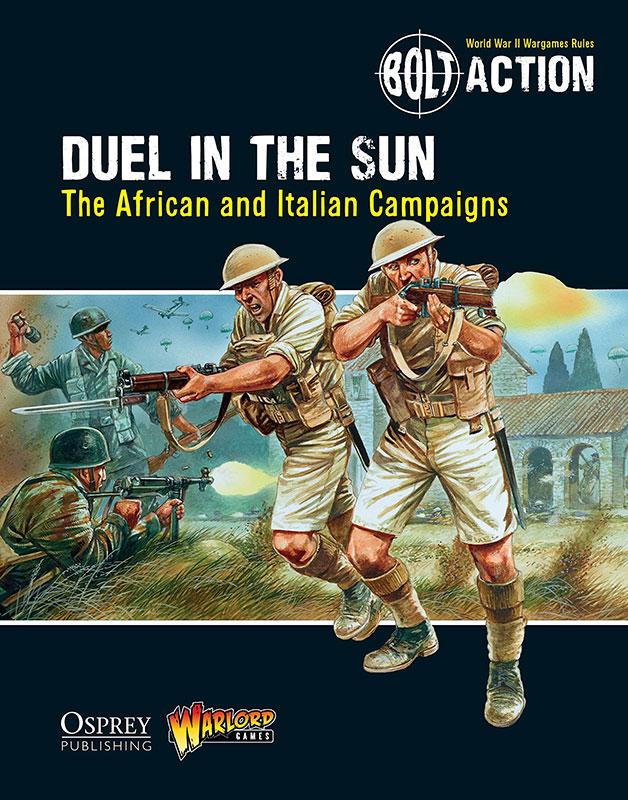 The heat builds up as we go from one theatre with extreme conditions to another, this time desert warfare in the African and Italian campaigns.

Packed with explosive action from the initial clashes between the British and Italian armies in Libya, and Britain's first unexpected victories, through the ill-fated British expedition to protect Greece from Hitler's invading troops, and the subsequent desperate battles of British and Commonwealth forces in Crete against determined German paratroopers.

From there we move onto the epic tank duels in the deserts of North Africa as Hitler reinforced Mussolini's battered forces with the deadly Afrika Korps, and the ultimate showdown between two legendary desert commanders, Rommel and Montgomery, at El Alamein.

We then have the debut of the Americans into the African theatre, their bloody setback at Kasserine Pass, and eventual success in helping to clear North Africa of Axis influence.

Finishing with the Allied invasions of Sicily and mainland Italy, and the stubborn German defence that resisted the invaders almost up to the end of the war in Europe.
It's summertime – the perfect time to duke it out in the desert! Just bring water…