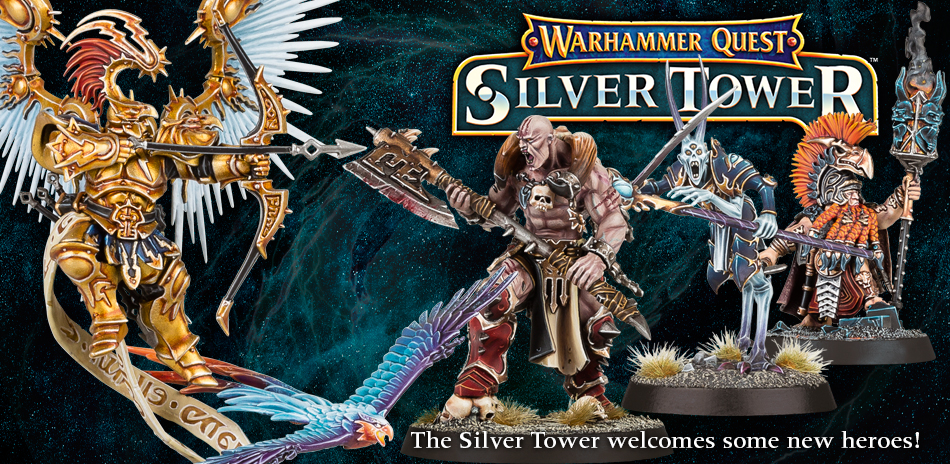 The Tabletop Spotlight is on the Mighty Heroes Expansion for Warhammer Quest: Silver Tower!
If you've been living under a rock for the past month-and-a-half you might not know that Games Workshop released a new boardgame – Warhammer Quest: Silver Tower. It's actually a lot of fun and capitalizes on a previous franchise, their excellent new models, and a easy-to-learn game with lots of replay value. They also have an App that you can download that gives you the option to run a ton of different heroes.
This is about some of those extra heroes:
Our friends at Dragon's Lair Comics & Fantasy brought over the Might Heroes Box and it's exactly as advertised. It's 4 additional heroes for use in your Warhammer Quest: Silver Tower games & if you happen to also play Age of Sigmar, then you've got 4 new character models as well. And really, lets just get this out of the way first: This box is a steal of a deal for both Silver Tower fans and AoS players.
I typically don't hound on the pricing with the Tabletop Spotlight but I think this particular product warrants this discussion. This box retails for $55. Now, if you do the math and compare what each one costs individually you can see why this is such a great deal:
Knight-Venator $40
Auric Runemaster $30
Slaughterpriest $30
Tzeentch Sorcerer Lord $13 (sold out – no longer available)
Total: $113
If you couple the pricing with the fact that the Sorcerer isn't even available from their webstore you can see why this really is a good deal. Aside from that, we've seen all these models before so it shouldn't be a shock to anyone. These are all the same, full kits you'd find in a Clam-Pack or other boxed set. GW didn't cut any corners on this one. So yes, you can take the Knight-Venator and built it as a Knight Azyros instead.
As far as the rules for these models that's where that App comes in. We show it off a bit in the video because that's where you'll find the rules for these characters. I personally haven't played around with the app yet, but Evan had it on his phone and it was working for him.
Overall, the Mighty Heroes Box is a solid addition to the Warhammer line-up. I hope that it's a sign of things to come with more of these hero re-packs. I'd love to see themed hero packs as well – for example all the Khorne Heroes in a box or all the Stormcast Eternals heroes in a box…It will never happen because it would pretty much invalidate the clam packs. But I'd settle for hero packs of 4 heroes from at least the same Grand Alliance. Fingers crossed. Anyways, Mighty Heroes is in stores now! Go check it out!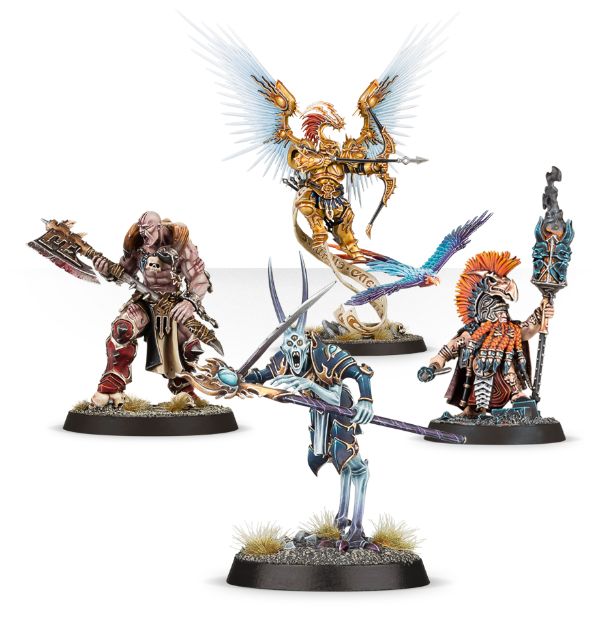 The tales and legends of the Silver Tower are numerous indeed; each recalling a different band of unlikely allies, champions finding themselves banding together in the lair of a Gaunt Summoner of Tzeentch. Some seek the glory of a boon from the Gaunt Summoner, others wish to learn his true name and thus strike him down – all must navigate the sheer horror of the Silver Tower.

Only the greatest champions of both good and evil can hope to succeed. These four heroes have found themselves subject to the Gaunt Summoner's ever-shifting domain:

a Tzeentch Sorcerer Lord, devious and powerful spell-caster;
a Khorne Bloodbound Slaughterpriest, brutal, murderous demagogue;
a Stormcast Eternals Knight-Venator*, glorious sky-archer of Order;
and a Fyreslayers Auric Runemaster, high priest of the forge-temple.

This box set contains four plastic Citadel miniatures, for which rules are included in Warhammer Quest Silver Tower. Includes two Citadel 32mm Round bases, one Citadel 40mm Round base and one Citadel 50mm Round base.
Have you gotten to take a stab at the Silver Tower? What did you think?