To Boldly Game Where No Man Has Gamed Before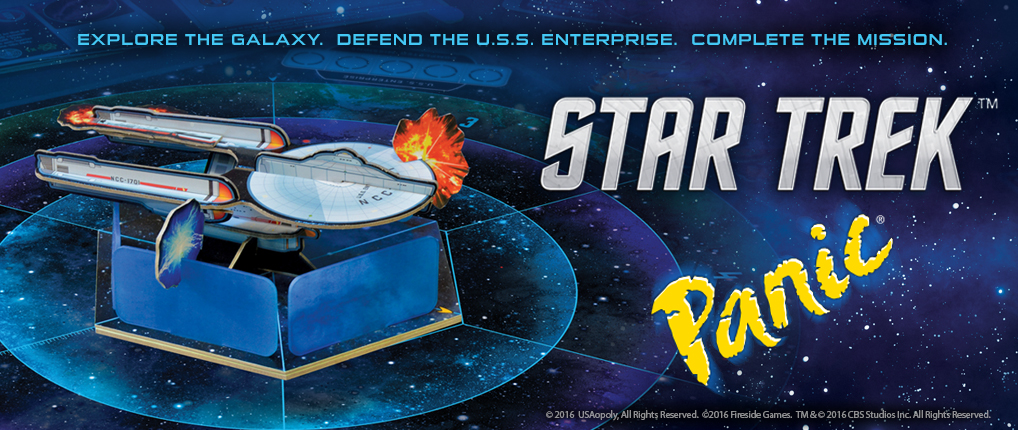 Star Trek™ PANIC® has Launched into Orbit! – Captain to the Brindge – RED ALERT!

Captain's Log Stardate 15.13.1: Star Trek™ PANIC®
A new out-of-this-world board game that merges the classic tower defense style play of the Panic® series with the most iconic elements of the original Star Trek™ series, has landed in stores across the United States & Canada. Produced by USAopoly, in partnership with Fireside Games, and under license from CBS Consumer Products, Star Trek™ PANIC® boldly goes where no board game has gone before as players join the crew of the U.S.S. Enterprise on a voyage to defend the ship from enemy attacks and carry out five vital galactic missions.

Beam Me Up Scotty – Transport Yourself into Star Trek™ PANIC®
The Enterprise is under attack! The only way to achieve victory is to work together with your fellow crewmates to defend the ship from alien onslaught. Furthermore, you and your team must complete five missions and escape enemy space intact.  Find out what's in the game box to protect your crew and win the game.
7 Character Cards – Take on the role of an iconic crew member of the Enterprise with one of 7 customized character cards. Each character has a special ability that will help you to fight off enemies, complete missions, and save the ship from destruction.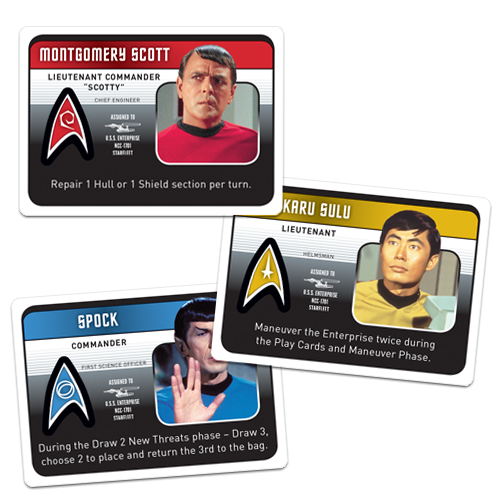 The U.S.S. Enterprise Ship – Assemble the model Enterprise and travel across the galaxy as you explore the outer limits of space, ward off your greatest foes, and embark on heroic missions. New PANIC® game play allows players to maneuver the ship, which helps you fight back against threats and complete missions. But watch out! Your enemies are constantly at your heels, and any damage to the Enterprise can stop your missions short.
Custom Designed Game Board – Now you can put deep space on your tabletop with the custom designed Star TrekPANIC game board, where the Enterprise travels the galaxy and the alien threats will attack. Color-coded rings denote different phaser attack ranges, and enemies will board your ship unless you and your crewmates destroy them first.
31 Threat Tokens – Threat tokens represent enemy ships that advance on and fire at the ship at the end of each turn. Will you be able to survive Klingon attacks or take out the Romulan forces?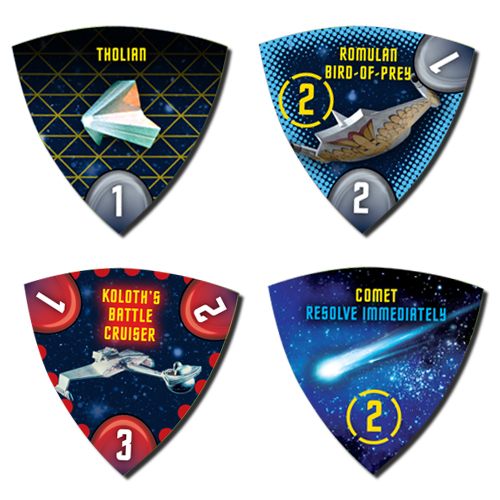 62 Enterprise Cards – Enterprise cards allow you to take actions. Fight back against your enemies with a Photon Torpedo, repair damage to the ship with Tritanium and Dilithium, or commit cards to a mission with Science, Engineering, Medical, and Command Credits.
18 Mission Cards – Complete 5 Missions to save the day and win the game. Each mission includes special parameters that you must resolve in order to complete it.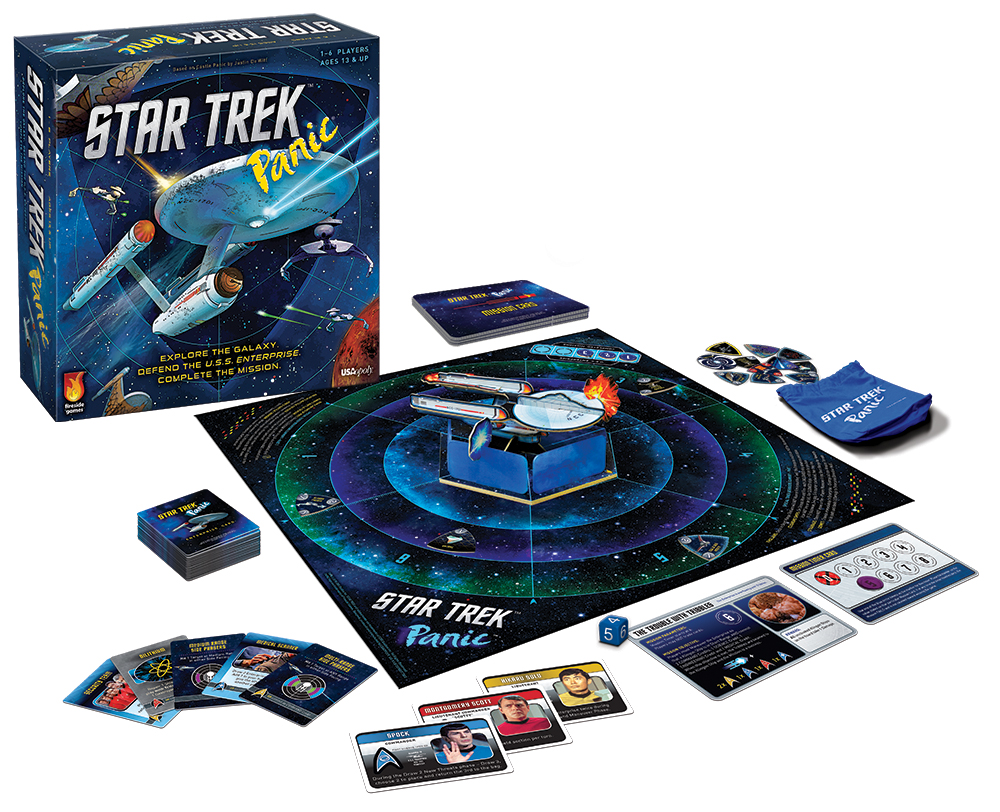 Star Trek™ PANIC® comes complete with a maneuverable U.S.S. Enterprise model ship, Shields, Damage and Destroyed Indicators, Mission Cards, Character Cards, Enterprise Cards, and more. 
Star Trek™ PANIC® is available at the Star Trek Store and game & toy stores in the United States and Canada.
MSRP $39.95 | Ages 13+ | 1-6 Players | 90 minutes
Subscribe to our newsletter!
Get Tabletop, RPG & Pop Culture news delivered directly to your inbox.