Bolt Action marches into Weird War II with new rules and new forces…
It's been a few months since we've heard about this alternate history game with 'Weird War' miniatures. What's out there looks promising – Warlord showed these designs for the game off in December: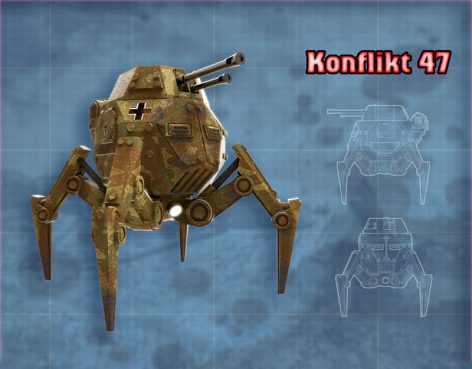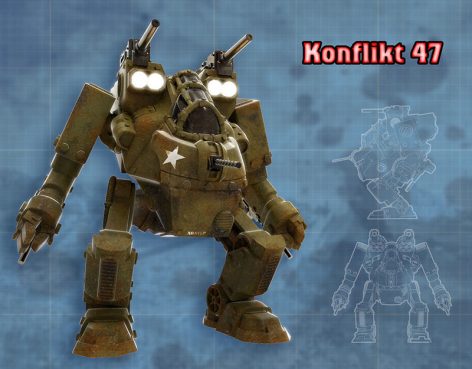 Last week they got the rulebooks back from the printer…
Konflikt '47 is a standalone game inspired by the hugely successful Bolt Action, designed by Clockwork Goblin Miniatures and produced by Warlord Games and Osprey Publishing. Adding to the core rules that many gamers are familiar with from Bolt Action, Konflikt '47 allows the addition of completely new types of units and models to existing 28mm Bolt Action armies and the creation of completely new forces set in the alternate future of 1947.
Konflikt '47 is set in a world very much like ours. In fact, its history is indistinguishable from our own until 1943 when the Manhattan Project's test of a prototype nuclear device opened a rift in the fabric of space. When the Fat Boy atomic bomb was dropped on Dresden on 12 March 1944, it created a second rift, and German scientists quickly set to work studying it. Both rifts began to relay signals from unknown sources. These signals were largely indecipherable, but occasionally one would convey a formula or scientific theory that permitted huge technological advances. Both the US and Germany were reluctant to share these advances with their allies, and in May 1944, Stalin declared the US to be an enemy of the Motherland. Fully compatible with the incredibly popular Bolt Action rules, this standalone rulebook takes the war to a completely new level. Players are given everything they need to field forces incorporating the incredible weapons and technologies made possible by the rift signals, and to engage in tabletop battles for supremacy and survival.

Konflikt '47 is due August 2016 – complete with new starter sets packed with some very interesting pieces of equipment!
Are you planning on taking your Bolt Action forces into this alternate history?