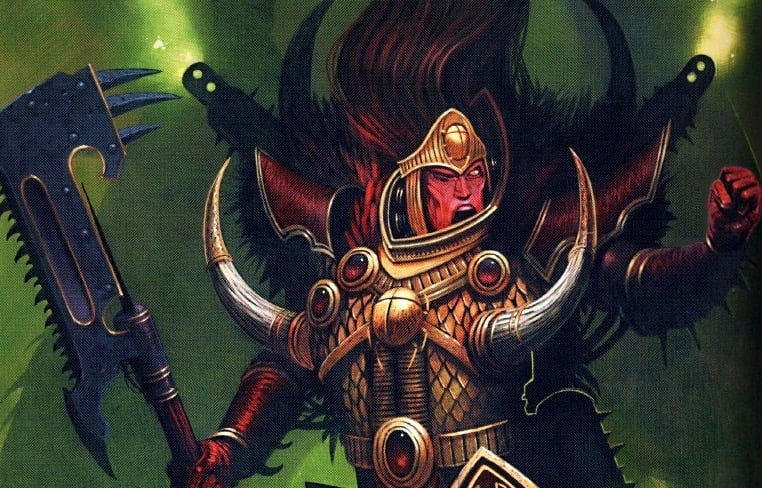 One of the industry's best rumormongers is talking all about where 40K is headed.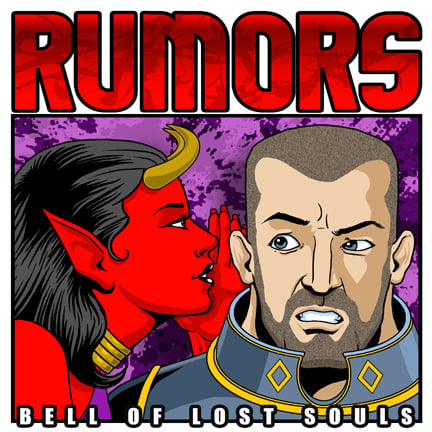 We've been hearing since the beginning of the year that a new edition of 40K is coming.  Some say it's arriving in Fall, while others say it is still far off.  It has been a long while since 40K has  seen any existing codexes updated (November 2015 with Codex Tau). Over the last 2 months, GW has been issuing the slow but steady drip drip drip of weekly draft FAQs as they move through their entire ruleset.
You can see that something is up and there is a destination out there that all these things point towards.
SadPanda chimes in his take on what is occurring:
In response to this quaestion:
"Thousand Sons only need one boss man. Ahriman is finecast. Magnus will be plastic."
He then went onto say went on to say:
You'll have a plastic Ahriman before you'll have a plastic Magnus. Probably painted in red though.

…As I was told (though it might be nonsense), the earliest sessions to start work on a new edition led to the decision to not update (for the most part) the Tau Codex and no longer re-do older books. Apparently they actually had more thorough rule-changes for the Tau, scrapped them, but still printed loads of not-new Tau Codex books because the printers were already booked, leading to the hybrid old/new Codex that is the Tau book.

But they are definitely working on a new edition. It just won't be released in 2016, not least (as I heard) because they want to move the story and need time for that."
Reading the Tea Leaves
So that is a lot to unpack.  Let's pick this apart a bit
A new edition is coming, but SadPanda says it's not this year.
GW is intending to movet he 40K storyline forward
They does not want to update existing codices for a bit and only updated the Tau due to a contractual issue with a printer
A plastic Ahriman is in the works and possibely a plastic Magnus
You can see how this lines up with a lot of the older rumors that have been out there for some time.  There has been talk of a "Tzeentch theme" with many new minis coming later this year and we have the unfinished business of the Warzone Fenris campaign that has been left hanging for 4 months so far.  Then we have the following talk from last month when word of plastic Daemon Primarchs first arrived:
Previous Rumors
via Mauler 6-9-2016 (DISQUS)
 "I bumped into an old mate last night who had a chap with him who I'd not met before. He said that he knew people working at GW, said that they were working on Warzone: Fenris pt2 at the moment and showed me two grainy photos.

I assume that the delay in pt2 is down to the models involved as one pic was of Thousand Sons in ornate armour that I'd not seen before and the other pic was of a daemonic Magnus. Hard to make out details on him from memory but there was a fair bit of blue & red on him and I vaguely remember something like blue pinions outstretched from his back but I'm not sure if they were wings. Clearly a departure from a Primarch Magnus from FW.

And a plastic Magnus from GW was the last thing I expected to see. It looked legit, but I don't know the chap, so…"

So we have Forge World cranking out thier own set of pre-heresy Primarchs, but this model description sounds like a Daemonic version of Magnus the Red. for Reference, here is the ancient Daemonic Magnus miniature from EPIC: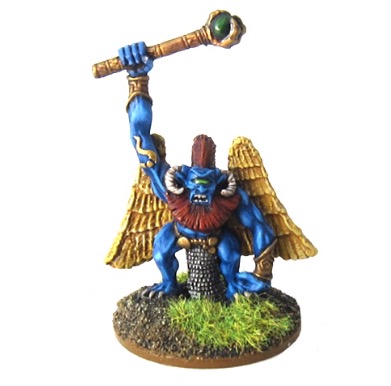 Daemonic Magnus, EPIC, Circa : 1995
It is also possibly a case of mis-identification.Remember very reliable rumormongers have been saying fro months the plastic Lord of Changethat is said to be coming later this year.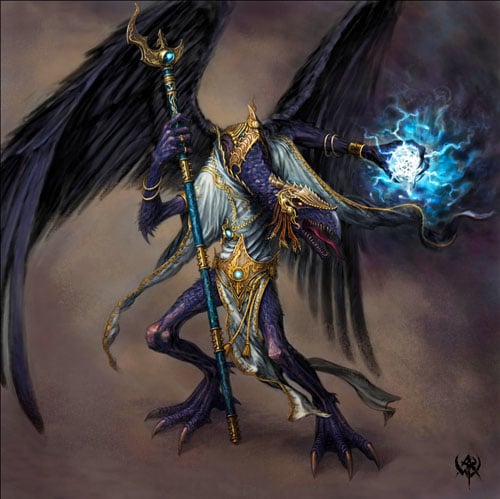 Squiggly on Disqus:
There is an element of truth to this one.. The FW and GW studio's were considering doing the Daemon Primarchs in plastic rather than resin, purely because of the nature of plastic. But I don't think/didn't know anything this was far done if this is accurate.

I'm not saying this is right/wrong. I heard we might get plastic ones, but no details on when, or even if, we will see them. Tbh if we were going to see any of them soon, I presumed it would be Angron. Considering he's meant to be getting rules in one of the planned FW books.

I really hope we do see Magnussoon though.
~ As with all of these type of rumors, the important thing isn't the details but the direction. And it's looking more everyday like 8th Edition is coming and some Chaos characters and Primarchs are coming with it.  It's only a matter of WHEN.