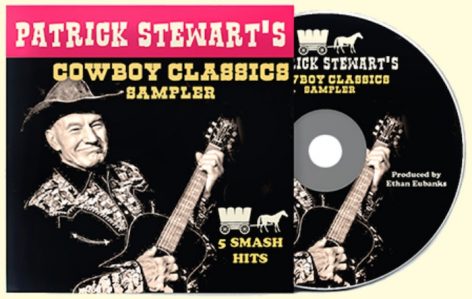 That's right – P. Stew is covering all of your favorite country-western songs! Come listen!
Not to be outdone by William Shatner, Avery Brooks, or Scott Bakula… Sir Patrick Stewart has turned to music to express himself.
England's "most celebrated cowboy singer" covers classics such as Frankie Laine's 'Rawhide' and Johnny Cash's 'Ghost Riders in the Sky' on this spectacular album. He even preforms a magical duet.
"With his Royal Shakespeare training, Sir Stewart can jump into character and paint a picture like no other!"
Want your own copy? Check out the official  P-Stew Sings website, where you can purchase a Cowboy Classics Sampler CD featuring five songs sung by Patrick Stewart. All proceeds go to to the International Rescue Committee, so you get great tunes and help provide aid to people in need.
I'd totally buy a Star Trek Captains Sing the Hits album – how about you?