GW: New Releases July 2nd "Pricing & Links"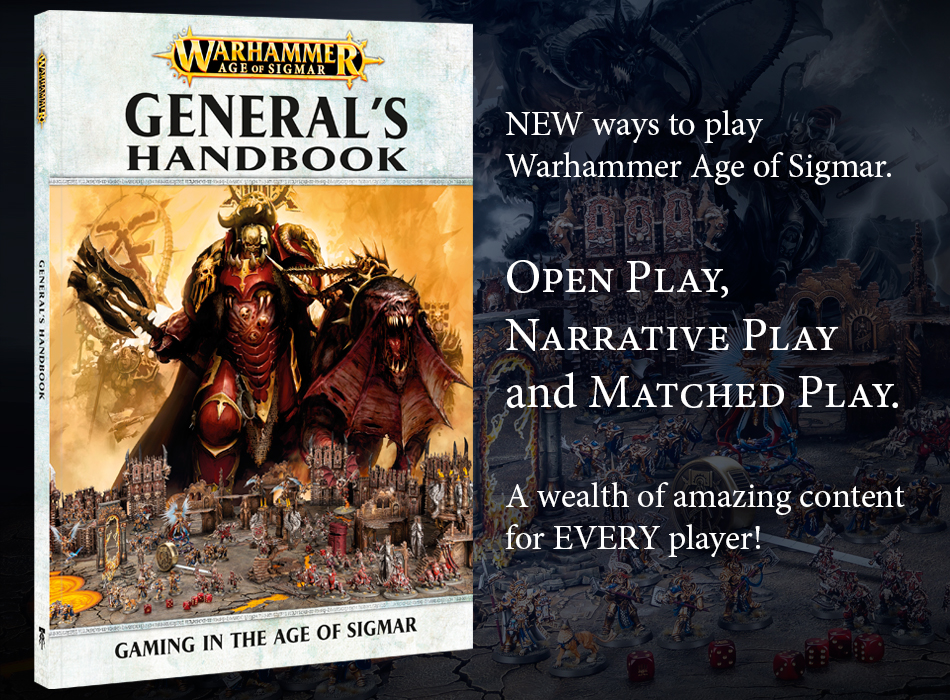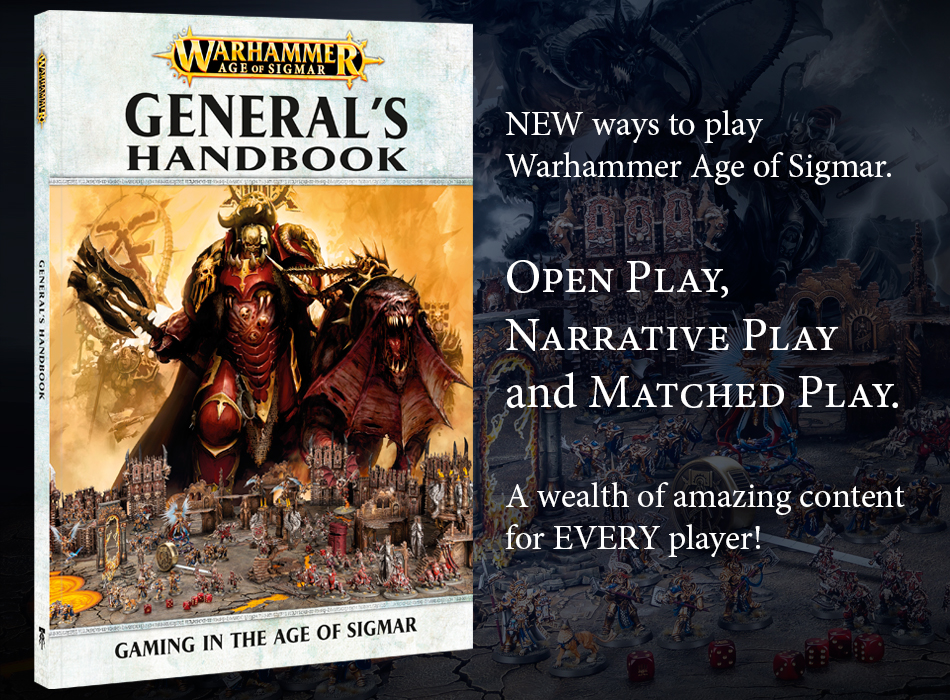 Pre-orders for GW are out – It's Sylvaneth and a few Game-changers this week from Games Workshop!
via Games Workshop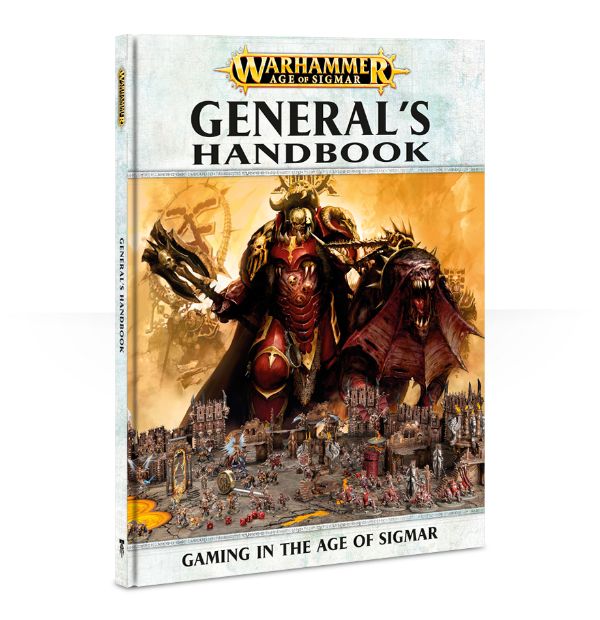 The Book
An essential, complete toolkit of rules that you and your gaming group can use in any way you like, the General's Handbook expands upon the rules of Warhammer Age of Sigmar to create a huge array of different gaming styles to suit any tastes.
The Rules
Each of these gives you, the player, massive flexibility and choice in the way games are played – they're designed to make you and your friends masters of your own gaming tables. The different rules have massive scope for overlap; for example if you want to use the multiplayer rules for a tournament, or Matched Play rules for a narrative campaign, you're totally free to do so.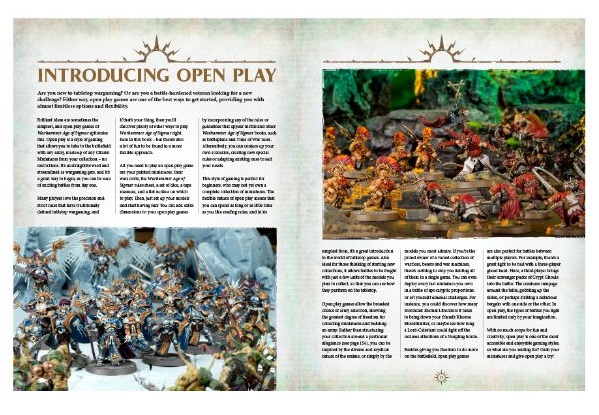 Open Play
This is the best introduction to Warhammer Age of Sigmar and the wider world of wargaming in general. Open Play allows you to play unrestricted, even team-based and multiplayer games – all you need is your miniatures, their Warscrolls, the Warhammer Age of Sigmar rules, some dice and a tape measure. The General's Handbook features a number of great examples of Battleplans that are perfect for this play style, which we encourage you to expand upon with your own collections and even your own rules!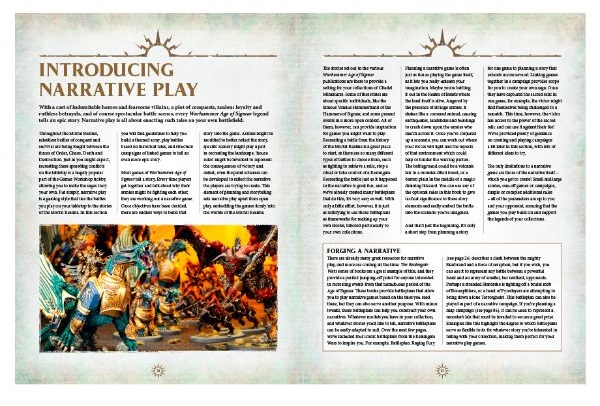 Narrative Play
The stories from the Mortal Realms are an important part of Warhammer Age of Sigmar – your collection of miniatures is made even more special by the rich history and thrilling tales told about them in various publications, making the hobby of collecting them an even more exciting venture. Narrative Play gives you a way to recreate the epic battles that have taken place in the Mortal Realms. The General's Handbook shows you how to theme an army for Narrative Play, contains advice on where to find the inspirational stories that fuel the games – and how to build your own stories and play exciting games within them.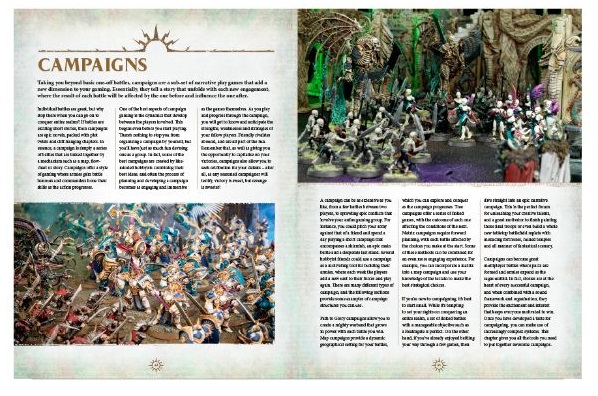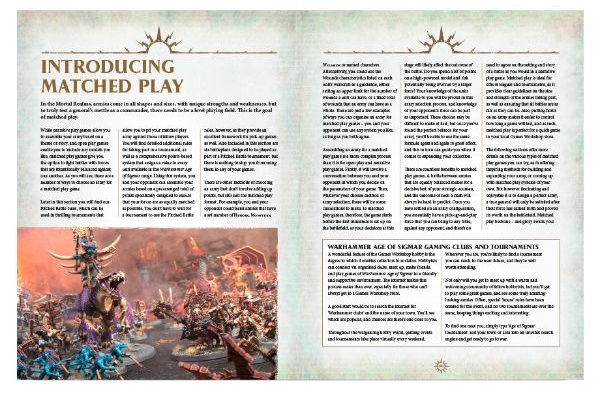 Subscribe to our newsletter!
Get Tabletop, RPG & Pop Culture news delivered directly to your inbox.
Matched Play
Some hobbyists prefer to test their mettle in an equally-matched battle of strategy and wits, in which no advantage is conferred simply by selecting the biggest and baddest miniature in your figure case. Matched Play is the perfect solution – this provides points values for the units available in the Warhammer Age of Sigmar range, allowing you and your opponent to size each other up, decide on a points limit, deploy your armies and go to war on an equal footing.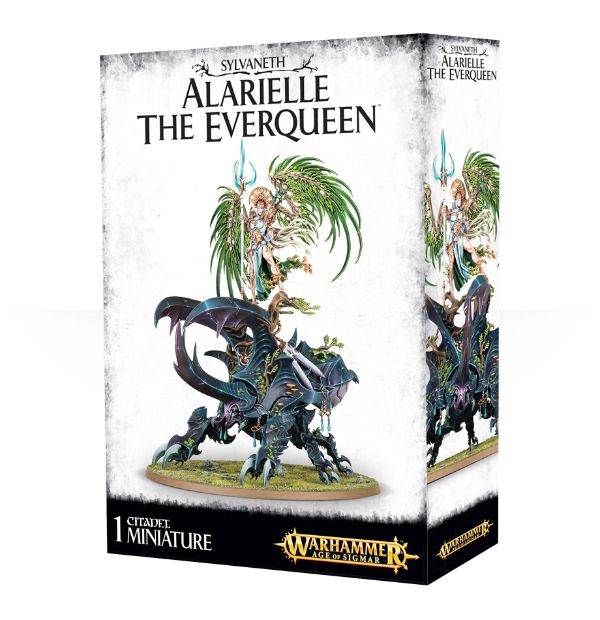 Reborn from the land she loved in a soaring crescendo of hope, fury, loss and exhilaration, Alarielle the Everqueen is an ancient and powerful being. She is the goddess of life magic; where she treads, atop her immense wardroth beetle, new blooms scream forth in a riot of colour, strength and passion. She scatters soul amphorae across the Mortal Realms, each containing magical pollens that can coax new sylvaneth from the ground, or choke her enemies. The only match for the courage she instils in her allies is the hatred she feels for her foes – Alarielle the Everqueen burns with a fierce need for vengeance, and her enemies would do well to run.
This multi-part plastic kit contains all the components needed to assemble Alarielle the Everqueen, riding her gigantic wardroth beetle – a living battering ram covered in moss, fungi and decorated with soul amphorae and other trinkets. She wields the Spear of Kurnoth in one hand, and her other arm ends in the dreaded Talon of Dwindling. 79 components in total, with an appropriately huge Citadel 160mm Round base.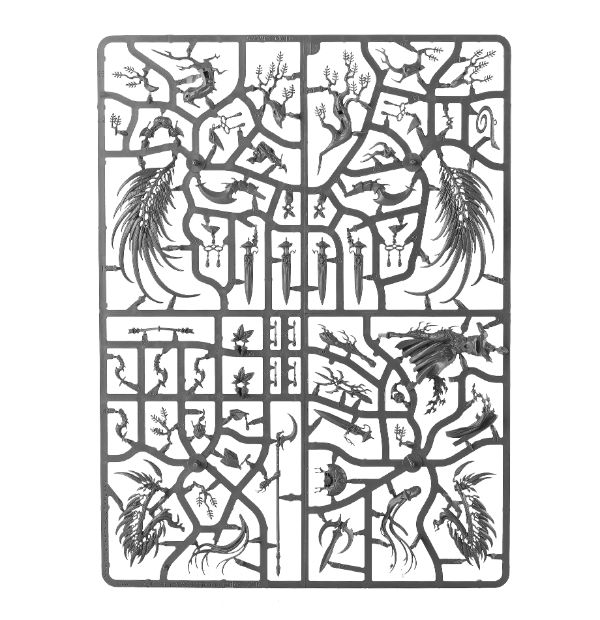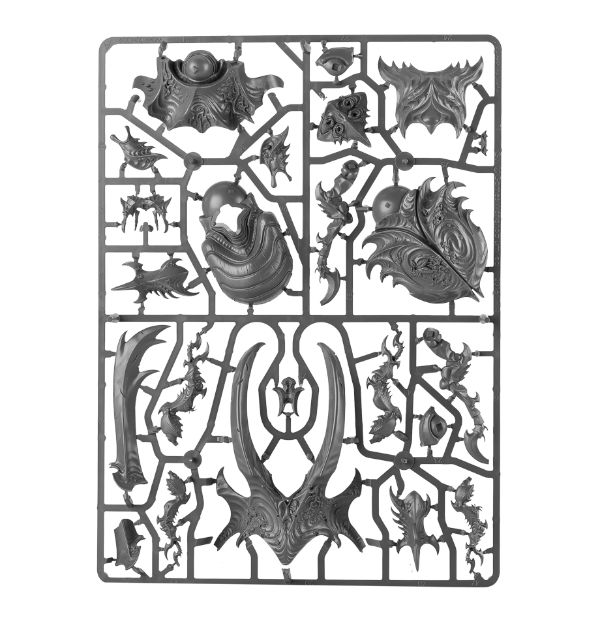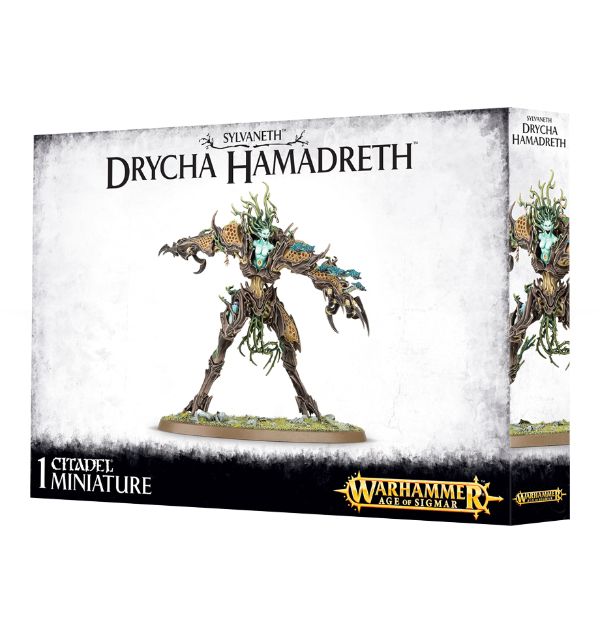 Said to be a truly ancient spirit, one who fought at the end of the world-that-was, the daughter of Alarielle known as Drycha Hamadreth has named herself the Regent of the Outcasts, leading them into battle while screaming her discordant songs of hatred for all who are not sylvaneth. Her lack of control and bloody-minded genocidal urges make her a frightening foe – wavering between crushing depression and white-hot rage, she makes no distinction between orruk and Stormcast, gor-kin and duardin. She is an agent of violence who will fight on and on until her twisted dream of sylvaneth dominion is achieved.
This multi-part plastic kit contains all the parts necessary to build Drycha Hamadreth. Her body is the host for either a colony of Flitterfuries or a swarm of Squirmlings, and she is armed with slashing talons and thorned slendervines. She comes supplied with 12 spites and one Citadel 105x70mm Oval base.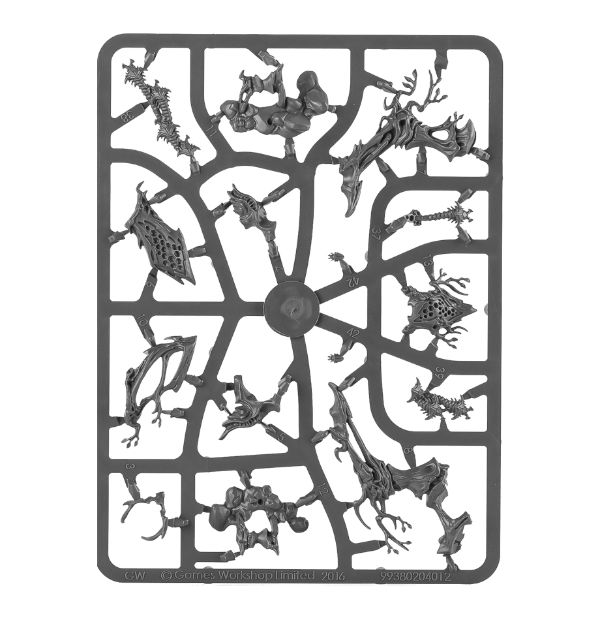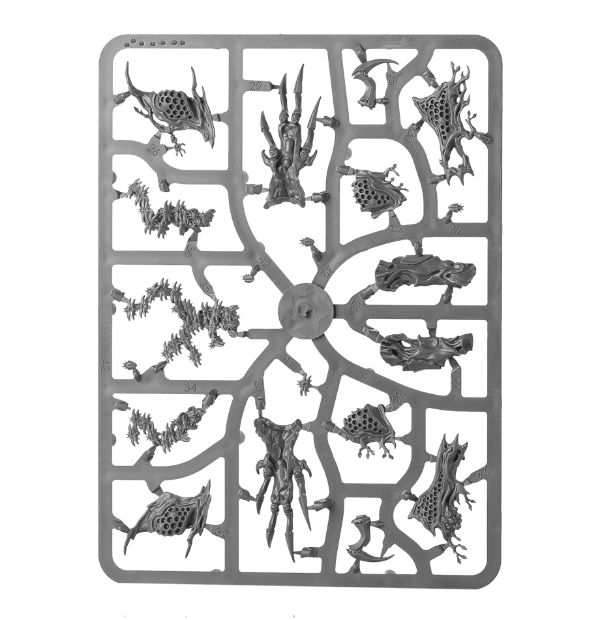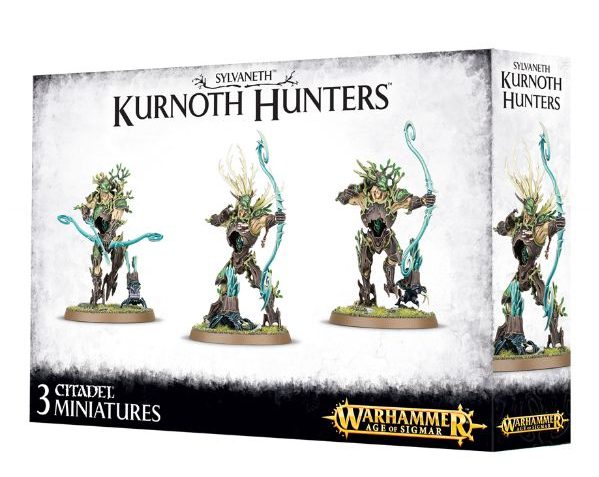 One of the few deities worshipped by the sylvaneth alongside Alarielle, Kurnoth represents nature's wildness and hunger. The Kurnoth Hunters are living embodiments of his wrath. Nearly twice the size of a Dryad, masters of sword, bow and scythe, they are strong enough to tear a Chaos warrior in two and tough enough to shrug off the hardest blows. Agile, graceful and stoic, they display little of the whimsy of some of their kin – they display absolute purpose, calm as ancient oaks, deeply focussed on their battles.
This multi-part plastic kit contains all the components necessary to assemble three Kurnoth Hunters, armed with a choice of greatswords, scythes or greatbows. One model can be assembled as a huntmaster, with a special head crest and weapon, and the kit contains seven additional spites. Supplied with three Citadel 50mm Round bases.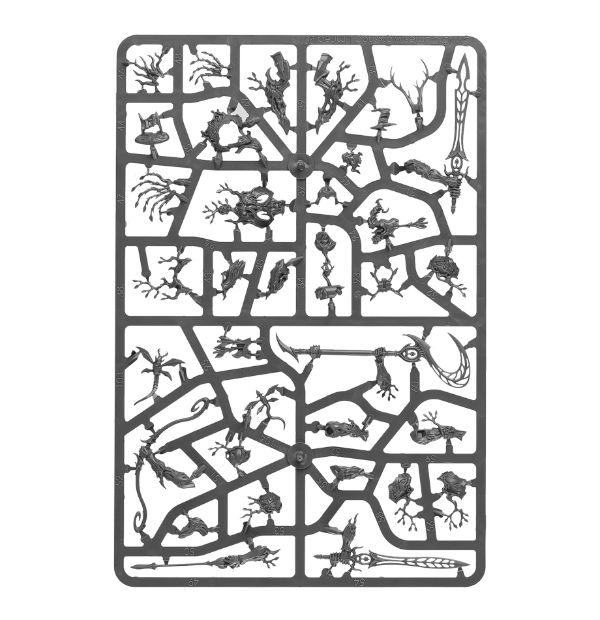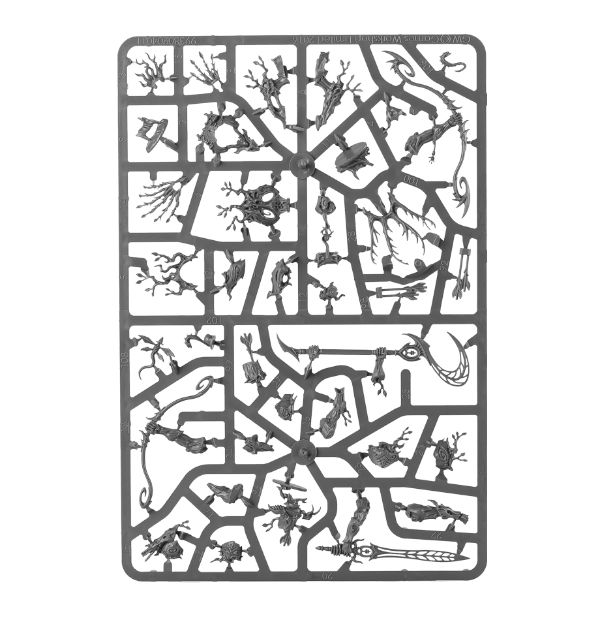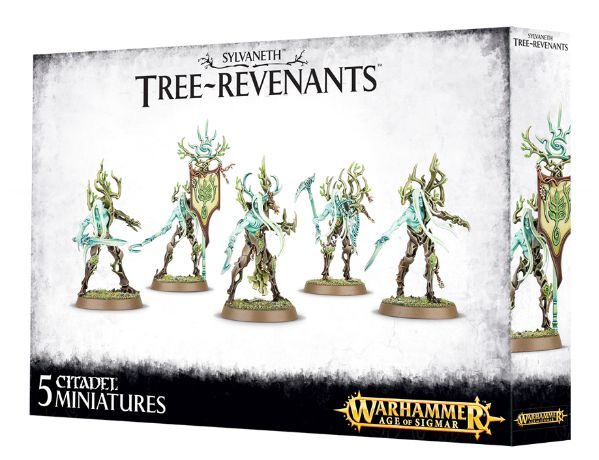 Merciless, fast and graceful, Tree-Revenants have a number of duties in a sylvaneth Household. Patrol, defence, conquering and crushing; huge bands of Tree-Revenants, with their sombre outlook and delicate limbs make the bulk of a Household force. Everything they do is reminiscent of the Protectors of ancient days – their intention is is to uphold and strengthen the memory of those beings.
This multi-part plastic kit contains all the components necessary to assemble five Tree-Revenants, armed with a variety of enchanted blades (swords, scythes, an axe and a pick are included.) One model can be assembled as a Scion, wielding a Protector Glaive, one can be assembled as a Glade Banner and one can be assembled with Waypipes. Supplied with five Citadel 32mm Round bases.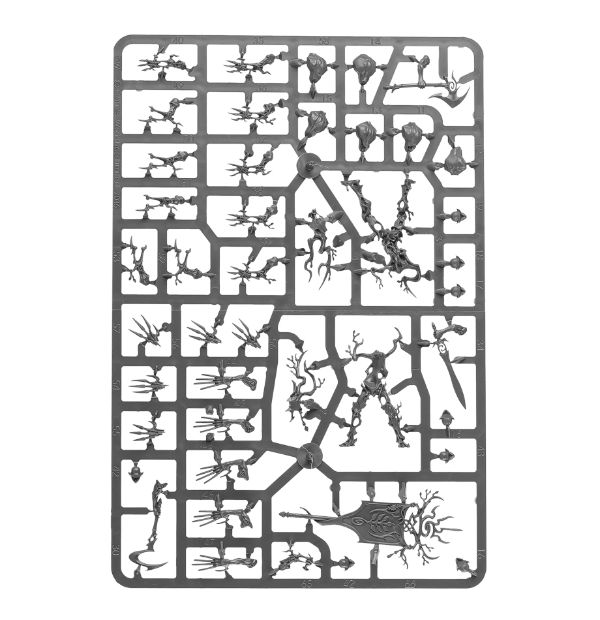 This kit can also be used to assemble five Spite-Revenants.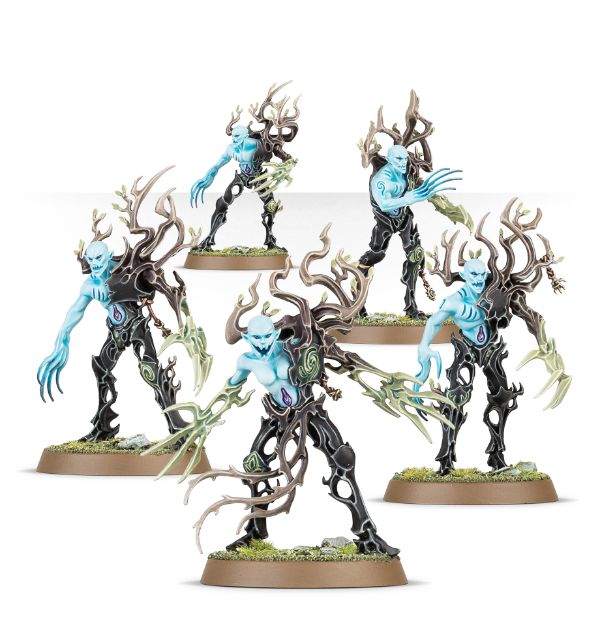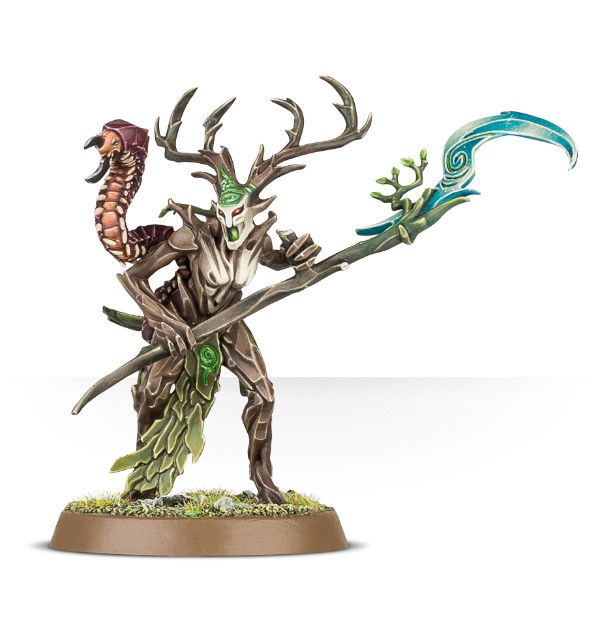 Druidic practitioners of sacred life magic, protectors of the clans' soulpod glades, Branchwyches are greatly respected for their abilities as commanders and sorcerous advisors. The sombre responsibility of harvesting their fallen comrades after battle is theirs, lending them infamously short tempers and stunning ferocity when roused to anger. Branchwyches are accompanied by Bittergrubs, creatures of voracious appetite whose powerful jaws can cut through flesh and bone with ease.
This multi-part plastic kit contains all the components necessary to assemble a Branchwych, armed with a Greenwood Scythe and accompanied by a Bittergrub. Comes supplied with one Citadel 32mm Round base.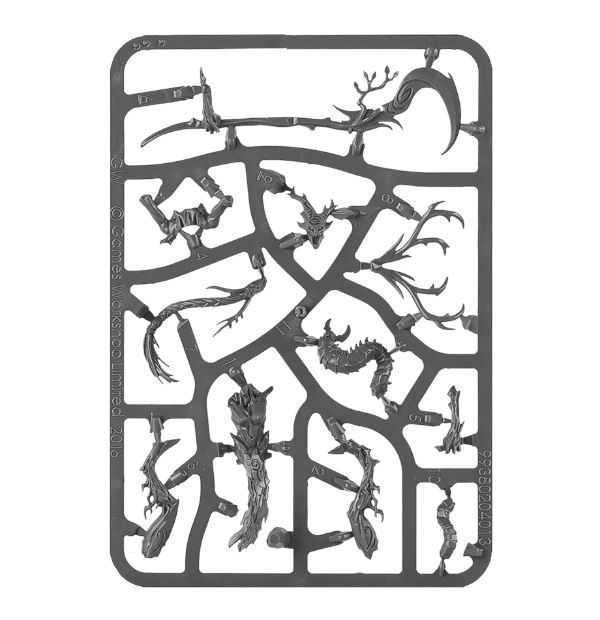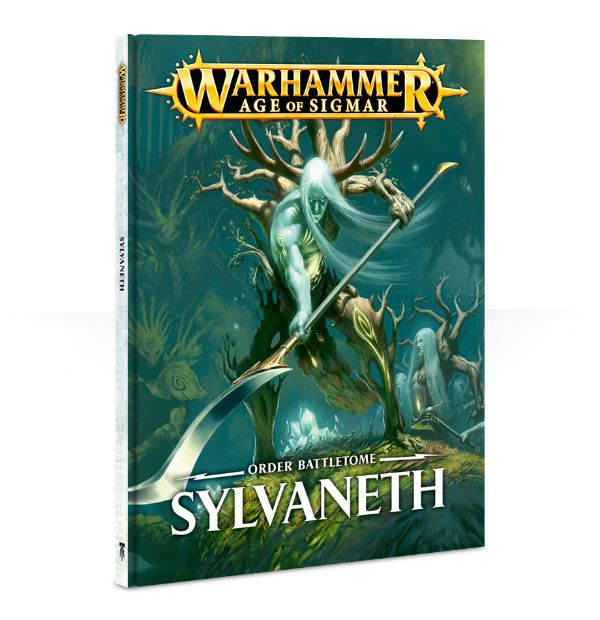 The spirit­song rises, and the sylvaneth march to war!
The air sings with glorious life magic as the children of Alarielle surge into battle. The reborn goddess of war leads from the front as glorious Wyldwoods burst forth from the heaving ground, called into being by ancient spirits. Determined to protect the Realm of Life, mighty Wargroves advance, crushing enemies with the inexorable strength of nature. Outcasts and Free Spirits strike suddenly and without warning, slaughtering the foe mercilessly to cleanse the tainted land. The sylvaneth's rebirth will be remembered as a harbinger of absolute vengeance.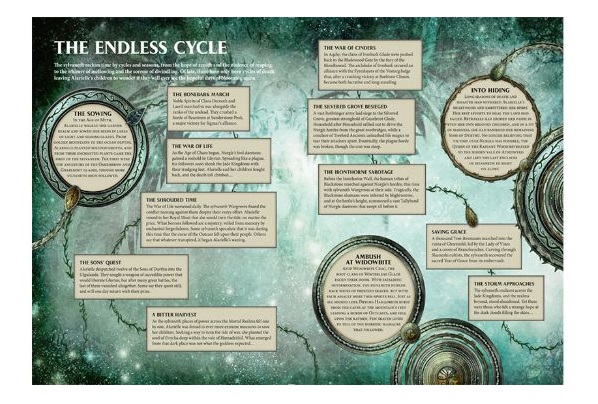 Exclusive gaming content:
Rites of Battle: potent abilities that can be conferred on armies with the Sylvaneth allegiance, and Command Traits that can be used by their generals; ­
Spell Lores: powerful magic, both defensive and offensive, specifically for sylvaneth wizards; ­
Artefacts of the Glades: relics of war, usable by sylvaneth heroes;
3 Battleplans, helping you to fight glorious battles based on the narrative leading up to them;
5 Warscroll Battallions, collections of miniatures who gain special abilities when combined; ­
8 special Warscroll Battalions called Wargroves. These give you even more special abilities, magic items, command traits and spells;
1 Historical Battalion, the Guardians of Alarielle, which recreates the alliance between the sylvaneth and the Stormcast Eternals;
details of the history and organisation of the sylvaneth, with full background for every unit, character and monster in the faction.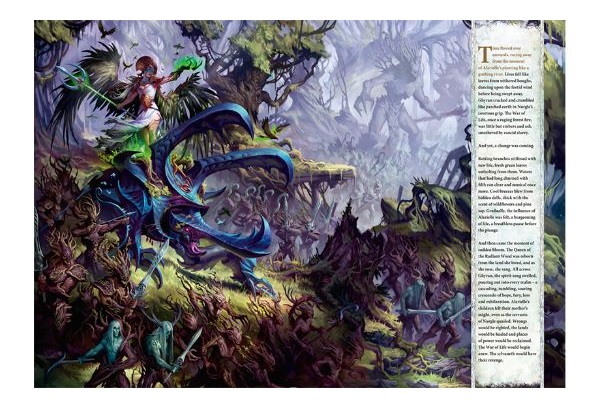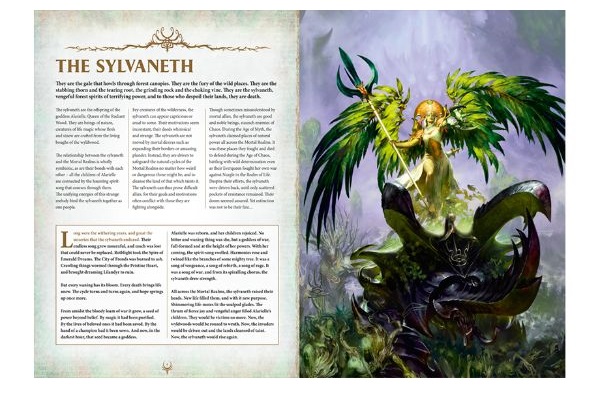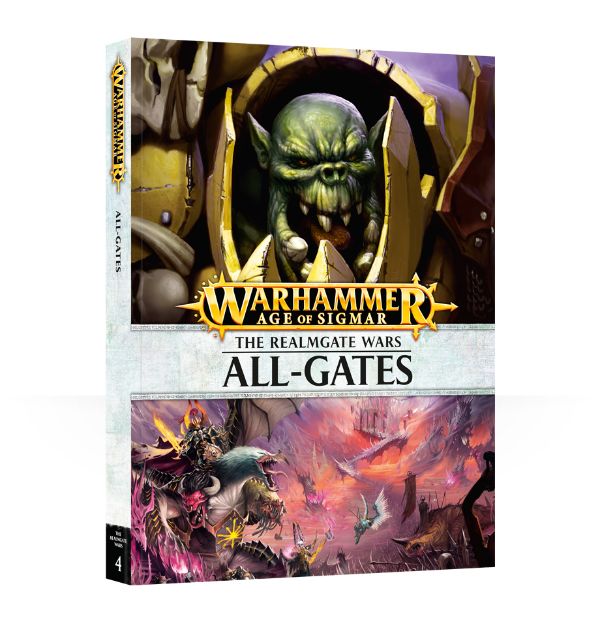 The fourth and final instalment of the Realmgate Wars saga, this book follows the sieges of four All-gates. The newly-reborn Alarialle and her sylvaneth fight desperately against the armies of Nurgle in realm of Life. Khorne's Bloodbound have control over the gate to the realm of Beasts. Minions of Tzeentch guard the gate to the realm of Metal, and an entire Extremis Chamber is deployed to the realm of Fire…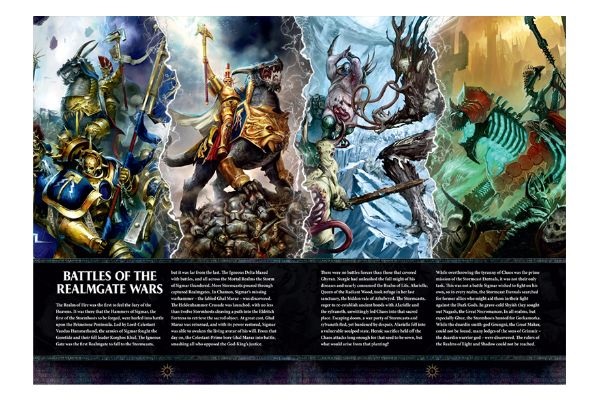 This book draws the Realmgate Wars story to an epic close, with massive battles and incredible feats of heroism on page after page! As well as the thrilling narrative in this 304-page hardback, you'll find:
– Four new Time of War sections – rules that anyone with any army can use for fighting in fantastical locations that wildly change the way Warhammer Age of Sigmar games are played, including new game effects, new spells for any wizard and a new triumph table;
– 11 new Battleplans – any Warhammer Age of Sigmar army can be used to play out these scenarios, adding depth and variety to your games;
– six detailed stage-by-stage painting guides for armies appearing in the book – get your armies looking exactly as they do when fighting these battles, with an awe-inspiring showcase of expertly-painted Citadel miniatures for inspiration;
– 22 Warscrolls and 11 Warscroll Battalions for Stormcast Eternals, Fyreslayers, Ironjawz, Slaves to Darkness, Daemons of Nurgle and Clans Pestilens armies.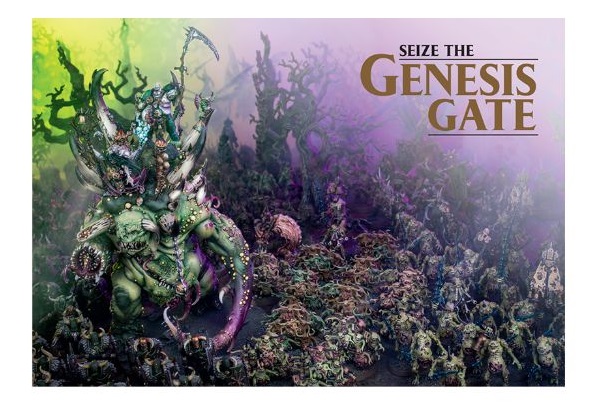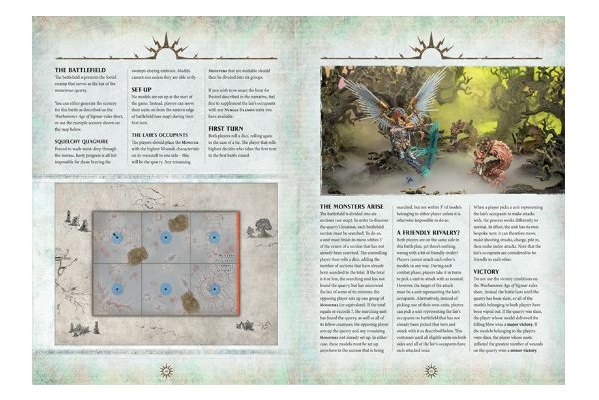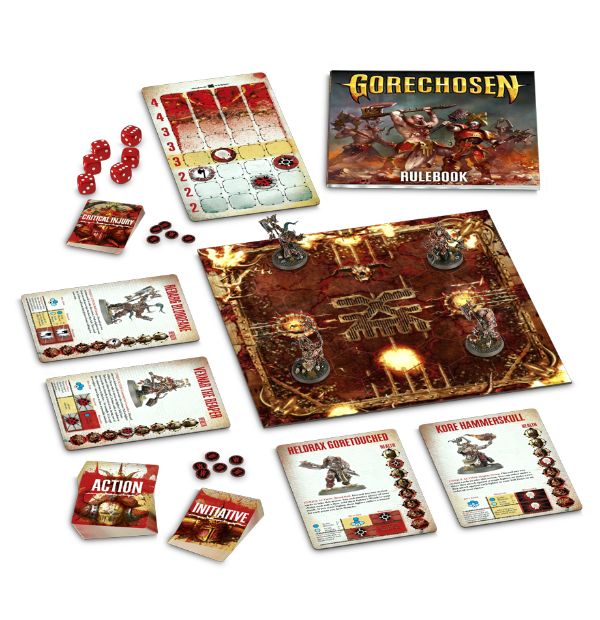 A game of brutal arena combat in the Age of Sigmar.
Mayhem and madness are the sacraments of Khorne, and the Gorechosen – the dark champions of the Bloodbound – provide these offerings in abundance. In Gorechosen, these fiercely competitive warriors take to the arena, battling each other to demonstrate their worth to their mighty leader.
Featuring stunning miniatures and fast-paced, brutal gameplay, Gorechosen is a desperate, tactical battle royal in which only one fighter can triumph! Will your chosen champion dominate the arena, or be struck down in ignominy?
Contents:
4 Gorechosen Champions
Arena board
4 Fighter reference cards
52 Action, Initiative and Critical Injury cards
Assorted tokens and dice
For 2-4 players
Play time approx., 60 minutes.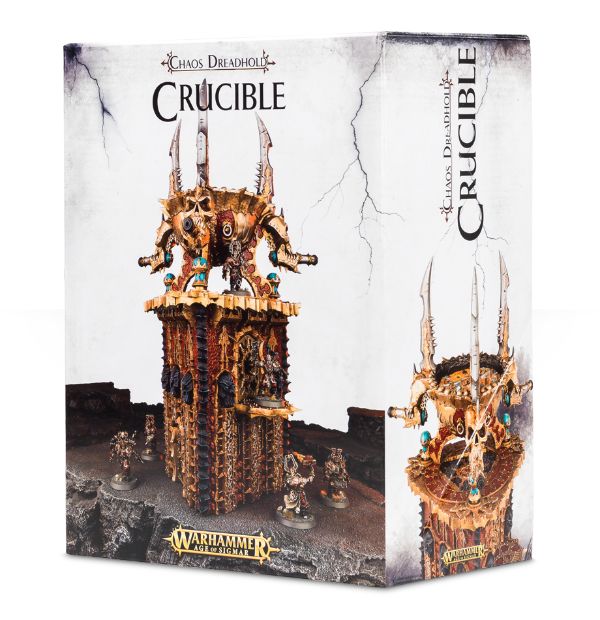 The forces of Chaos are known as fearsome conquerors, maddened champions of fear and fury who slaughter remorselessly and without mercy, with no regard for morals or respect for the fallen. Even the weapons of their bested foes are scavenged, and put to dread purpose – feeding the Crucible, a terrifying reminder of the Blood God's dominion. A vast cauldron atop the towers of the Chaos Dreadhold, the Crucible melts down the weapons and artefacts of the fallen with the rage of Khorne, using the resulting magical energies to loose powerful bolts upon the battlefield.
This multi-part plastic kit contains all the components necessary to build a Crucible, fiery basin of the Chaos Dreadhold. Designed to fit in with the rest of the Chaos Dreadhold scenery pieces, this kit can be added to a massive fortress or used on its own as a centrepiece for exciting battles in the Age of Sigmar. Full rules are included: the Crucible doesn't just look cool, it can be used as a weapon, but beware the potential backlash from the daemonic spirits within…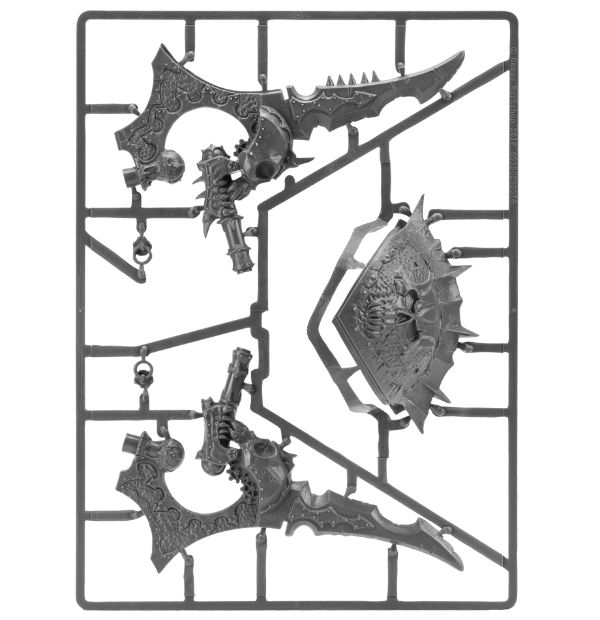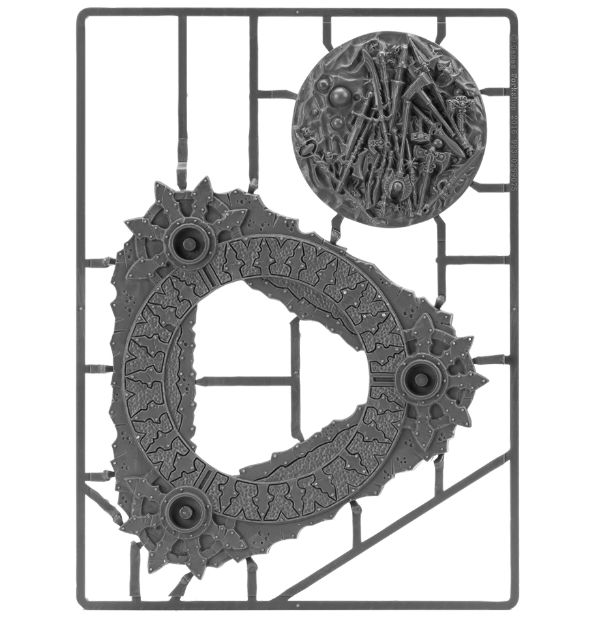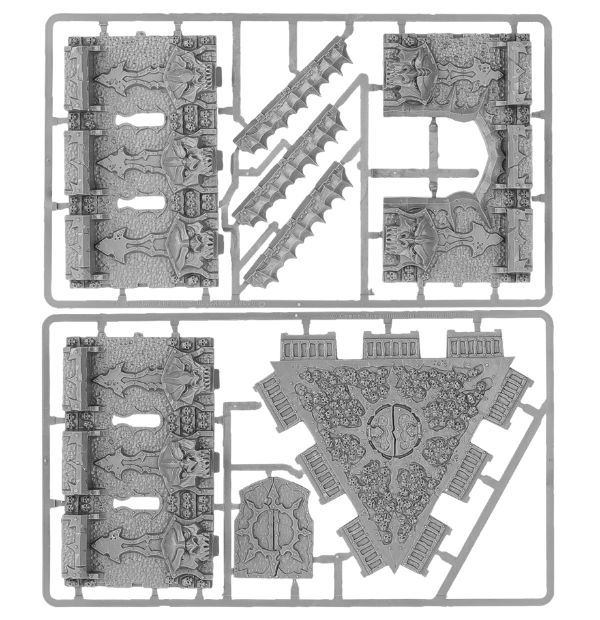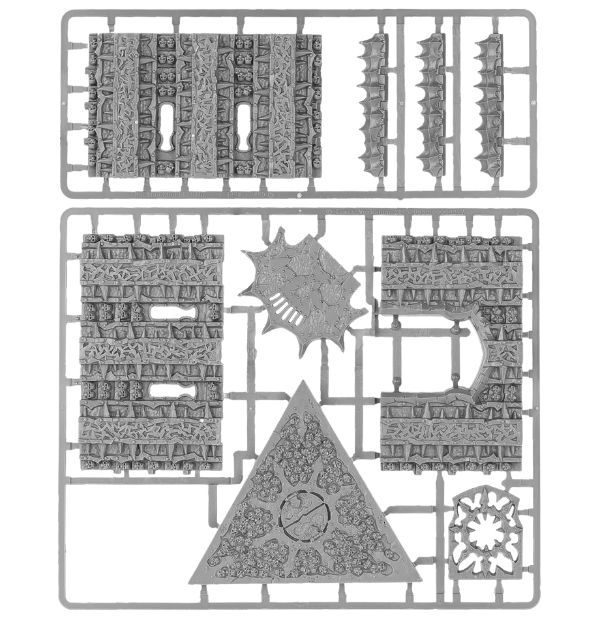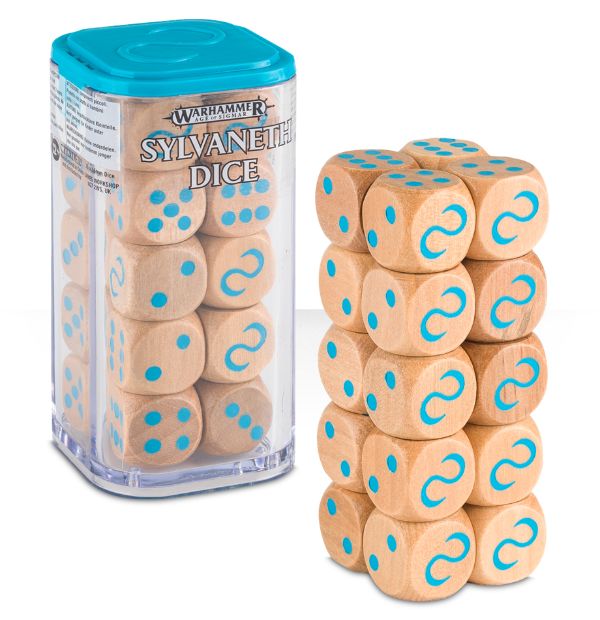 A hard-wearing, tough plastic cube containing 20 16mm dice styled to complement your Sylvaneth miniatures. It features an embossed Sylvaneth icon on the lid and a matching icon in place of the 1 on each die.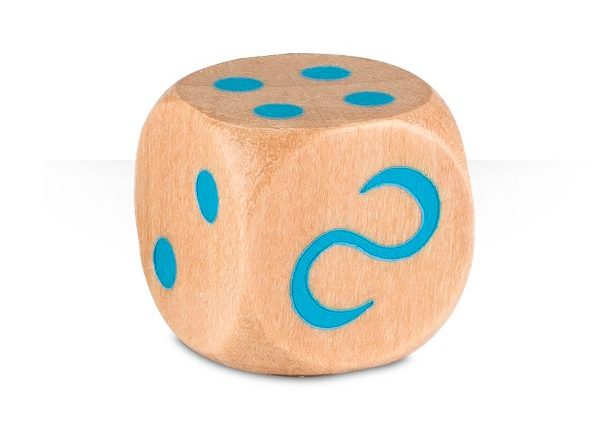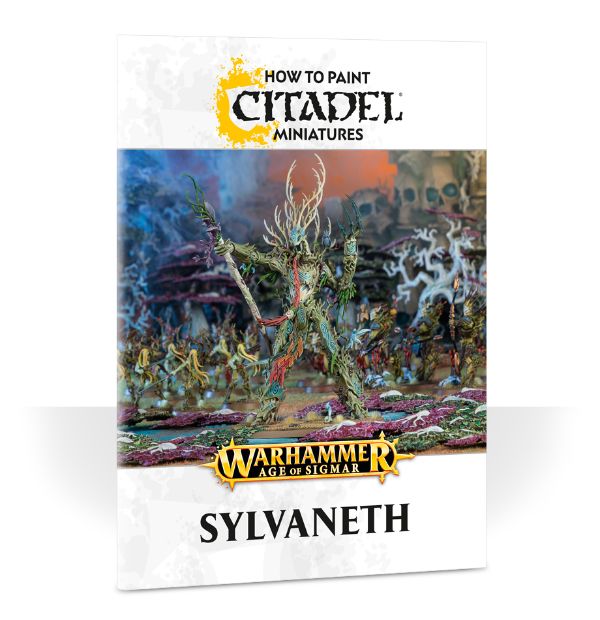 An essential resource for any hobbyist interested in painting sylvaneth miniatures, this 32-page softback book is packed with step-by-step painting guides, detailed photographs and easy to follow instructions. Seven different glade colour schemes are covered, with special sections covering Outcasts, spites, Kurnoth Hunters and magical blades – with this book, you'll gain all the knowledge you need to paint an amazing army of your own, right down to the bases.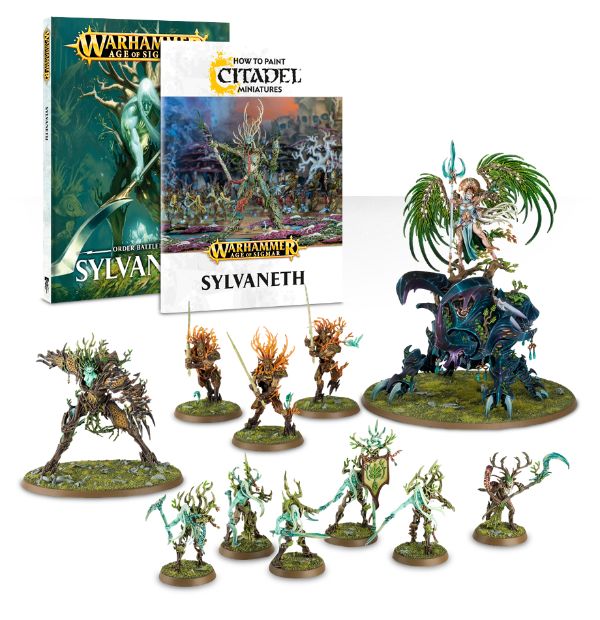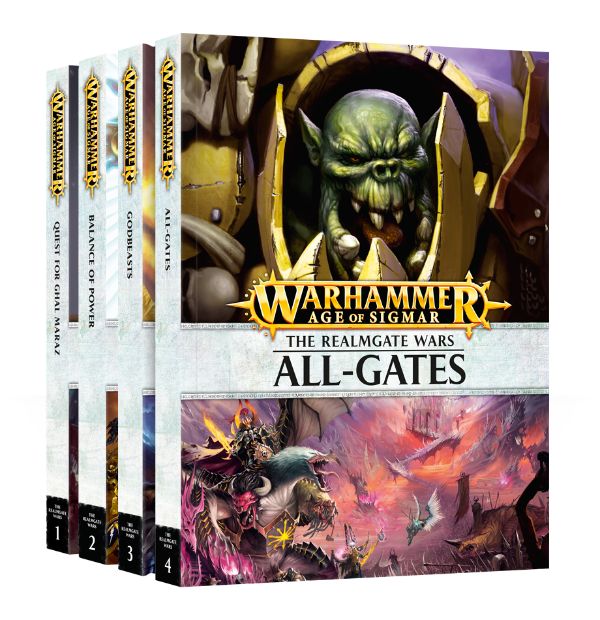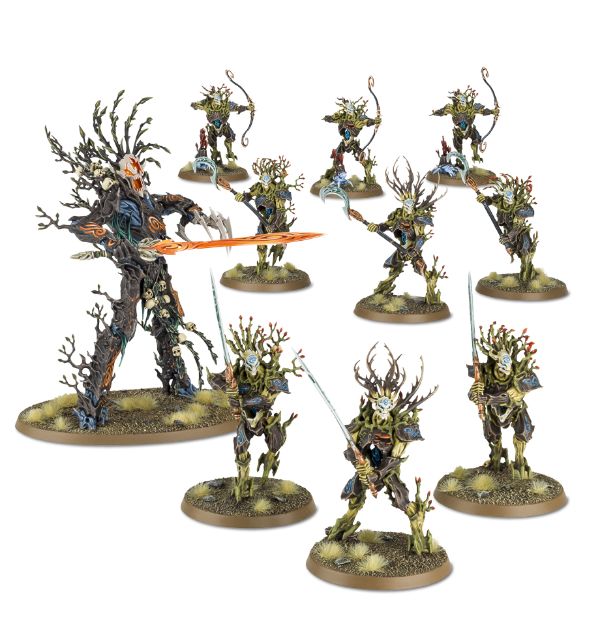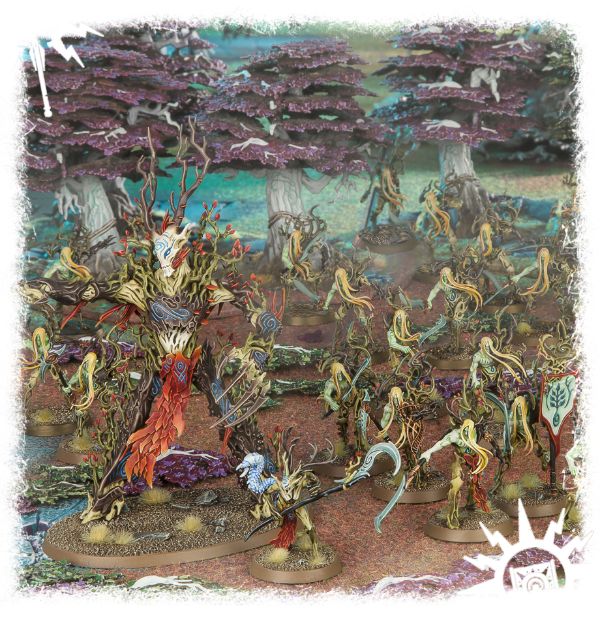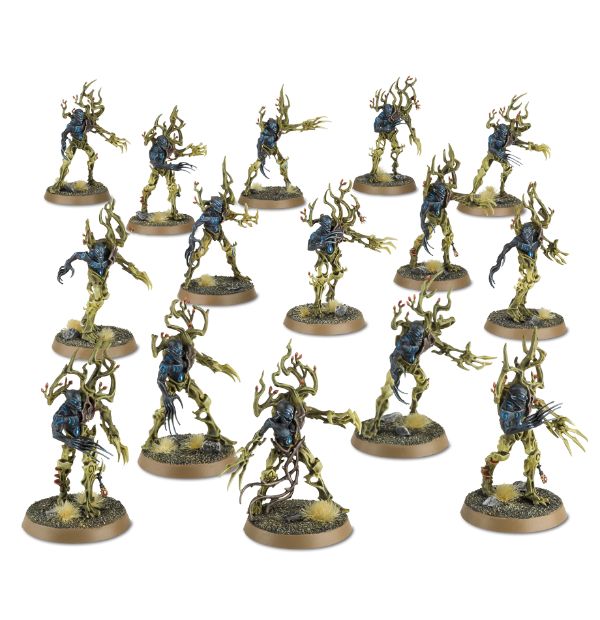 Lots of goodies this week for Age of Sigmar – Have at it folks!