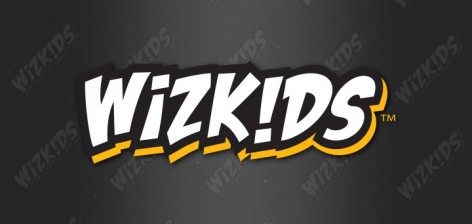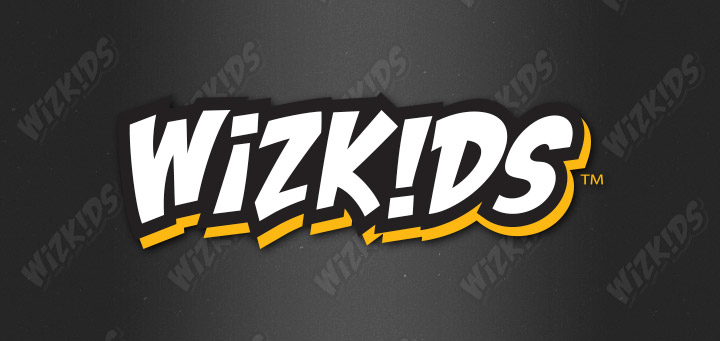 The Superior Foes of Spiderman are coming up fast – check out who is on the team!
The Superior Foes of Spider-Man is coming in August – but WizKids is giving us a preview. Meet some of the members: Speed Demon and Boomerang….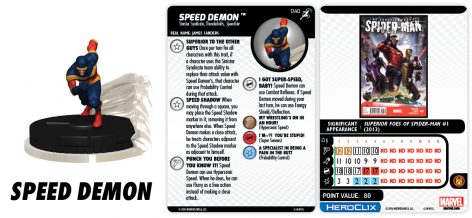 Up first we have Speed Demon, a Speedster who's been a member of the Sinister Syndicate, as well as part of the Thunderbolts! Coming in at 80 points, Speed Demon possesses a trait shared by all characters on the Superior Foes team, called Superior to the Other Guys! Once per turn for all characters using the trait, when a character uses the Sinister Syndicate team ability to replace their attack value with Speed Demon's, that character can also use Probability Control during that attack! Speed Demon also comes with a Clix FX base to use with his second trait, Speed Shadow! Speed Shadow allows him to place the Speed Shadow marker in a square he moves through during an action. Then, when Speed Demon attempts to make a close combat attack, he treats characters adjacent to the Speed Shadow marker as adjacent to him – which goes well with his full dial of Hypersonic Speed and high speed value!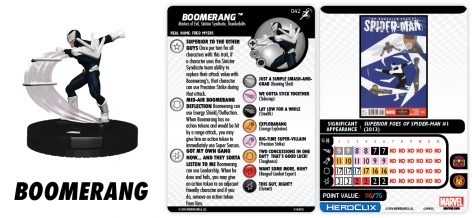 The second member of the Superior Foes we're previewing today is the self-appointed leader of this version of the Sinister Syndicate, Boomerang! A former professional baseball player, as well as a member of the Masters of Evil and Thunderbolts, Boomerang comes to this team of foes to make one last big score for himself. And, uh…sure…for the rest of the team as well (he promises he won't betray you!). He possesses both the Sinister Syndicate and Masters of Evil team abilities, and can be played at 110 points for 6 clicks of life, or scaled back a bit at 75 points with 4 clicks of life. To start, like the other members of his team, Boomerang has the Superior to the Other Guys trait. Like Speed Demon, this trait can be used when sharing attack values with the Sinister Syndicate Team Ability, but with a different twist. When taking Boomerang's attack value, that character can also use Precision Strike during that attack!