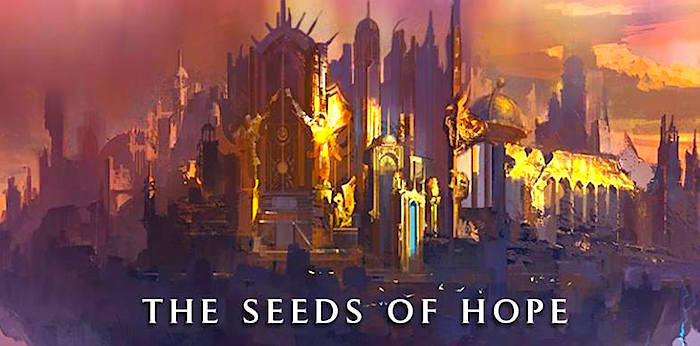 The Tabletop Spotlight is on the new General's Handbook for Age of Sigmar!
The fine folks at Dragon's Lair Comics & Fantasy brought over one of the most anticipated books for Warhammer Fans – it's the General's Handbook for Age of Sigmar:
This is the book that everyone has been wanting for a year. If you were looking for the perfect time to get back into or start playing Warhammer: Age of Sigmar then on July 23rd, 2016 (the official shipping date) head to your FLGS or a GW store and grab a copy of this book!
Let's get this out of the way – POINTS! This book has them. For every unit currently in the game (and a few that haven't been seen yet). This has the competitive crowd coming back in droves and it should! We've said it before the core game of Age of Sigmar lacked structure for list building. This made it a little intimidating to just show up and start a pick-up game with a stranger. If you had a group of regulars it was less frustrating, but you could still run into "That Guy" who ran 10 Bloodthirsters for their list.
While you could theoretically still do that, "That Guy" will quickly find games harder to play because most sane people will just want to play within the points structure provided. It's not just points, either – it's also what amounts to a Force Organization chart for list building. That's really where this shines. Having limitations on units may sound…well, limiting…but really when you know where the lines are it's a lot easier to have your expectations met. Its a lot easier to have a baseline with points and deviate from that vs not having any idea what you're walking into. I think we can all agree on that.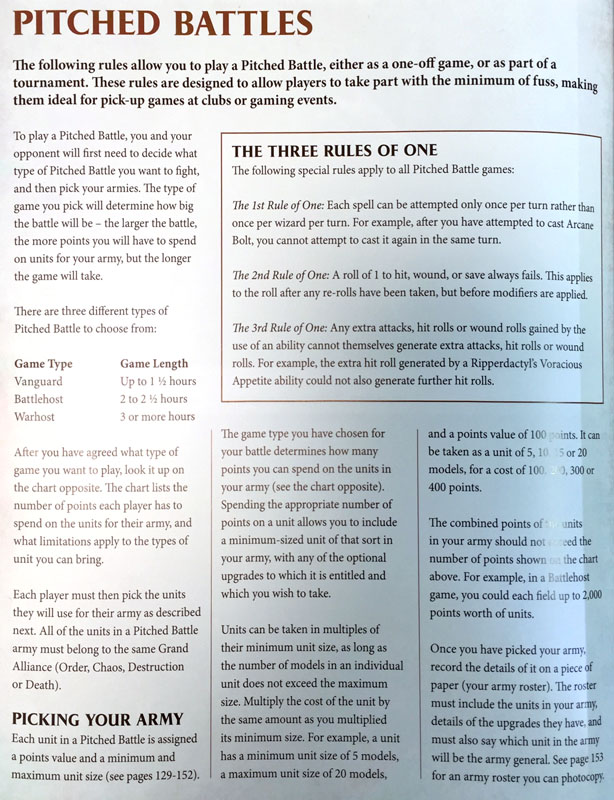 Aside from the points, this book also has an awesome Narrative Play section. If you want run a campaign, war-band league, or just a linked battle system this book has you covered. Honestly, when I learned about the war-band style league rules I flipped out a little bit. I was a HUGE fan of Mordheim and I've always wanted to try AoS as a small scale skirmish game – now you can do that with some great rules to support it!
This book also has a TON of extra rules for spicing up your games. There are General Traits and Command bonuses. New Artifacts that you can get access to and just a bunch of great "little things" that this book adds. And at the price point, it's REALLY hard to beat.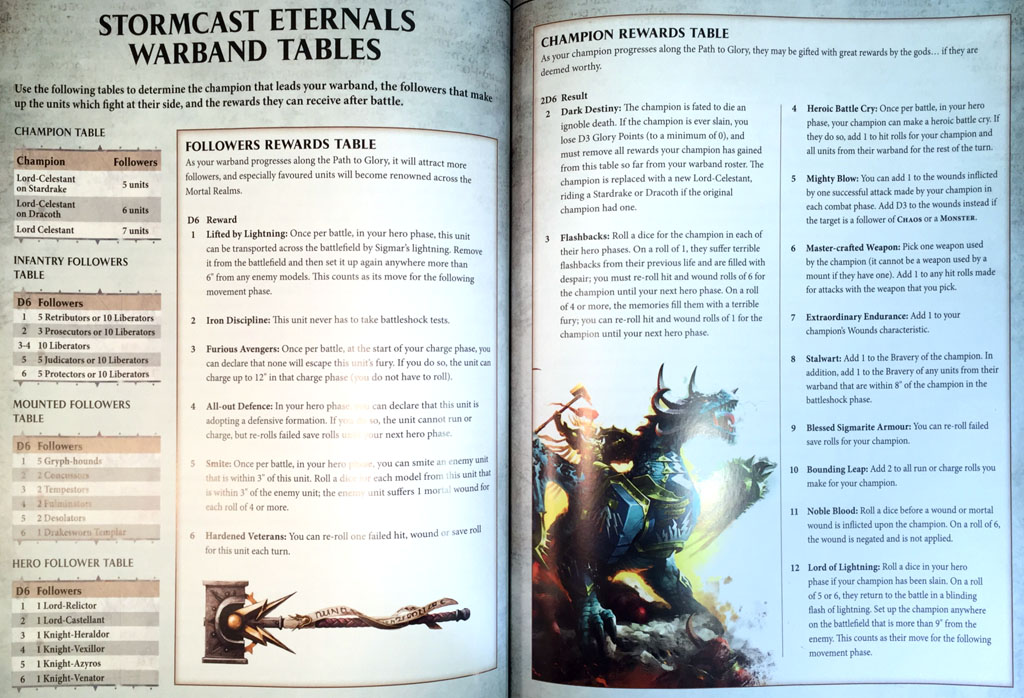 The General's Handbook is a literal Game Changer for Age of Sigmar. I really hope that you've got a store close to you that pre-ordered and got a copy early. If not, you're going to have to wait until it officially launches on the 23rd. Until then, now is a great time to get your forces ready for the battles to come!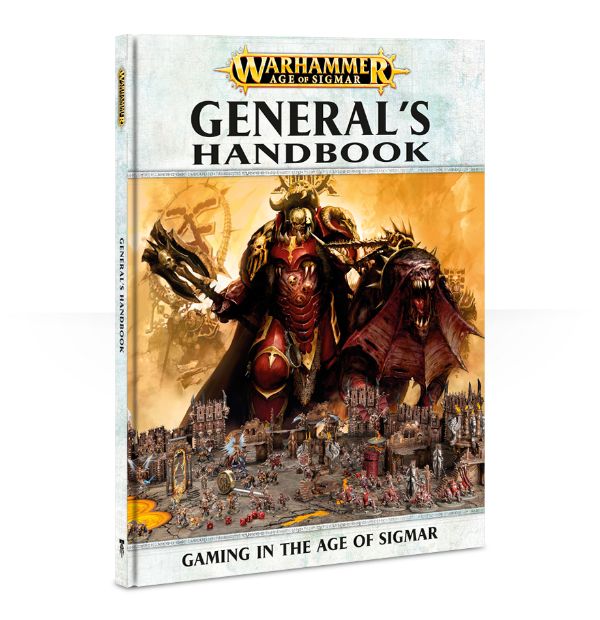 The Contents

Detailed explanations and rules for Open Play, Narrative Playand Matched Play games;
full rules for no fewer than 5 ways to run campaigns, from quick and simple skirmishes to long Path to Glory wars;
22 brand-new Battleplans, ranging from huge narrative epics to brutal, quick fights;
full rules for multiplayer and team games of Warhammer Age of Sigmar;
Allegiance Abilities: these are powerful command traits, battle traits and magical items for each Grand Alliance;
Points values for each Warscroll and Warscroll Battalion from Battletomes and Grand Alliance books available in the range at time of printing;
Path to Glory Warband Tables for Chaos, Stormcast Eternals, Fyreslayers, Skaven, Ironjawz, Sylvaneth and Death armies;
Battle Reports and narrative extracts, helping to show how to build your own rules and games, your way.

This softback book weighs in at 168 pages, and will blow the Mortal Realms wide open for you, your gaming groups, and any friends you might want to introduce to the fantastical world of Warhammer Age of Sigmar. Dive in.
Now I just have to decide which side I want to play for in the Summer Campaign…Chaos or Slyvaneth?!