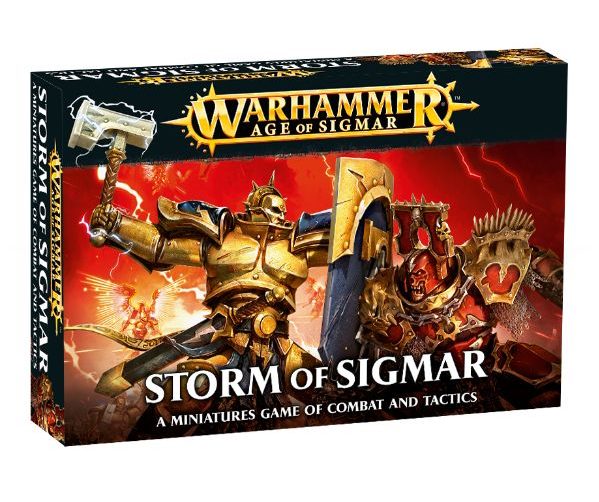 The Tabletop Spotlight is on the new Storm of Sigmar Starter Box from Games Workshop!
Impulse buyers beware – GW has the next product on your list! Our buddy Drake from Dragon's Lair Comics & Fantasy brought over the new Storm of Sigmar Starter Box for Age of Sigmar. It's surprisingly good:
For $33 bucks you get 13 miniatures and everything you need to play you first intro game for Age of Sigmar. This box has a rangefinder, dice, scenarios (as in 4 different ones), and 4 awesome large print Warscroll cards.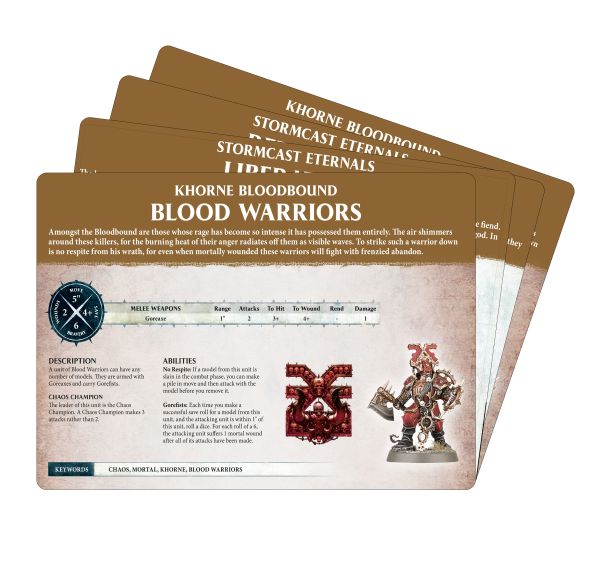 Aside from the great accessories, this box also has those quick-assemble miniatures which we first saw in the AoS Boxed game. They are really well done and super easy to build. Plus the way they cut the models up digitally really hides the seams when you assemble them – it's really impressive.
I'd say this is probably one of the easiest sells from Games Workshop. If you are a shop owner these are absolutely perfect for demo games of AoS because they are super newbie friendly. If you are even remotely interesting in trying out AoS (and haven't just check out the free online rules) then pick up this box. It's less of an investment in both time and money than the large starter box, but still worth the price of admission. Plus all these miniatures are stepping stones to starter forces.
Personally, I'm really hoping we see more of those oversized unit cards from Games Workshop in a future release. I have the App and access to the books and I'd still probably end up using these cards instead! Storm of Sigmar is in stores NOW – so swing by your FLGS and see if you can get a demo in!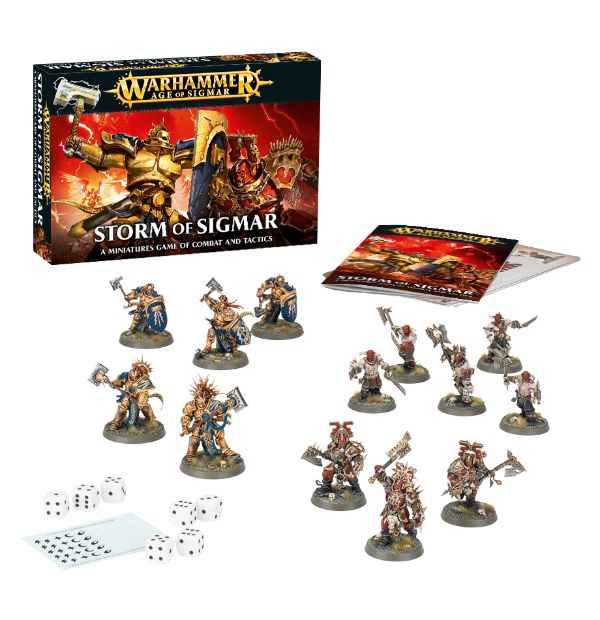 Containing everything you need to get started with exciting games of Warhammer Age of Sigmar, this box is the perfect starting point. Two powerful forces – the heroic Stormcast Eternals and Khorne's unstoppable Bloodbound – meet in savage combat to control the destiny of the mortal realms!
In this box, you'll find all the items you need to start playing games of Warhammer Age of Sigmar:
Miniatures
3 Stormcast Eternals Liberators: steel-souled heroes of Order, hurled down from the skies to meet Chaos head-on;
2 Stormcast Eternals Retributors: clutching weapons forged of ensorcelled sigmarite, they call upon bursts of violent sky magic;
3 Khorne Bloodbound Blood Warriors: muscled, aggressive fighters who shrug off even the most powerful blows, such is their bloodlust;
5 Khorne Bloodbound Bloodreavers, mortal followers of the Blood God, eager to prove their worth through slaughter.
Gaming Content
The box comes with a guidebook containing:
an introduction to the world of Warhammer Age of Sigmar – who are the Stormcast Eternals, who are the Khorne Bloodbound, and why are they sworn to destroy one another?
all the rules you need in order to play games right away, in an easy to follow format;
4 Battleplans – scenarios for your games, featuring special rules and new ways to play: destroy all your foes, protect a specific miniature or fend off waves of increasingly powerful enemies, with victory conditions, objective and tips simply explained;
4 large-format Warscroll cards – these are handy reference cards featuring the rules and abilities your miniatures can call upon, featuring striking artwork;
a rangefinder printed on the back of the book, and 7 dice to make the fateful rolls that will decide who is the victor and who will be annihilated;
hints and tips on where to go next – how to expand your Stormcast Eternals and Khorne Bloodbound armies, where to get Citadel paint sets with which to paint them, and which books from the range will help you to bring the mortal realms to life on your gaming table.
The box also contains a construction guide designed to make assembling your miniatures easy to assemble, and enough Citadel 32mm and 40mm Round bases to stand them on.
Storm of Sigmar – for those of us who just want to dip a toe-in to see if we like the water first.