Tabletop Spotlight: Stratos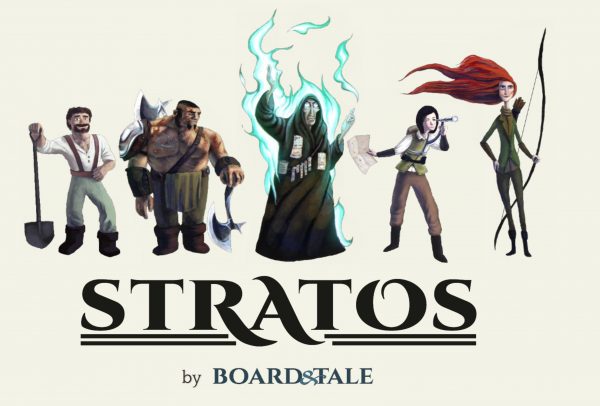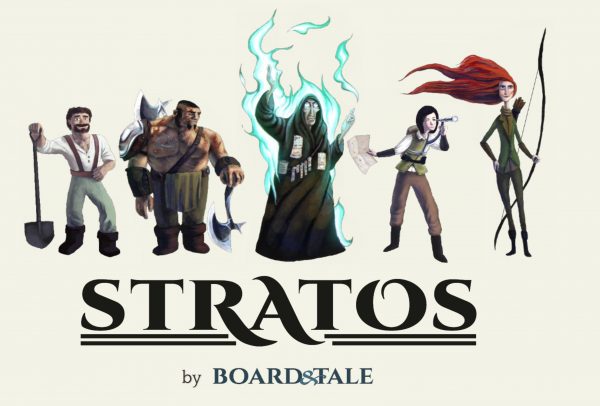 The Tabletop Spotlight is on Stratos – a game of strategy, luck and imagination in a unique sandbox tile system!
Evan from Dragon's Lair Comics & Fantasy showed up with a really cool and very unique board game – Stratos. The box art had me curious and when he said it's a got this really neat tile/board system I was now full-on interested. Check this out:
Stratos is a strategy game where you're trying to amass 10 prosperity points before your rivals. In most games you start with a Peasant and have to build up from there. You can hire 5 different character types to help you in your strategy to win and there are multiple ways to get points. If you want to fight your enemy and get points you can focus on archers and fighters. If you want to go exploring for treasures you can hire the explorer and have a chance to get some epic loot! Or maybe you just want to live a quiet life – grab a wizard to play defense while your horde of peasants gets your resources!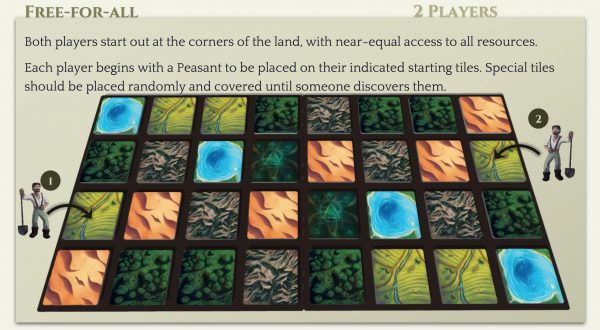 What makes this game really unique is the board/tiles. You can use the different scenarios provided for some awesome 2-5 player games or you can totally randomize the tiles and see what happens. Each tile provides a different resource so this game has a tons of replay value. The above picture is just the basic setup. Because the board is also made of 4×4 tiles that can be swapped out you can get some very unique maps setup with all 5 boards.
The game also has a promotion system (i.e., leveling up) for your units. Because the combat is based on either a D4 or D6 (depending on the unit) it's really easy to resolve. Once a unit is promoted they basically stop missing with their attacks or skills – this makes promotions very valuable but also paints a big target on their backs!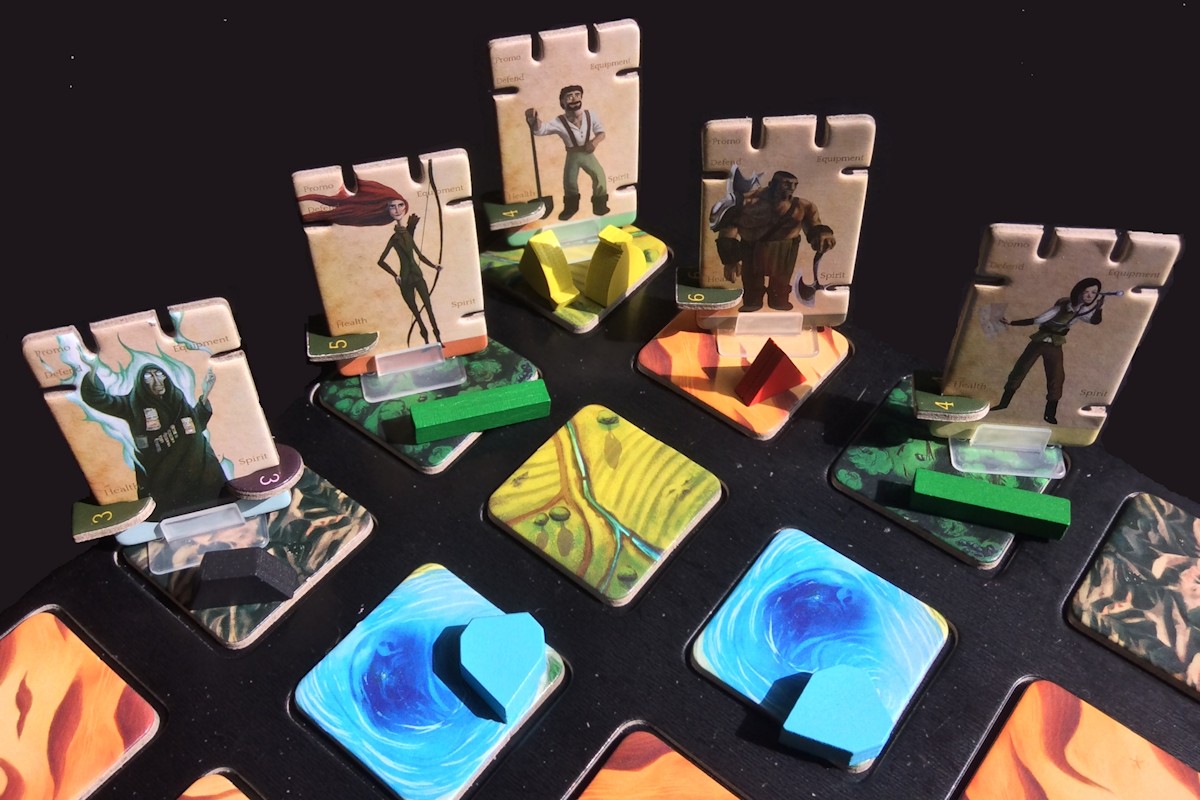 If you'd like to read the rules, watch a tutorial or check out some more art of the game the Stratos Website has a ton of great info on this awesome indie game. Now, there is one thing I wanted to mention about it being an indie game, you might not be able to find it in your local store just yet. Board and Tale Games is still a relative young company but Stratos has been making the rounds and is gaining lots of traction. The good news is that you can order it online direct from them. So check out Stratos and give this indie gem a shot!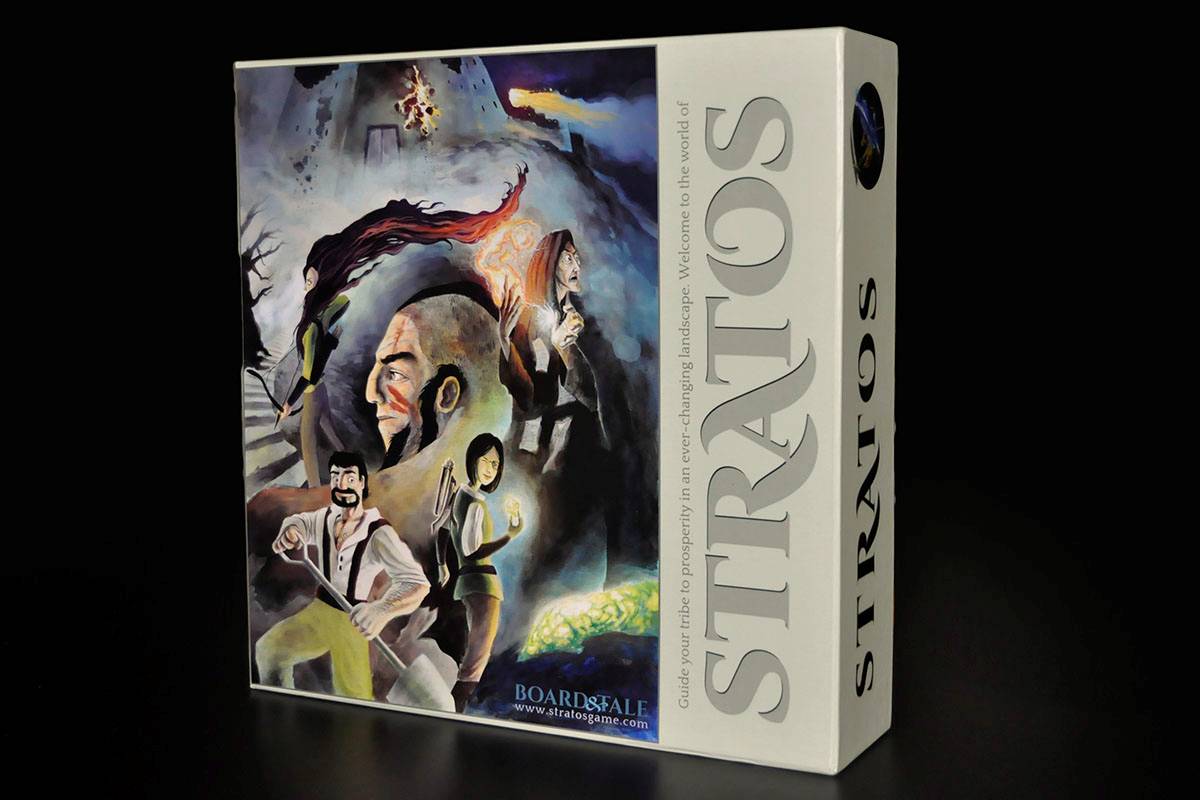 Subscribe to our newsletter!
Get Tabletop, RPG & Pop Culture news delivered directly to your inbox.
Stratos Material Contents

The game contains a generous number of pieces with high-DPI printing on premium-grade punchboard for a nice hefty feel to all game components. Everything is contained within a large, premium game box with matte finish for a smooth, soft look.

Build any map you can imagine with over 100 land, water, and building tiles
Assemble your army with 100 stand-up character figures and over 250 tokens for tracking character state, abilities, and points
100 custom wooden resource tokens and 2 dice
60 game cards in a custom tuckbox
1 Instruction Manual including tutorial
Will you lead your tribe to victory or will you enemies crush you? There is only one way to find out…