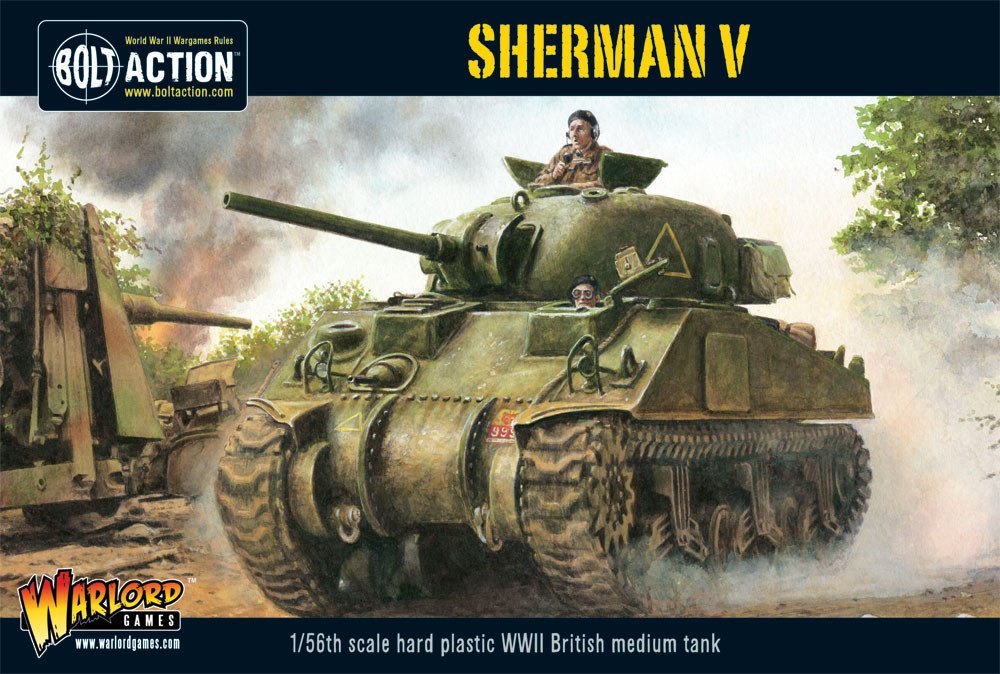 Join us as we take a look at the Sherman V tank kit from Warlord Games!
Hey BoLS Readers! We're back with a really quick unboxing of the Sherman V tank kit from Warlord Games for use in all your games of Bolt Action. This 1/56th scale kit is a great addition to your Allied forces:
I've actually covered the release of this kit before. But this was my first time getting to crack open the box and see what was actually inside. After opening this kit up and comparing this to other tanks from other wargaming systems I can see the differences.
This kit is made from the same lighter-yet-harder plastic we've seen in other Warlord/Bolt Action kits. It's a good plastic for holding details but the plastic does feel a bit more brittle. It's not a bad thing – it's just a trade-off. You will have be more careful with this kit than say a Warhammer 40K Predator.
As far as 28mm kits go, the Sherman V looks great. There is a certain amount of care that taken when designing a tank kit off of an actual thing that existed. It's much closer to a traditional modeling kit in that regard than a typical "wargaming" kit. This kit belongs in a "Hobby Store" vs a "Toy Store" if you know what I mean.
When it comes to assembly, to use that Hobby Store analogy, this would probably be rated as a beginner to intermediate kit. It's not overly complex to build but it does have a few "fiddly" bits to deal with. But I think with a good pair of clippers, a sharp hobby knife, plastic glue and some free time this kit will go together in no time.
Overall, if you're a Bolt Action player and you're looking to add a great kit to your collection then the Sherman V should be on your list. If you're a hobbyist just looking for a cool historical kit to build for fun then definitely put the Sherman V on your list. They are available in Warlord's Online store or from your FLGS. Go check the Sherman V out!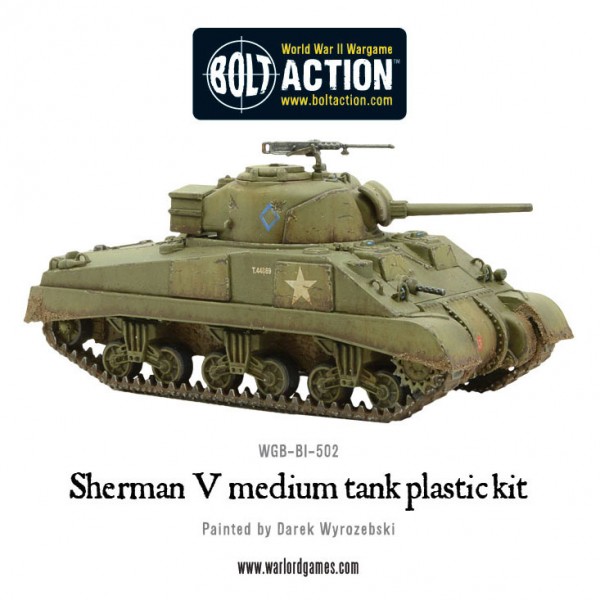 Supplied under the Lend-Lease programme to Great Britain the M4A4 was renamed the Sherman V by its new owners. The Sherman V would be the mainstay of the British and Polish armoured units during the later years of the Second World War.

This was perhaps the most populous British tank. The only downside was a high silhouette, but the Sherman made up for this with its reliability, ruggedness and numbers. Armed with a 75mm gun and two .30 cal Machine Guns, the Sherman V could handle itself just fine.
A Sherman can give you a very nice… edge.