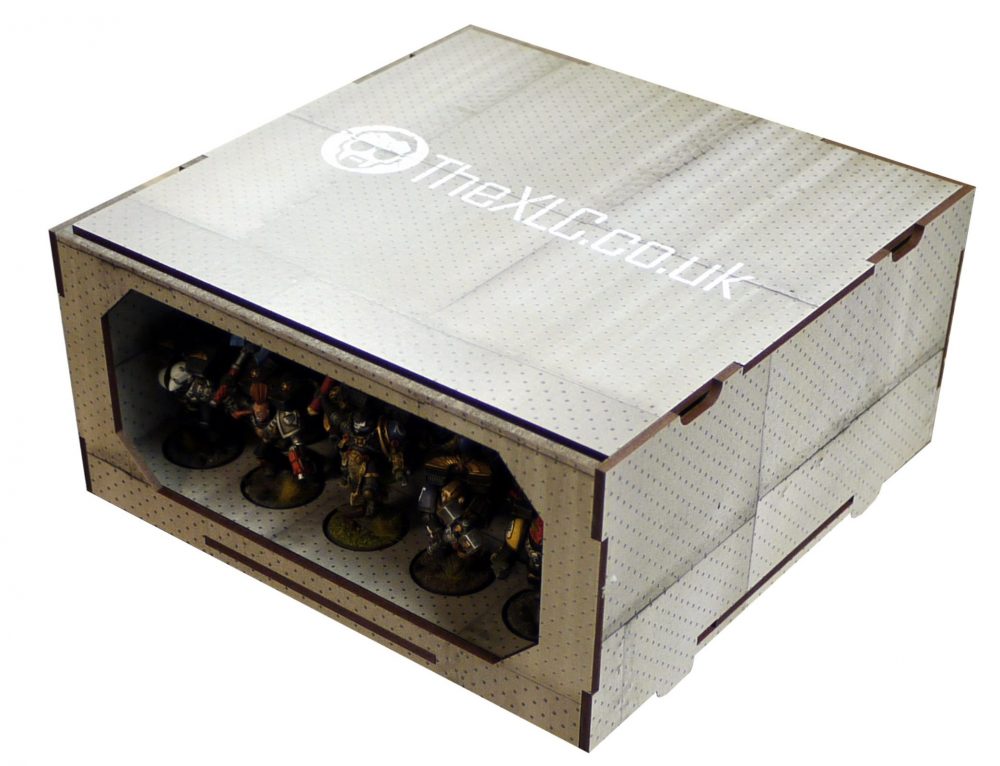 Looking for a new way to store your miniatures? Check out these storage containers from XLC Wargaming Terrain!
I love the smell of Lasercut MDF board in the morning! Hello again BoLS Readers, it's AdamHarry back with another quick unboxing and this time I've got a great new storage solution for you – XLC Storage Containers:
We've all got bags and tubs for our miniatures for transport, but what do you do when they aren't in the case? Do you put them on display when they aren't in use? Well, if you're looking for a way to combine the transport of your armies and put them on display at the same time then XLC Wargaming Terrain has the solution for you. These new XLC Storage Containers have inserts that come in different sizes that will fit your models. In the set we received we had both a 25mm option or the 32mm option. These are all laser cut for maximum precision. You can see in the video how easy it is to swap them out.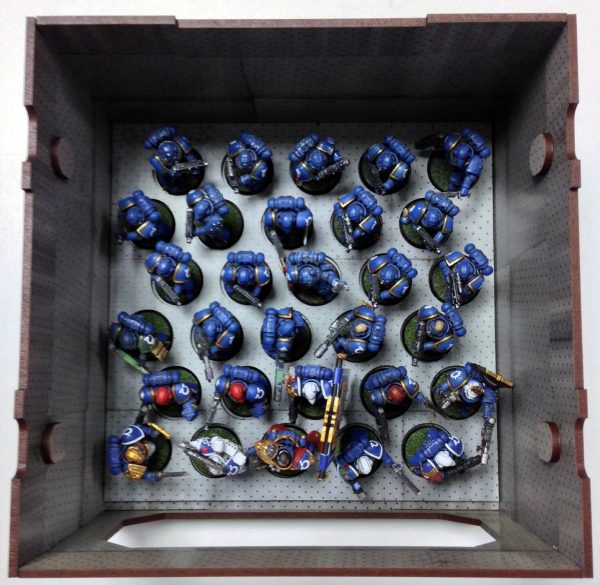 What cool about these containers is that they have that "garage door" on the front so you can see inside – it makes it a bit more display like. Plus because of the base inserts your models won't slide side-to-side or bump each other. Vertical movement will be a problem however – don't drop them or shake them vigorously…but you probably already knew not to do that, right? The "garage door" also has another removable piece that you can slide in the gap to "close" the door.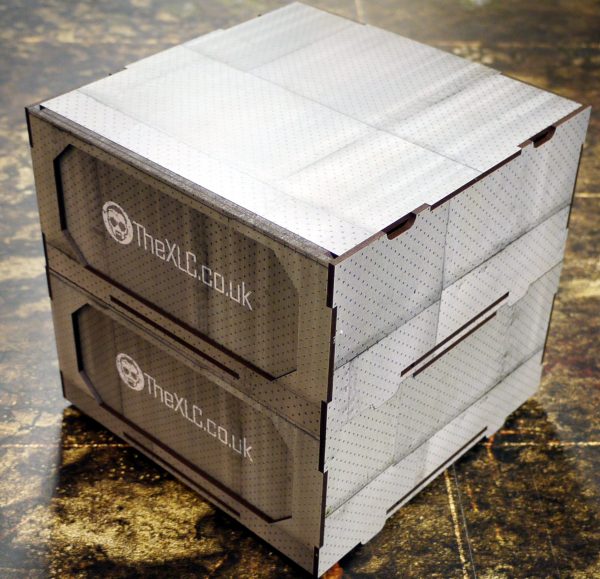 The other neat thing about this storage solution is that the boxes have slots and are perfect for stacking. This makes storage space a lot easier to work with. The box tops are flat and when you stack them, because of the way they are designed there is no gap and every thing is flush. The could even double as actual wargaming terrain on your boards – need a bunch of square buildings with a cool metal plating design? Then get a couple of these for your army and your gaming table!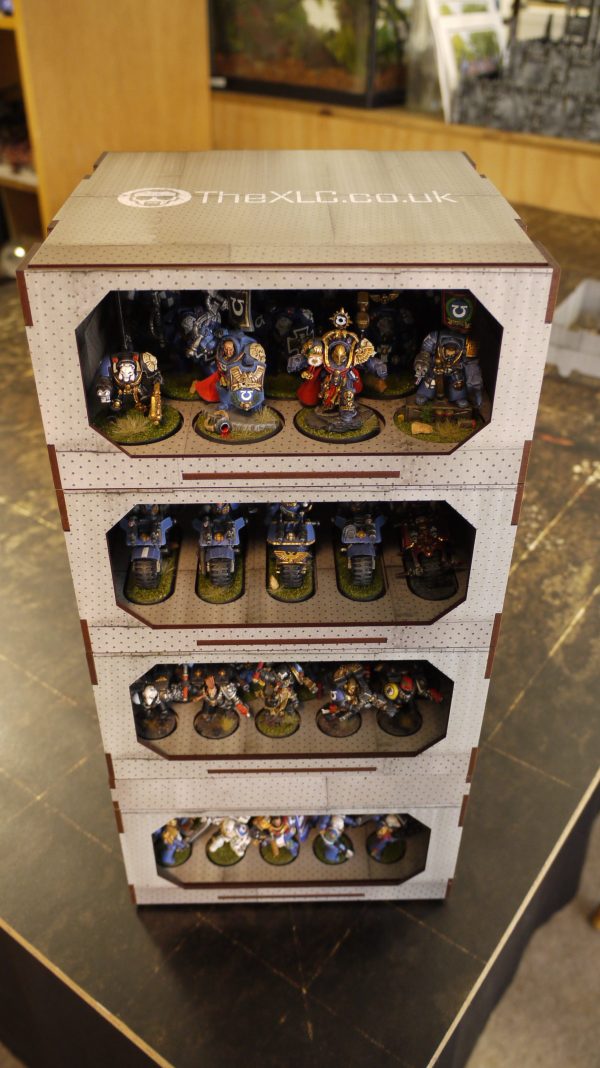 I'd recommend using wood glue to ensure a good, solid construction of these boxes. Once everything sets you'll have some really nice storage boxes that double as display cases. Now I just need to figure out how to wire in a back light and I'll be all set!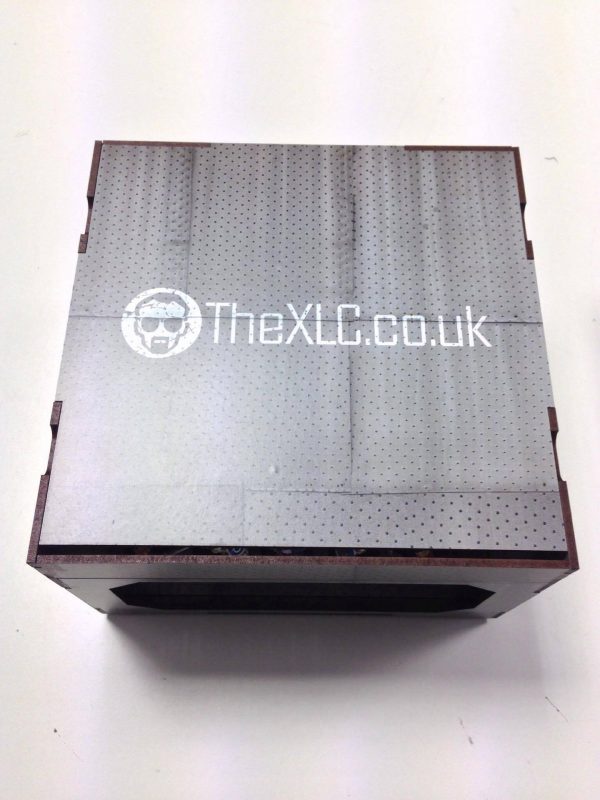 New to our essentials range for 2016 is the Storage Crate – if you're struggling for space or would just like to tidy up your collection these will fit the bill. They are made from the same 3mm pre-printed MDF we use in our buildings so you know they will be nice and strong. Each standard crate measures W190mm, D187mm, H80mm inside and can be stacked safely on top of one another due to our design.

A base plate is included and available in a number of size options.

If your base size/shape is not listed please email us at [email protected]and we will try to make you one up to suit, plus if you want a mix of sizes we can do a full custom baseplate for you.

The crates have a removable lid and a slot in panel to close the front and keep the dust out.

We also make height extension bars should you wish to fit bigger models.
I wonder if they can do a clear plexiglass version for the door…