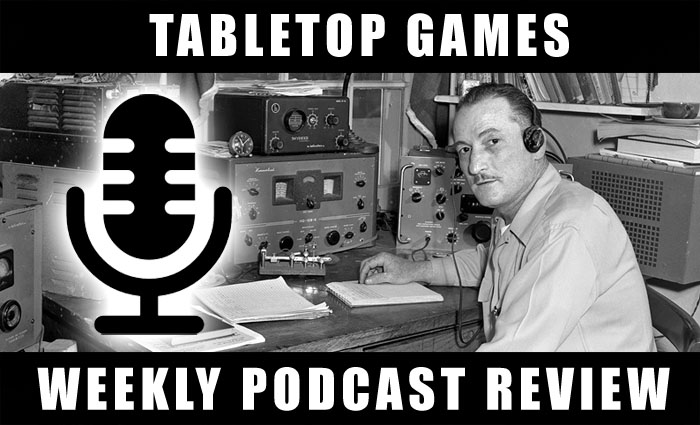 Bahkara here for this week's reviews!
Hey all, Bahkara here for this week's reviews!  This week we have an interview with one of GW's gaming gods and a return of a long silent podcast. That being said, let's get on with it!
Forge the Narrative Bonus Episode 11 – This bonus episode gives us an interview with one of the early creators from Games Workshop, Jervis Johnson. They discuss the new "Stormcloud Attack" boxes, his reasons why they made them, and the philosophy behind the gameplay. They also discuss Age of Sigmar, mistakes that were made, and about the new "General's Handbook". Very nice interview of one of the legends of gaming who we almost never hear from nowadays.
After Ullanor Episode 10 – After a long break, Dan and Greg are back to discuss the first short story collection for the Horus Heresy, "Tales of Heresy". They focus mainly on the first two stories in the book. As always they delve deep into each story, discussing the various issues and backgrounds of the 30th millennium and and some of it still echoes in the current timeline. A very good listen for those that are interested in the Horus Heresy but are unable, or unwilling, to read the books.
Preferred Enemies Episode 131 –  In this episode the guys go over the start collecting box for Chaos Space Marines. As with all the other start collecting series, they discuss the fluff reasons you may want to start the army, which are many, and the army rules reason to want to start the army, which few and far between. If you're interested in starting a Chaos Space Marine army, and maybe don't know where to start, give this podcast a listen.
Also Out This Week.
Adeptus Terra Episode 23 (40K)
Bad Dice Episode 143 (AoS)
Bad Dice Episode 144 (AoS)
Beerphase Episode 17 (KoW)
Canhammer Episode 83 (AoS)
Chain Attack S2 Episode 6 (Warmachine)
Combat Phase Episode 155 (40K)
Crippled System Episode 168 (Warmachine)
Eye of Horus Episode 70 (30K)
Forge the Narrative Episode 154 (40K)
Fully Boosted Episode 15 (Warmachine)
Garagehammer Episode 149 (AoS)
Ghost Army Episode 18 (Bolt Action)
Long War Episode 61 (40K)
LRDG 2 Episode 5 (Bolt Action)
Masters of the Forge Episode 60 (40K)
Mayacast Episode 93 (Infinity)
Mob Rules Episode 28 (40K)
MOM Episode 274 (Warmachine)
Mortal Realms Minisode 2 (AoS)
Mynock Squadron Episode 27 (X-Wing)
Ohiohammer Episode 82 (9th Age)
Roll to Seize Episode 25 (40K)
Scrumcast Episode 15 (Warmachine)
TDHM60M Episode 42 (Warmachine)
WWPD News From the Front Historicon (FoW)
As always, check out our blog, at TFG Radio, and give the podcast a listen. We talk 40K mainly but delve into other game systems. This week we talk about a recent Warmachine Mark 3 tournament, Age of Sigmar "General's Handbook" talk, and the current rumors in 40K!
Have a different opinion? Post in the comments below or email me at [email protected] and let me know!